The Aeroplan program has not had a fuel partner since Esso switched to the PC Optimum program. That's about to change this fall: a partnership between Aeroplan and JOURNIE Rewards (Ultramar, Pioneer, Fas Gas, and Chevron) was announced this morning.
Here are the details.
Overview of Aeroplan and JOURNIE partnership
I'll start with the basics of rewards, because it's so important and still so little understood:
$1 at a time with your purchases is NOT how you'll earn a lot
For gas in particular, the gift card trick can give you ≈ 7.5% back

Get one of the cards that earns from 5% to ≈ 7.5% at the grocery store
Buy a gas station gift card at the grocery store and use it for gas
It's better than 1%, 2%, or 3% on your card and it's in ADDITION to gas rewards
Here are the basics of the Aeroplan program:
Aeroplan is by far the best program for Canadians

Gives unlimited, outsized value on partner airlines' flights
Gives simpler discounts on any Air Canada flight

Read about the best Aeroplan redemptions while waiting for our ultimate guide

Pre-register for the next webinar too (date TBD)
Sign up for our newsletter to receive our ultimate guide as soon as it is ready
Here are the basics of the JOURNIE Rewards program that belongs to the Parkland company:
At 1100 gas stations across Canada

Ultramar (600+)
Pioneer (100+)
Fas Gas (200+)
Chevron (100+)

Also in some convenience stores

ON the RUN
Marché Express

These are rewards that give you a discount on gas

After every 300 liters you pay for, you'll get 7¢ off per liter on 1 fill-up
Unfortunately, these rewards can never be worth more

You can also get 2¢ off per liter by creating an account
Here are the few details announced about the partnership:
Coming in the fall of 2023
Will allow you to earn Aeroplan points on gas
You'll simply have to link Aeroplan and JOURNIE accounts

Other benefits will be offered

Electric vehicle charging promotions are coming
No mention of the current partnership between JOURNIE and CIBC
Analysis of Aeroplan and JOURNIE partnership
Obviously, there are few details and we'll know more about this partnership by the fall, but it's good news nonetheless.
It's always good to take all the free rewards offered everywhere you spend, in addition to your credit card rewards (even if it's awfully slower at retailers, it's still free).
And it's always good to have more options to earn valuable points like Aeroplan, instead of the fixed value points that can never give you outsized value.
It remains to be seen what the earn rate for Aeroplan points on gas will be, or the transfer rate of transferring JOURNIE Rewards points into Aeroplan points if that ever becomes an option (unlikely).
We can imagine it's going to be more like Aeroplan's current partnerships with Starbucks and Uber, so it's not likely to be phenomenal rates. But it's still better than nothing and takes almost no effort.
JOURNIE Rewards program
I'm going to take this opportunity to give you an introduction to the JOURNIE Rewards program (since it's not one of the most important programs that you can already read all about).
And more importantly, remind you of a few critical concepts for all programs at the same time.
In addition to your credit card rewards, you can (and should) earn rewards at almost all gas station banners (and at every retailer you buy from, in fact; it's not much of a payoff, but it's free anyway).
For example:
Ultramar & others: JOURNIE
Shell: AIR MILES
Esso/Mobil: PC Optimum
Petro-Canada: Petro-Points
Irving: Irving Rewards or AIR MILES
Canadian Tire Gas+: Triangle
In order to earn points faster, the best thing to do is to prioritize the banners where you can earn points that can be used for anything other than gas, like Shell or Esso.
Otherwise, it's also easier to try to always go to the same banner, as much as possible. Normally, you should have a gas station near your home, it's not very complicated to always fill up near your home.
(The Ultramar near my house actually has a pizza vending machine; it's unrelated but strange enough that I wanted to share it since it's been popular with those who follow me on Instagram!)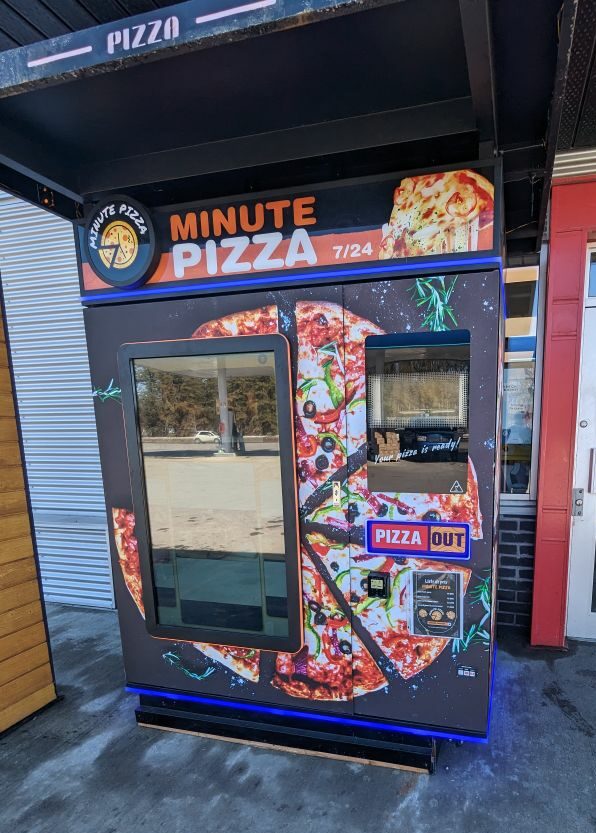 But don't forget that if you're a Costco member, it's often worth it to take advantage of their lower gas prices even if they don't offer rewards, especially if you use the prepaid card tip (a little more effort than the gift card tip) to get ≈ 6% back on Costco gas like I do! Detailed article coming soon.
In short, JOURNIE Rewards is the program for a few Canadian gas stations.
These are Ultramar, Pioneer, Fas Gas, and Chevron. Some, but not all, of the convenience stores attached to these gas stations are also participating: those under the ON the RUN and Marché Express banners.

With any rewards program, the way to earn quickly is always with a credit card affiliated with the program.
To give just a few examples of well-known programs from retailers specifically:
Scene+

30,000 Scene+ points with the welcome bonus
6 Scene+ points per $ at Sobeys-affiliated grocery stores

AIR MILES

2,325 AIR MILES miles with the welcome bonus
3 AIR MILES miles per $12 at Shell and other AM partners
But there is no JOURNIE credit card (just the partnership with CIBC for 3¢ less per liter as mentioned).
So with JOURNIE Rewards, the base earn rate is:
1 point per liter of gas
2 points per dollar of merchandise in convenience stores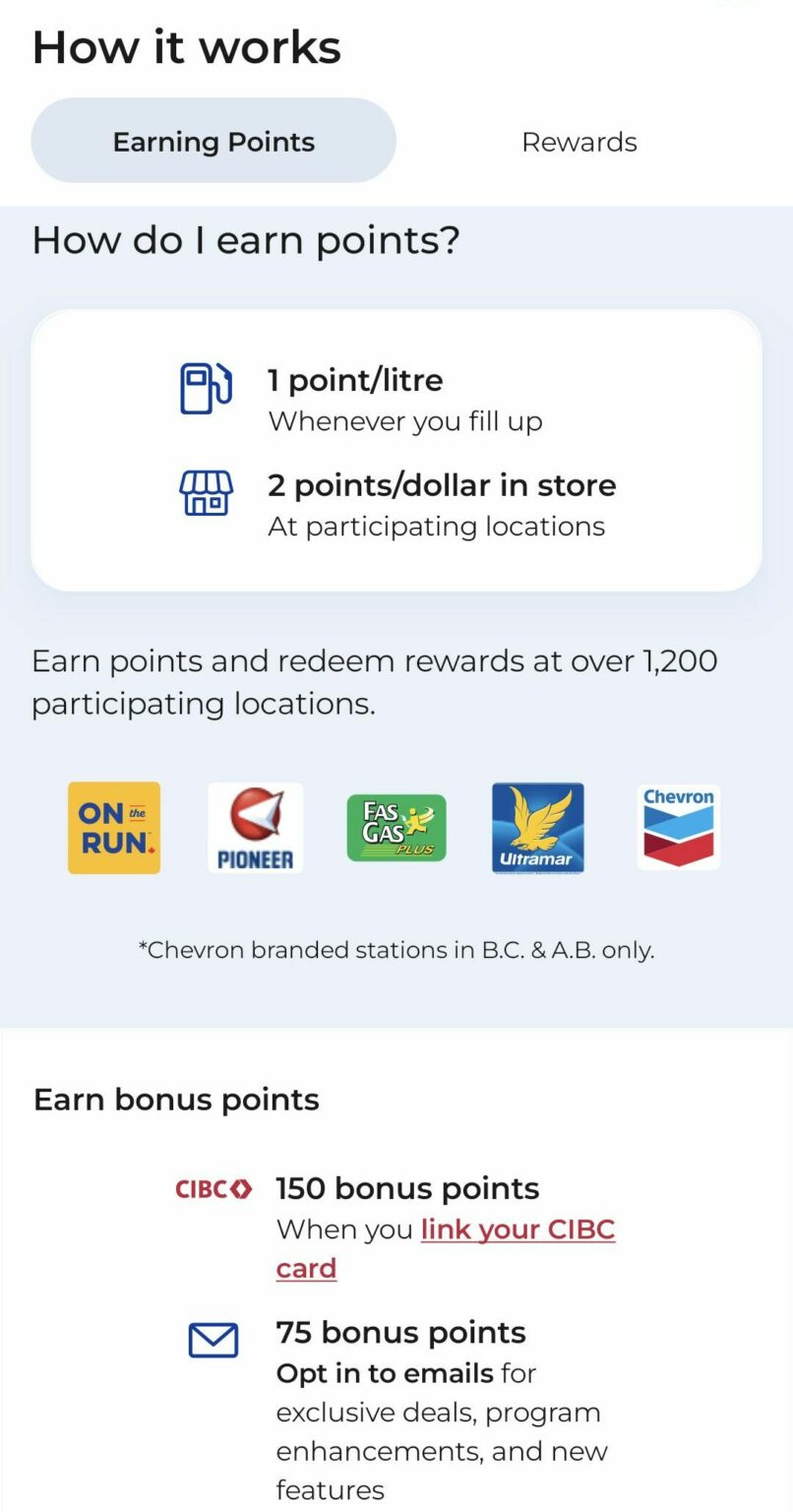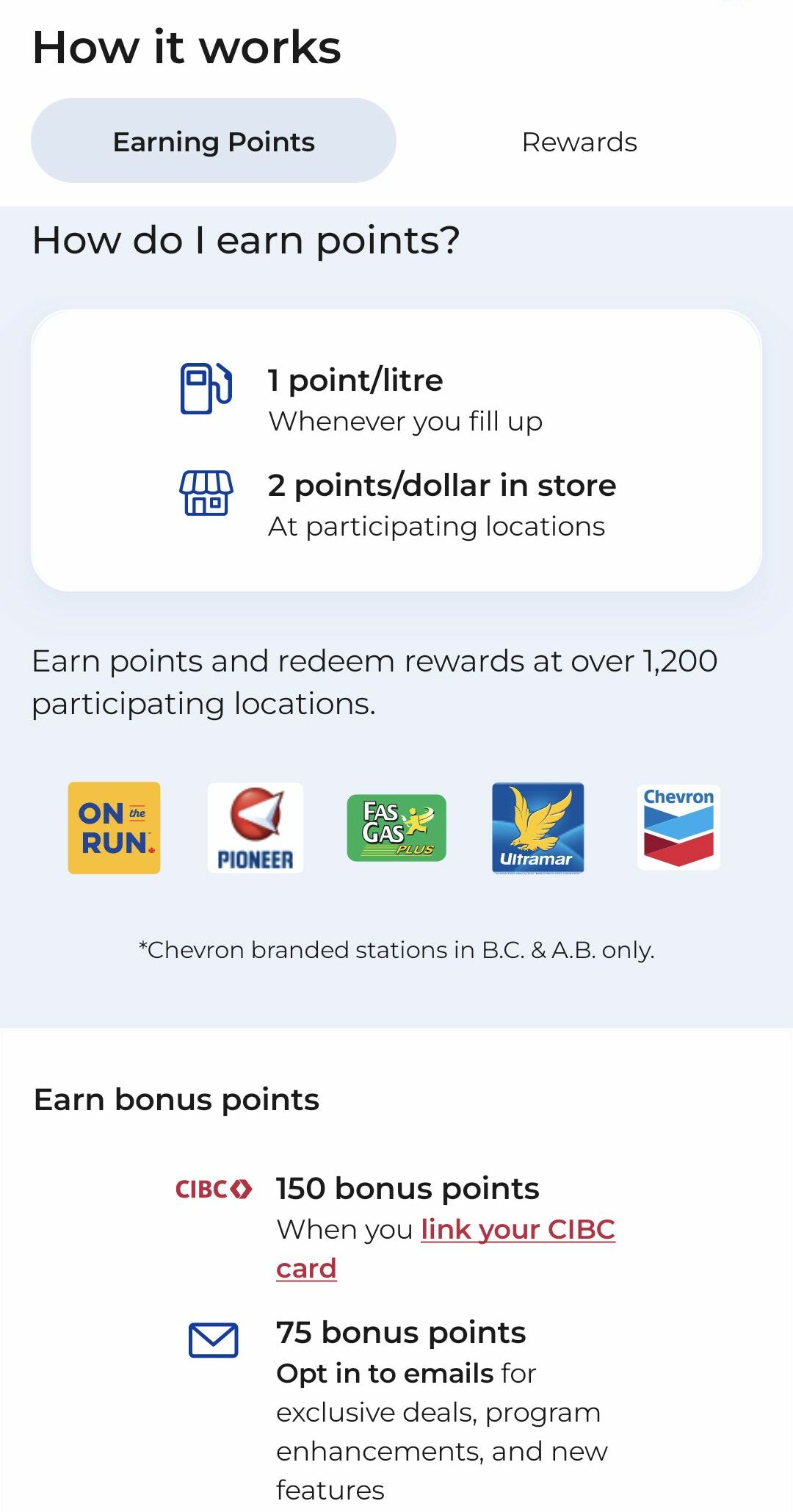 Like any program, there are obviously bonuses, offers, and promotions for more points as well.
As for redemptions, for a simple program, they like to make things a little more complicated.
First, the simple part is that when you reach 300 points, you are entitled to a 7¢ discount per liter of gas a future fill-up (within 60 days). Then you automatically drop to 0 points and start over. It's the main reward.
However, when you reach 75 points and 150 points, you are entitled to another intermediate reward that does not affect your total of 300 points; it's in addition to that one. It can be merchandise, bonus points, or another (smaller) gas discount, which can even be combined with your main 7¢ per liter discount if you want to wait (still within the 60 days).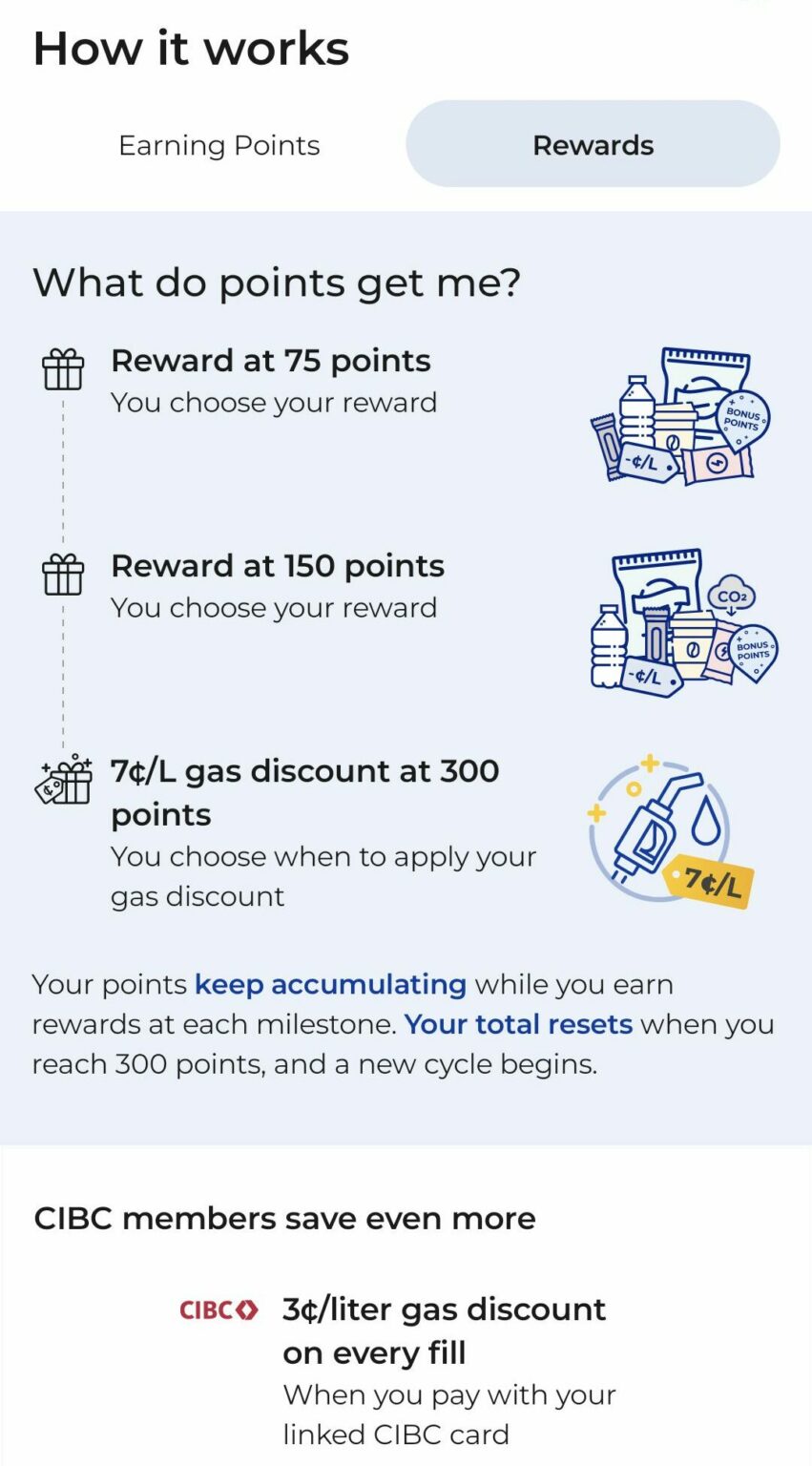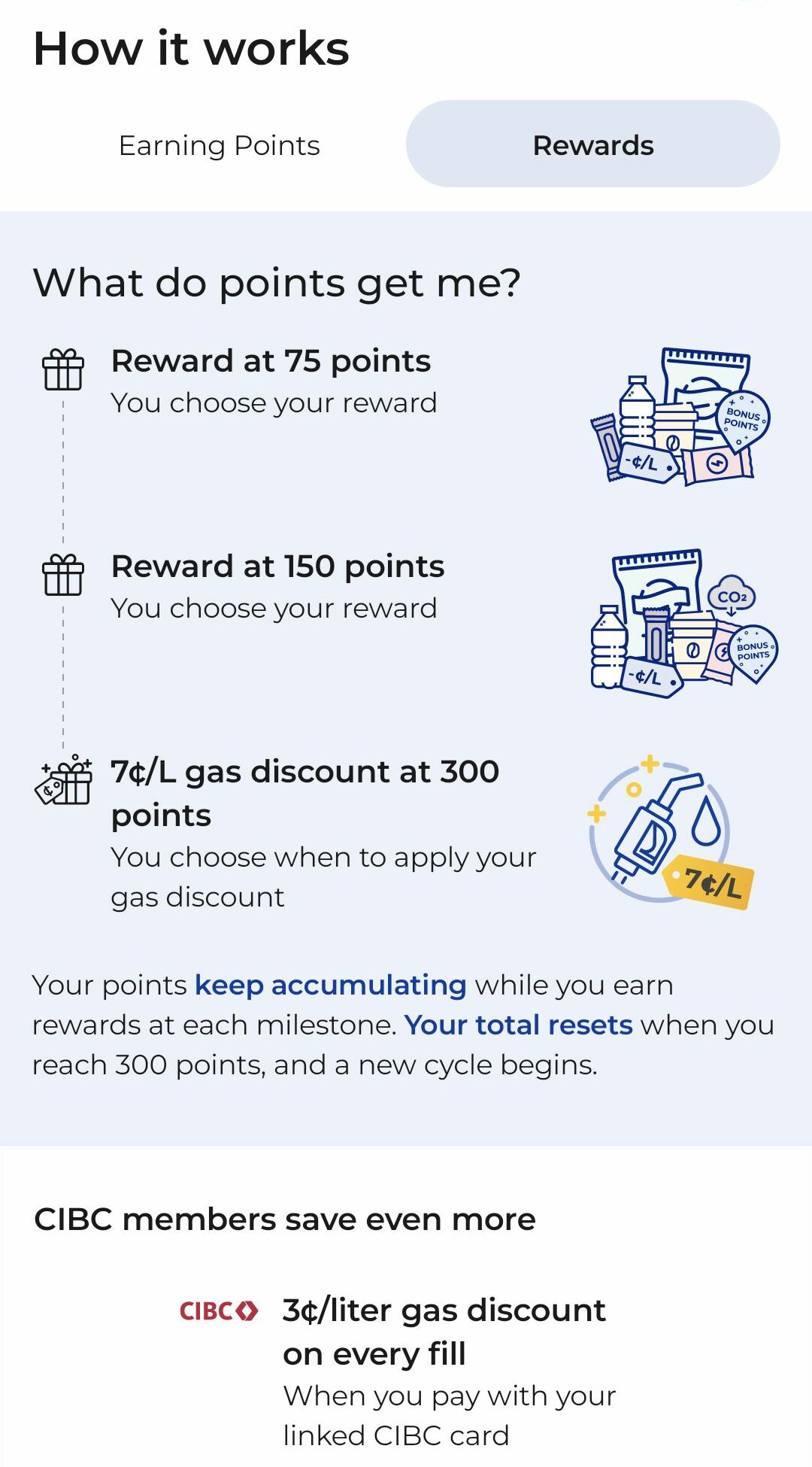 The value of this discount varies, because you get the same 7¢ per liter discount whether you buy 20 liters or 50 liters (the maximum is 100 liters). So to maximize this program, keep your discount for when you're close to empty.
So the points are worth more to those who have a vehicle that requires more gas, because their 7¢ per liter discount is going to be on a larger tank of gas. And they are already earning more quickly because they are using more liters.
Let's say you fill up with 50 liters to use your rewards, that means your 300 points will give you $3.50 off. That gives you a value of 1.2¢ per JOURNIE point. But if you have a big pick-up truck and you get 7¢ off 100 liters, that gives you a value of 2.3¢ per JOURNIE point.
The JOURNIE Rewards program always gives you 1 point per liter purchased, which gives you a variable effective return rate, as the price of gasoline varies.
I'll use the more common example of someone who will use their reward for 50 liters and not 100. If gas is $1.63 per liter on average for example, earning $3.50 in rebates requires spending $489 on gas. This results in a return rate of less than 1% back.
You can see that it's a far cry from the 51% back rate you get with just the welcome bonus on the CIBC Aventura Gold Visa Card or CIBC Aventura Visa Infinite Card. Welcome bonuses are key, we can't say that often enough.
With JOURNIE, you spend $489 on gas and it gives you $3.50 in rewards. With these welcome bonuses, you spend $1000 and you get $513 in free travel!
So it's all well and good with programs like Scene+, AIR MILES, Triangle, PC Optimum, and JOURNIE… but it's hardly anything in the big picture. If you do it the right way!
As for earning 2 points per dollar in store, if I take the more conservative valuation of 1.2¢/pt, that gives you a 2.3% return rate on merchandise…
But don't forget that the markup on anything you buy in a convenience store is usually extremely high compared to buying it in a big box store, like Walmart for example. And even more expensive than at grocery stores. So obviously only something to do out of convenience, not to earn 2.3% in JOURNIE points.
Want to get more content to learn how to earn free travel?
Summary
The Aeroplan rewards program, by far the best for Canadian travelers, will add a fuel partner. Parkland's JOURNIE Rewards program will partner with Aeroplan beginning in the fall of 2023.
What would you like to know about this partnership? Tell us in the comments below.
See the deals we spot: Cheap flights
Explore awesome destinations: Travel inspiration
Learn pro tricks: Travel tips
Discover free travel: Travel rewards
Featured image: Ultramar gas station (photo credit: Wikimedia Commons)
Share this post to help us help more people travel more for less: