The two most important rewards programs for Canadian travelers who want to earn free travel, Marriott and Aeroplan, have announced a few changes, including some important improvements for 2021. So we'll go over these with you and explain how you can take advantage of them, even for trips way into the future. And we'll also talk about 2 developments from Canada's top travel rewards issuer, American Express.
Here are the new developments.
Marriott: 5 updates
Marriott Bonvoy is by far the best hotel rewards program for Canadians since it's so easy to earn many points. Two of the Amex stories later in this post are relevant for you Marriott fans, by the way.
Best credit cards for
Marriott points
WELCOME BONUS
( VALUATION)
Marriott
points

Bonus: spend $3k in 3 mos.

Card: no business required

Bonus: spend $5k in 3 mos.

Bonus: spend $500/mo for 12 mos.

Bonus: spend $1k in 3 mos.

Card: no business required

Bonus: spend $5k in 3 mos.

60,000 pts
(50,000 Amex pts)

Terms and conditions apply. Flytrippers editorial opinion only. Financial institutions are not responsible for maintaining the content on this site. Please click "See More" to see most up-to-date information.
Best credit cards for
Marriott points
Marriott Bonvoy™ American Express® Card

Card:

Bonus: spend $3k in 3 mos.

WELCOME BONUS

≈

Rewards: ≈ $729

Card fee: $120

Marriott points: 81,000 pts
after welcome bonus
Marriott Bonvoy™ Business American Express® Card

Card: no business required

Bonus: spend $5k in 3 mos.

WELCOME BONUS

≈

Rewards: ≈ $855

Card fee: $150

Marriott points: 95,000 pts
after welcome bonus
American Express Cobalt® Card

Card:

Bonus: spend $500/mo for 12 mos.

WELCOME BONUS

≈

Rewards: ≈ $648

Card fee: $156

Marriott points: 72,000 pts
after welcome bonus
American Express® Green Card

Card:

Bonus: spend $1k in 3 mos.

WELCOME BONUS

≈

Rewards: ≈ $119

Card fee: $0

Marriott points: 13,200 pts
after welcome bonus
American Express Business Edge™ Card

Card: no business required

Bonus: spend $5k in 3 mos.

WELCOME BONUS

≈

Rewards: ≈ $540

Card fee: $99

Marriott points: 60,000 pts (50,000 Amex pts)
after welcome bonus
Terms and conditions apply. Flytrippers editorial opinion only. Financial institutions are not responsible for maintaining the content on this site. Please click "See More" to see most up-to-date information.
Anyway, Marriott has made a few major improvements that can be beneficial for travelers, even those who will only be traveling this spring, this summer, or this fall.
1. Off-Peak pricing discount until September
Marriott is giving a 10% discount on point redemptions on all Off-Peak dates until September 30th, as long as you book before February 21st.
Even if you aren't sure you'll be traveling, it's a great time to book future Marriott stays with points because it is absolutely risk-free: bookings made with points are always refundable for free.
(There's a deadline: usually 1, 2, 7, 14, or more rarely 30 days before your check-in date; the deadline for each hotel is indicated very clearly when you book.)
For example, if you were to go to one of Mexico's Category 1 hotels like the seafront AC Hotel Veracruz, a 5-night stay could cost as little as 18,000 points total!!!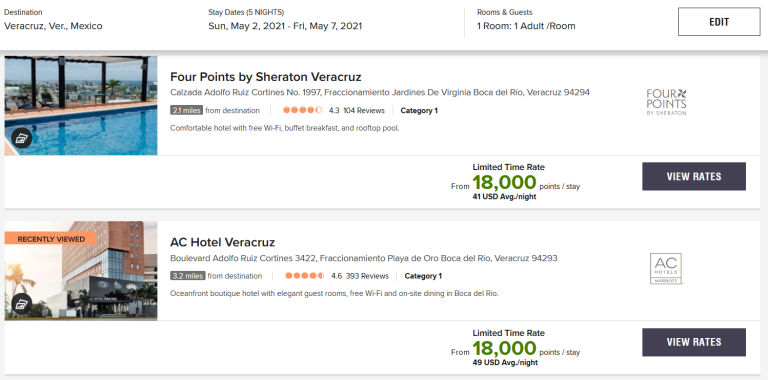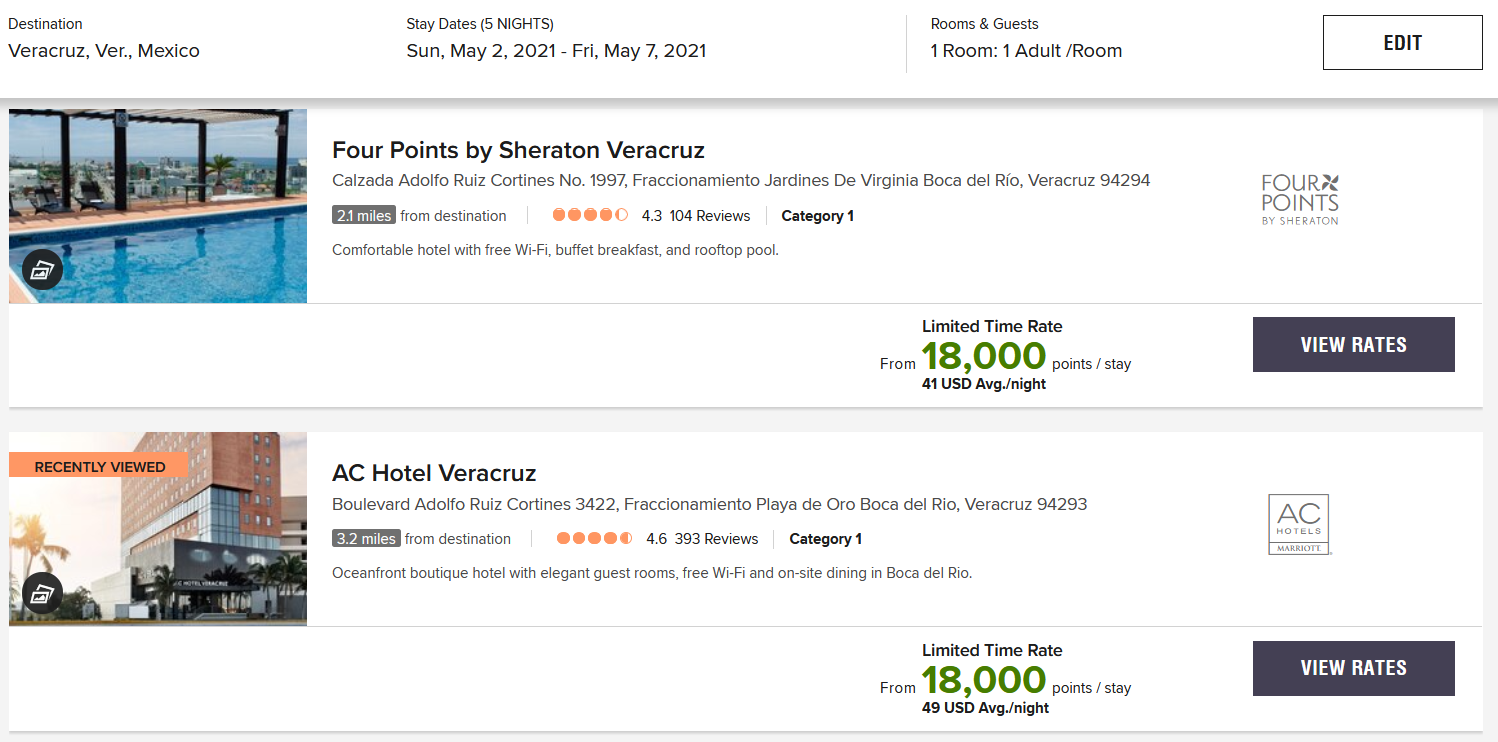 That's an amazingly low price! It's like getting 13 free nights just with one Marriott Bonvoy Card 50,000-point welcome bonus, or 26 free nights if your travel buddy gets one too.
Most not-very-nice hotels here in Canada cost more than 18,000 points per night… you can get 5 nights for the same price by choosing the right destinations! That's why it's important to maximize your points if getting more free nights for the same amount of points is something you want!
As a reminder, there are 3 ways to maximize the value of Marriott points (which are variable-value points):
choosing standard or off-peak dates
choosing Category 1 or 2 hotels
staying 5 nights at a time
Every Marriott hotel has only 3 possible prices for a free night paid for with points:
price for standard dates (the majority of dates)
price for off-peak dates (a bit cheaper)
price for peak dates (a bit more expensive)
These are dynamic dates, there's no set calendar.
So every date that is considered Off-Peak from now to the end of September will cost 10% fewer points:
an Off-Peak Category 1 night usually costs 5,000 points, but now only costs 4,500 points
an Off-Peak Category 2 night usually costs 10,000 points, but now only costs 9,000 points
etc.
There are many countries where you can get a lot of nights with Marriott Category 1 hotels (Spain, South Africa, Turkey, Indonesia, India, etc.) and some will surely be open this summer. And there are even more countries if you prefer getting fewer nights but having more destination options with Category 2 hotels.
Subscribe to our free travel-rewards-specific newsletter to get our upcoming guide to Category 2 hotels and our post on how to search for specific categories or see the cheapest dates on the Marriott website before the February 21st deadline (and much much more Marriott content).
Finally, staying 5 nights at a time means you'll only pay for 4 nights instead of 5: it's a great trick to get more value.
So with this sale, it's worth shopping around for possible nights you might need later this year and lock-in a 10% lower price if the Off-Peak dates might work for you (and set a reminder to cancel it for free if you end up not needing them).
You can check back every week until February 21st, because if new Off-Peak dates appear all the way into September, you can book those too.
You can read more about how Marriott Bonvoy points work.
2. Free night certificates expiry extended
One of the best features of the Marriott Bonvoy Card (apart from the great Welcome Bonus) is the annual free night certificate you'll get that can be used for very luxurious hotels around the world.
The certificate is easily worth hundreds of dollars (or even a thousand in an overwater bungalow in Fiji) but you usually have just one year to use them (unlike Marriott points, which effectively never expire).
Due to the pandemic, all free night certificates that were due to expire in 2020 have been extended to August 1st, 2021.


Hopefully, you can go somewhere more fun by then, and you'll get much nicer hotels with your certificate too: the worst use of Marriott points or certificates is often for hotels in Canada and the US (because they are expensive—and popular—countries).
But if the situation doesn't seem to be getting better in the spring, we'll at least share a post with the best luxury hotels here in Canada where you can use your certificate, in case that's still your only option (we sure hope not).
3. Bonus Marriott Elite Night Credits
If you are interested in reaching a higher Elite Status for VIP benefits during your Marriott stays, there's good news.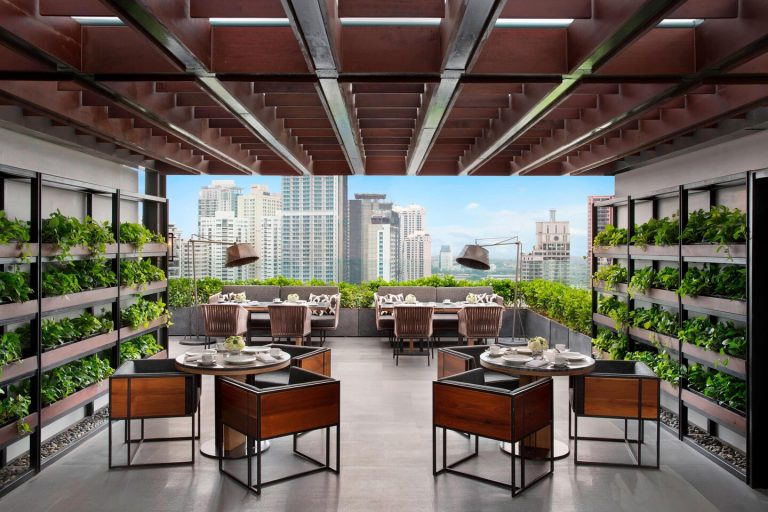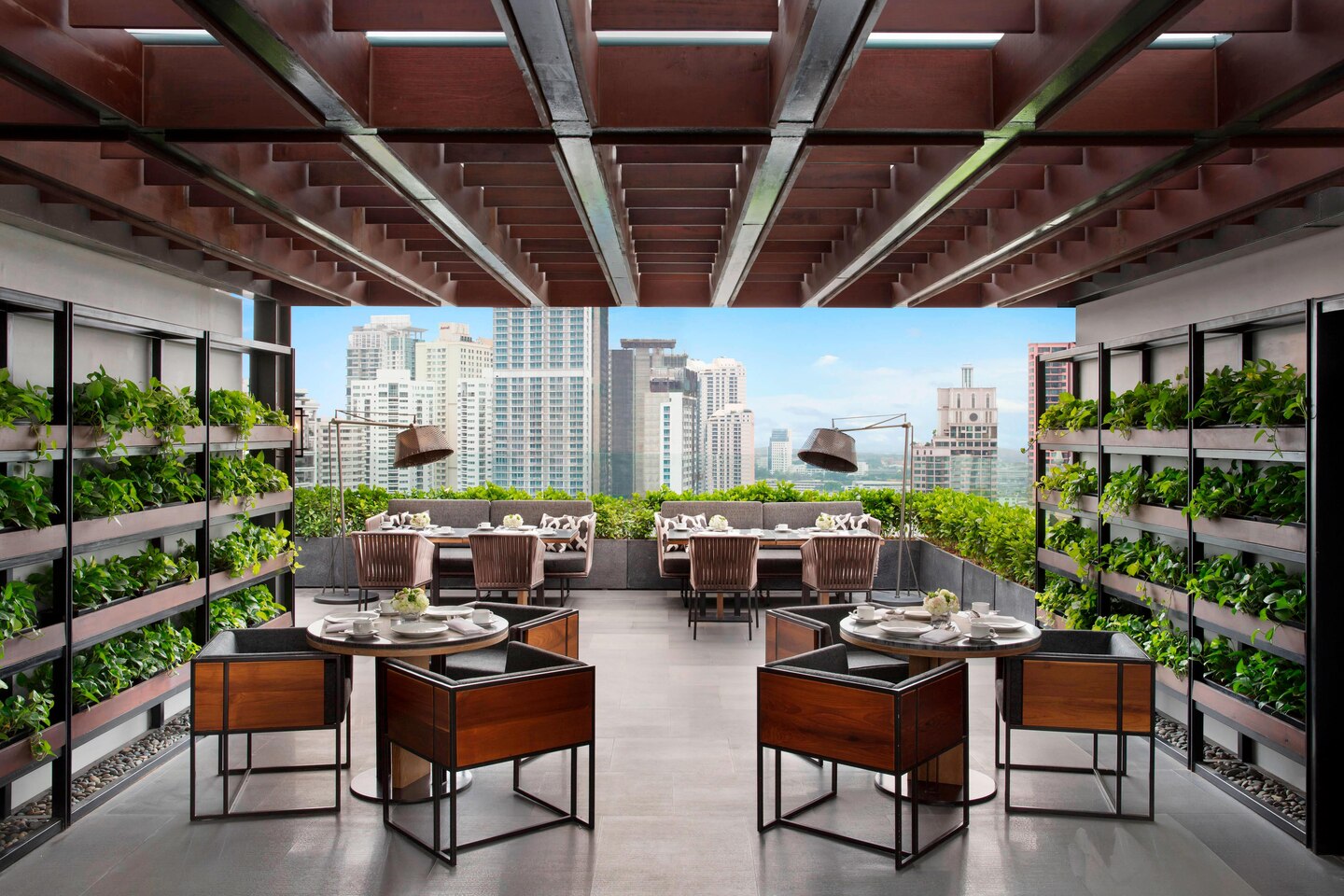 Those of you who have the Marriott Bonvoy Card (it's really a card literally every Canadian traveler should have; even those who don't like hotels) always get 15 Elite Night Credits that give you automatic Silver Elite Status.
Now you will get 20 Elite Night Credits in 2021.
That means you'll only need to stay 5 nights in a Marriott hotel (with points or cash) in 2021 to get Gold Elite status until February 2023 (or actually even less than 5 nights with the next Marriott promo below).
With a bit of effort, you might even be able to reach the very valuable Platinum Elite status for example (for lounge access, free breakfast, and even more suite upgrades).
Elite night credits are what determines whether you reach an Elite Status. Usually, you get one Elite Night Credit for every night you spend in a Marriott hotel (whether it's paid for in cash or in points), plus the bonus ones from having the Marriott Bonvoy Card.
To make it easier to requalify for elite status despite the pandemic, Marriott is giving all elite members bonus Elite Night Credits equal to 50% of the required total for the 2020 status. So if you already have a status higher than Silver Elite like us, you'll get even more Elite Night Credits in your account (5 for Silver, 13 for Gold, 25 for Platinum, 38 for Titanium, 50 for Ambassador).
You can read more about how Marriott Bonvoy Elite Status works.
4. Marriott seasonal global promotion
We've told you about how global promos are a great way to earn even more points with hotel rewards programs, and most major hotel chains usually have decent ones every season.
Marriott's first global promo of 2021 will run from February 16th to April 27th and offer double points and double Elite Night Credits. Contrary to most promos, this one requires a 2-night minimum stay though (and at least one night must be paid in cash).
This means you'll earn 20 points per $US spent (instead of 10), plus the Silver Elite bonus of 1 point per $US (if you have the Marriott Bonvoy Card), plus the 5 points per $C by paying with your Marriott Bonvoy Card.
For example, just a ≈ C$200 total two-night stay will earn you about 4,500 points, equivalent to a free night in Category 1 hotels with the first promo mentioned above.
With the vaccination of the most vulnerable, we can hope for an improved situation within this promo's timeframe.
Getting double elite night credits means if you stay 2 nights, it will count as 4 elite night credits towards elite status qualification. So just 3 actual hotel nights can give you Gold Elite Status until February 2023.
Registration for the global promo has not opened yet (remember: all promos always require registration and you should always do it, it takes just 2 clicks).
This global promotion is in addition to separate targeted promos that you might have seen by logging into your Marriott account (online or in the app) and checking the "Promotions" tab. Those are good as well, with 22,500 bonus points after 2 or 3 stays being the most common offers (although some less active accounts got no offers too).


5. Elite guarantees reinstated
This one is just for Platinum, Titanium, and Ambassador members: elite guarantees are back!
They had been suspended due to the pandemic. I've gotten a few cash compensations myself thanks to these; I'll share a separate post, since not many readers stay in Marriott hotels enough to take advantage of this.
For now, just know that they're back and you're owed money if employees do not offer you your welcome benefit or do not give you the same type of room you booked.
Aeroplan: 2 updates
We'll soon publish our ultimate guide on the completely-redesigned Air Canada Aeroplan program, one that will easily give you many free flights if you take the time to learn how it works!
The time to do so is now, so you don't waste precious time and do like most will do (they'll wait until they're ready to travel… and then wonder why it's too late to reduce the price of that first trip)…
Here are two recent developments.
1. Yet another new partner airline: Virgin Australia
The Aeroplan program has added a 38th airline partner with whom you can fly with your points: Virgin Australia.
Aeroplan is the most important rewards program for Canadian travelers since it's so easy to earn many points for free.
But a lot of travelers don't know that the best value for your Aeroplan points is most often to not fly with Air Canada, but rather fly on the many partner airlines (as the pricing system works differently for Air Canada vs. partners). That upcoming guide will include many concrete examples.
Anyway, Virgin Australia is the 2nd-largest airline in a very popular country for Canadian travelers.
You'll now be able to use your Aeroplan points to move around the huge island, or even for niche routes to neighboring destinations (which can be a great value, as they are often expensive in cash… and the best use of variable-value airline points like Aeroplan is always for flights that are expensive in cash).
To give you just one example, to once again illustrate how variable-value points can give outsized value and unlimited value, if you are visiting every country in the world like me and you need to go to the beautiful Pacific island-nation of Vanuatu, flying there from Australia would cost at least C$650 roundtrip. Now with Aeroplan points, you'll get that same flight for just 25,000 points! After deducting taxes/fees, you're saving $440 with 25,000 points!
That's a value of 1.8¢/pt, which is 80% more value than the basic 1¢/pt you'll get with fixed-value bank points (or worse, with cashback). That's why variable-value airline points are so amazing: the potential for outsized value and unlimited value.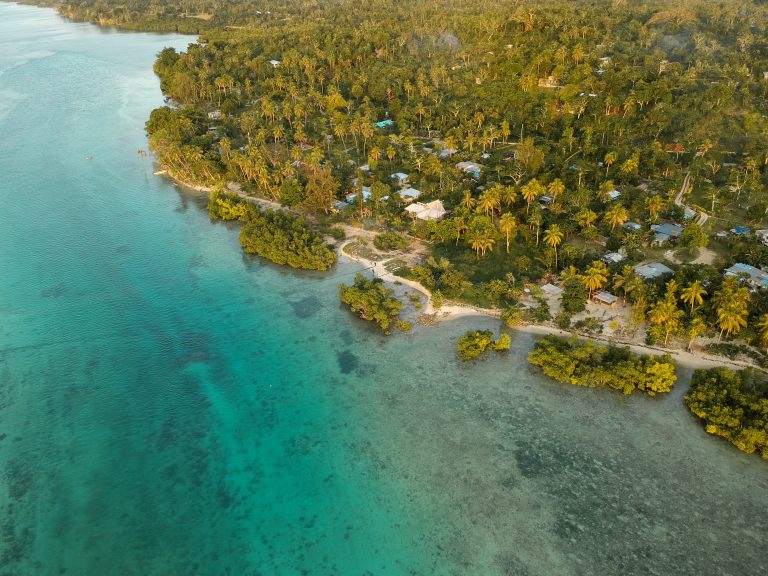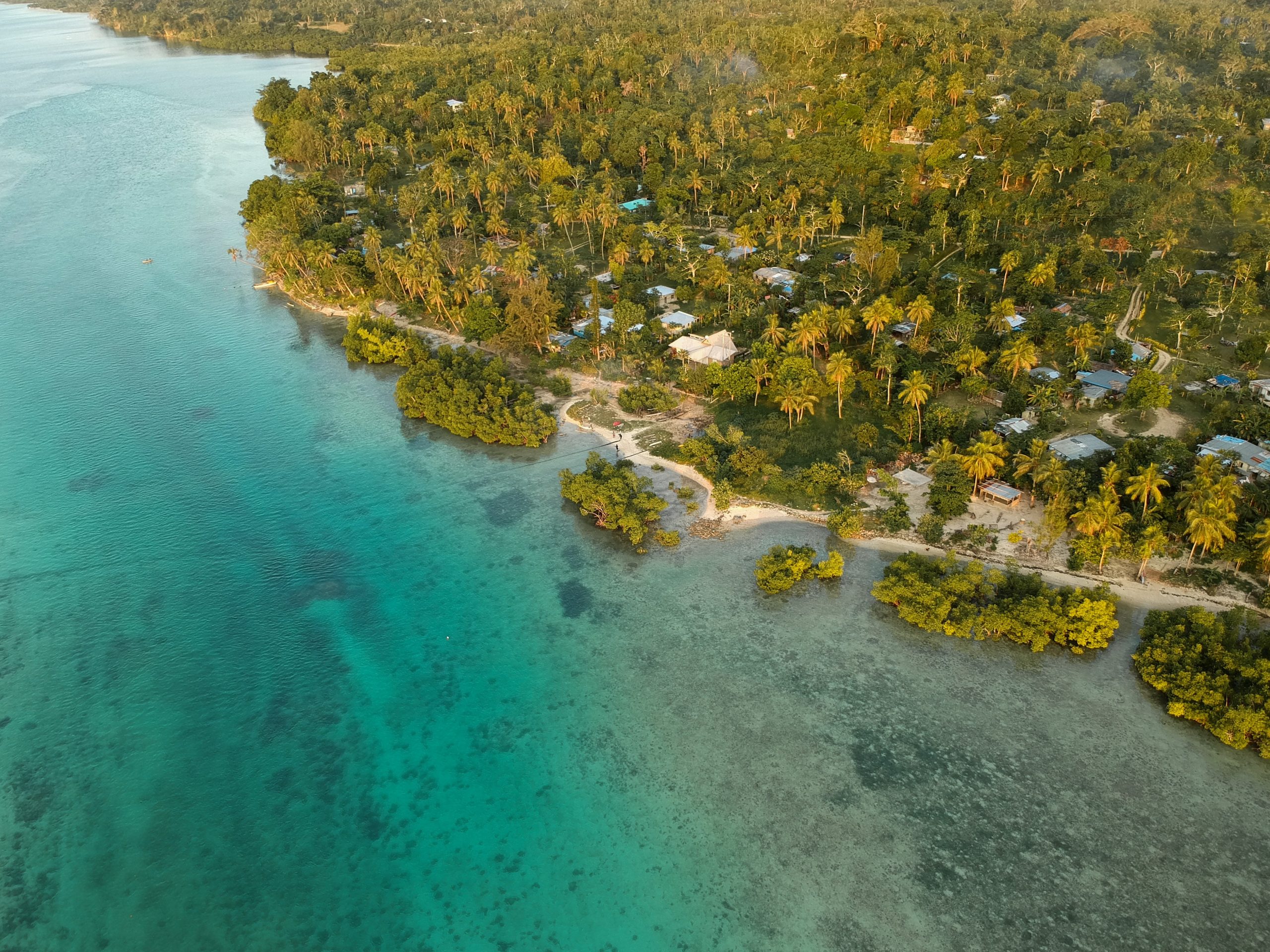 Aeroplan is really on a roll, having added many very cool and unique non-Star Alliance partners.
In recent months, they've added:
Etihad (UAE)
Azul (Brazil)
Vistara (India)
Air Serbia (Serbia)
And as AC's Vice-President of Loyalty Mark Nasr told me at the special Aeroplan presentation event in July, we should expect even more additions.
That's great for us, as it gives us more possibilities to find great value with our Aeroplan points.
2. Free refunds until February 28th
Bookings paid for with points have always offered more flexibility regarding changes than bookings paid for with cash (in addition to being a lot cheaper of course).
It's even truer now as Aeroplan has extended its free refund policy until February 28th. Any booking can be completely refunded for free.
But just to be clear, you don't just have until February 28th to get a refund. Any flight you book, even for January 2022, can be refunded for free at any time as long as you book it before February 28th.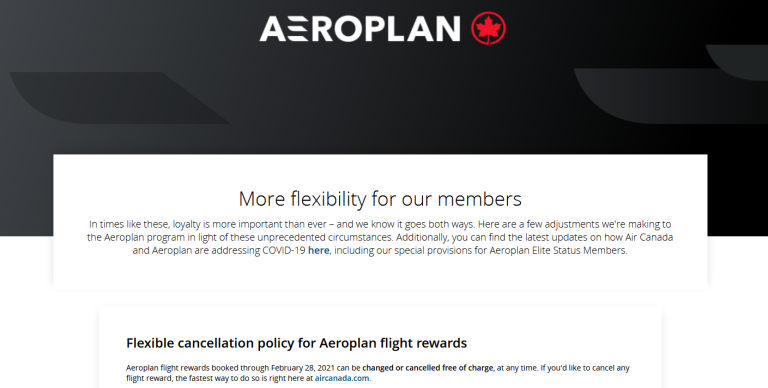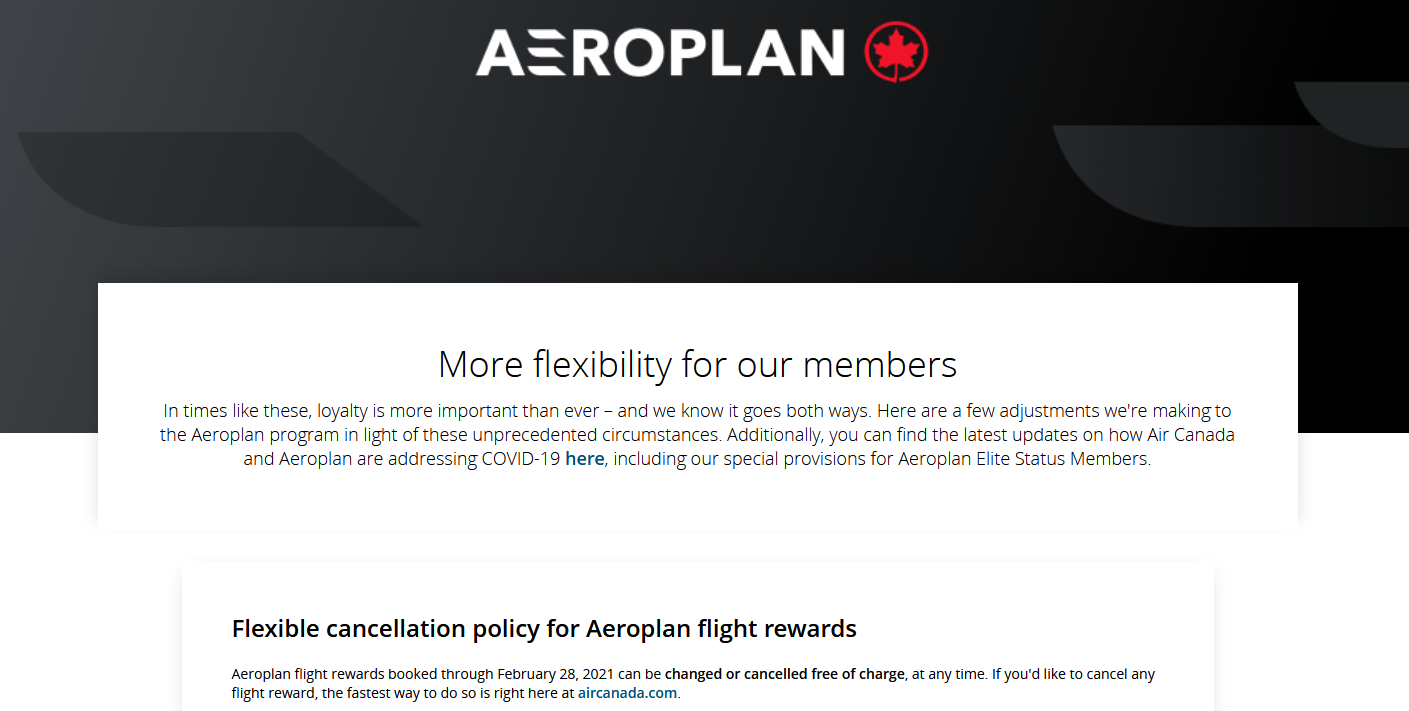 As I just mentioned, Aeroplan has two separate pricing systems, so here's how to take advantage of the free refund policy for each:
for partner airlines; seat availability is great across the schedule so it's a great time to book flights in the future risk-free since you can always just cancel if you don't want to go
for Air Canada; with prices fluctuating in the new dynamic pricing system, you can regularly check prices and book when they drop because you can just cancel risk-free if you don't want to go or to rebook if the price goes down
Of course, if the past year is any indication, the free refund policy might be extended even further.
But since it's risk-free, you should take an early look to get ahead of other travelers who will once again uselessly wait. So you'll be able to get the best seats or the best prices (and just cancel them if it doesn't work out for any reason).
American Express: 3 updates
Readers sometimes ask us why American Express often has so many of the best credit card offers for travel rewards enthusiasts and the simple answer is that travel rewards are basically all that Amex does!
They are a travel brand at their core… and have been since they popularized travelers' cheques in the 1800s (!!!): they don't have plenty of other lines of services like other banks, so they focus on great offers for travelers.
Anyway, here are three developments from Amex.
1. New best-ever increased Cobalt Card welcome bonus
The Cobalt Card is my favorite among my many cards and is the one I use the most thanks to its phenomenal 5X earn rate (when I'm not unlocking the many welcome bonuses I get every year).
I actually earn most of my Marriott points with the Cobalt Card (but the Cobalt's Amex Select points can be used for a simple travel credit or flights too; they're super flexible).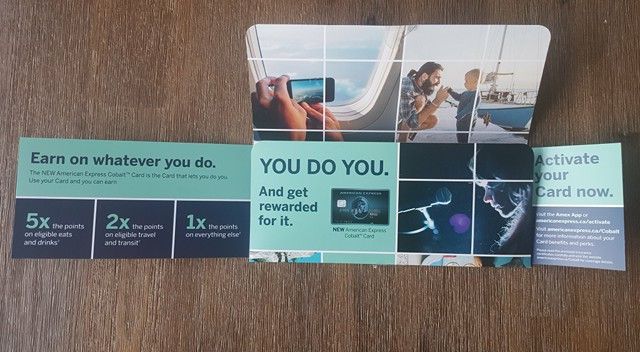 Anyway, for the first time, the Cobalt Card now has an increased welcome bonus, but it's totally different than literally all other cards. I've talked about it last weekend, you can read that for now.
We're working on a detailed post about the new offer and the card, including a video presentation for those who prefer that format.
Stay tuned for that or read the teaser.
2. Bonus $200 credit for current Platinum Cardmembers
The Platinum Card by American Express is by far the most prestigious card for serious travelers.
But as much as we love it ourselves, you should definitely not get it now. Don't.
They've slashed the welcome bonus for the pandemic and anyway, the best benefit of the card is the unlimited airport lounge access and that's not very valuable right now for most people (we'll let you know when the regular welcome bonus returns).
Anyway, if you do have the card already, Amex is once again giving us a bonus credit for the pandemic: $200 at select grocery stores or Uber Eats.
It's less than the $250 we got last summer, but it's still a very nice bonus.
Simply use your Platinum Card at the grocery store and Amex will automatically credit you the purchase on your statement until you reach $200: you don't have to spend more than $200, you don't have to spend it all in one transaction, and you don't even have to spend it all at the same place.
We'll soon share a post with a list of the grocery stores in Canada that accept Amex. As always, you need to first register your card with 2 clicks on the Amex app or online under "Amex Offers".
Want to learn more about earning free travel with points?
Summary
Those updates from Marriott, Aeroplan, and American Express might be of interest if you follow the world of travel rewards, as you most definitely should do as a traveler.
Have any questions about these rewards programs? Ask us in the comments below.
Explore awesome destinations: travel inspiration
Learn pro tricks: travel tips
Discover free travel: travel rewards
Featured image: AC Hotel Veracruz Marriott Category 1 hotel (photo credit: Marriott)
Advertiser Disclosure: In the interest of transparency, Flytrippers may receive a commission on links featured in this post, at no cost to you. Thank you for using our links to support us for free, we appreciate it! You allow us to keep finding the best travel deals for free and to keep offering interesting content for free. Since we care deeply about our mission to help travelers and our reputation and credibility prevail over everything, we will NEVER recommend a product or service that we do not believe in or that we do not use ourselves, and we will never give any third-party any control whatsoever on our content. For more information on our advertiser disclosure, click here.
Share this post to help us help more people travel more for less: