Last week, a new "premium" Canadian airline was announced. While a new airline is never bad news, the fact is that sadly, we already have plenty of expensive airlines in Canada as you probably know (that's not really what we need more of). So it likely won't be very useful to many travelers.
OWG is a new airline that doesn't want to lower prices, but at least they want to treat their customers better than current airlines do (which to be fair, is a low bar to clear some would say).
Here are the details.
A new airline that isn't an ultra low-cost (and not even low-cost)
OWG (which means "Off We Go") will be a new premium leisure airline for "Southern" destinations (sic), which means the Caribbean in this case.
I find it a bit funny that when asked about why it won't be a low-cost airline, the CEO said that "nothing is cheap in aviation".
That is obviously completely false; the numerous €10 and US$14 (and even less) plane tickets available every day in the world's most developed countries are undeniable proof.
Aviation can be cheap, it's just that OWG isn't interested and won't be doing that. To their credit, at least they're transparent about it.
That's better than airlines that pretend they're low-cost or try to seem cheaper but are actually just as expensive (or more expensive) than others because for them "low-cost" is just a marketing ploy and not a part of their business model, and they're not actually interested in lowering prices.
So at least OWG is saying it from the start: they won't be cheaper. But it's still not true to say that nothing is cheap in aviation; it's cheap if the airline makes being cheap at the core of their mission.
Which OWG is not doing, and that is fine: some travelers (especially vacationers; which OWG is targeting according to their press release) don't care about saving money.
Giving the benefit of the doubt
Okay, sometimes journalists can shorten quotes (and some are far from being aviation experts as demonstrated time and time again—see the hundreds of examples of journalists who think every plane is a 737 MAX), maybe the CEO meant that nothing was cheap in aviation in Canada (which is still false, but less so at least)… or maybe there was more to the quote that didn't make it into that article.
Let's hope that's the case, because again, in literally every developed country there are cheap options in aviation. By the way, most of the most profitable airlines in recent years have been ULCCs (Spirit in the US and Ryanair in Europe to name just two).
What I've never heard of though, is an airline that describes itself as "high-love" like OWG. That's one thing that might not exist.
It's that OWG plans to differentiate by offering a more enjoyable flight experience than its competitors.
Airline details (routes and old 737s)
So OWG is a recently-announced division of charter airline Nolinor (specialized in transport to Northern Canada).
It will launch with 3 Boeing 737-400s that are over 30 years old (but with newly-refurbished interiors), from Toronto and Montreal to "Sun destinations" (specific routes to be revealed soon, my money is on Cancún for the first one).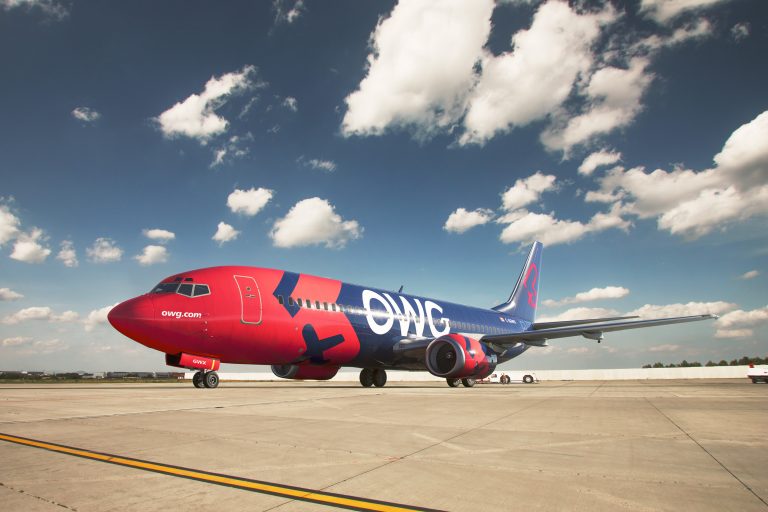 Strangely for a premium airline, the 3 aircraft will be in a single-class configuration, with 158 economy seats.
Starting an ultra low-cost carrier during a pandemic actually makes a lot of sense (we'll tell you more about PLAY, WOW air's successor). It remains to be seen if the same can be said for a premium airline.
With Air Canada's purchase of Air Transat, there will likely be a niche for them, but it's just important to not get your hopes up about them having a positive effect on prices.
Is OWG good news for you?
OWG likely won't be very useful for those who want to explore places that aren't part of the 0.5% of our planet that the Caribbean covers… and especially not for those who want cheap plane tickets.
Sadly, even though a new competitor never hurts, getting a new one this small that positions itself as premium is probably the only scenario that doesn't help bring prices down.
Could this force other airlines to take better care of travelers? That would be surprising: with their illegal denying of refunds, we have seen very clearly that they don't really care about doing what is right, even if their competitors (all US airlines and almost all EU airlines) are refunding their customers (more to come to help you get a refund).
So they're hoping Canadian travelers are captive enough to keep doing business with them or that the "support local" movement will be strong enough. They might be right, but either way, I doubt a startup with 3 planes and such a targeted route map will force them to change.
But we'll follow OWG closely and let you know if it looks more interesting than it does initially!
One very positive aspect is that they are not targeting the "all-inclusive vacationers" market (they won't sell packages). So who knows, maybe for some dates they'll have decent deals on flights! We hope so. We sure love flight deals. We'll spot them for you, of course.
At least it's a credible airline, unlike Canada Jetlines was (despite what many in the media seemed to think). But the fact is, even with Swoop and Flair, Canada is one of the developed countries that is the least well-served by ultra low-cost carriers (ULCCs).
ULCCs are what travelers who like to travel more often should want more of. Even if you don't fly with them, they force all airlines to lower their prices.
Want to get our upcoming guide about how to start traveling again?
Summary
OWG is a new premium airline launching in Canada, but it won't be the most useful for those who don't enjoy traveling to the Caribbean and especially for those who don't want expensive plane tickets.
What do you think of this new airline? Tell us in the comments below.
Explore awesome destinations: travel inspiration
Learn pro tricks: travel tips
Discover free travel: travel rewards
Featured image: OWG 737-400 (photo credit: OWG/Nolinor)
Advertiser Disclosure: In the interest of transparency, Flytrippers may receive a commission on links featured in this post, at no cost to you. Thank you for using our links to support us for free, we appreciate it! You allow us to keep finding the best travel deals for free and to keep offering interesting content for free. Since we care deeply about our mission to help travelers and our reputation and credibility prevail over everything, we will NEVER recommend a product or service that we do not believe in or that we do not use ourselves, and we will never give any third-party any control whatsoever on our content. For more information on our advertiser disclosure, click here.
Share this post to help us help more people travel more for less: