Up until now, the coronavirus has just been completely negative for us travelers. So let's take the time to look at these two new very positive developments from Air Canada Aeroplan and American Express that are especially great for pro travel rewards enthusiasts who already have American Express Points.
The coronavirus is forcing rewards programs to adapt. They have to do something, especially for members with elite status, since elite members are way more valuable to companies than casual travelers.
Marriott is extending free night certificates for all, and as Marriott Elites, we were glad to tell you that they also announced elite status has been extended to 2021. Air Canada, like most North American airlines, has done the same. But earning airline elite status is completely different and much harder than earning hotel status.
At least, it was until today.
And for very frequent travelers or luxury travelers, American Express has also announced simply phenomenal news for Platinum Cardmembers.
Here are the details, and I'll use this opportunity to give you a primer on many important rewards topics (again sign up to get more details about points and rewards)!
Air Canada Aeroplan Status Shortcut
As mentioned, earning hotel elite status is easy, the Marriott Card has a great shortcut and the American Express Platinum Card gives you Marriott Gold and Hilton Gold.
However, airline status is only realistic if you travel for work or like paying way too much for your flights. In other words, it's usually very hard to reach.
But since no one can travel enough to earn status right now, Air Canada Aeroplan just announced a very innovative initiative that allows you to earn status very easily, without even leaving home!
For a long time now, earning points has been a lot quicker with cards than by traveling, and now the same is true for reaching status… for one month.
Aeroplan "Travel at Home" Basics
You can earn Air Canada Prestige 25K elite status by simply earning 50,000 Aeroplan Miles before May 31st and your status will be valid through the end of 2021. There are caveats though.
But first, earning 50,000 Miles is relatively easy, at least compared to the usual requirements, if you have AMEX Points accumulated. If not, you'd need to spend a lot on your credit cards and it's probably not as realistic.
The regular requirement for Prestige 25K status is to earn 25,000 Altitude Qualifying Miles (AQMs), which is not as easy as just flying a distance of 25,000 miles on Air Canada or Star Alliance partners: most tickets now only earn 25% or 50% of the distance flown. Alternatively, you can qualify by flying 25 flight segments AND spending at least $3,000 (before taxes).
Very expensive in both cases (thousands and thousands of dollars) and not recommended for those who want to keep their money to travel more.
But with this promo, it could definitely be worthwhile.
Prestige 25K is the entry-level status. For those who aren't familiar with airline elite status, it's pretty amazing, but especially beyond the entry-level status.
Prestige 25K gives you:
a waiver of carrier surcharges on award tickets in Canada and the US (big savings)
priority boarding and priority check-in (for the feeling of VIP treatment)
free checked bags (for those who overpack)
2 lounge passes (for those who don't already have free lounge access or airports with no Priority Pass lounges)
20 eUpgrade credits for business class upgrades (this promo means more elites competing for upgrades though)
priority contacts (which isn't really useful normally, but given Aeroplan's recent inability to answer the phone…

?

)
Star Alliance Silver (which honestly isn't much)
Here's how you can earn 50,000 Miles in the next month:
Transfer 50,000 current AMEX Membership Rewards Points to Aeroplan
Spend on your Aeroplan credit cards
Spend on your AMEX Membership Rewards credit cards and transfer
Spend through Aeroplan's online shopping portal
Transfer Marriott points to Aeroplan (only as a last resort, bad transfer rate)
Since the promo period is short, you unfortunately don't have time to apply for a card that offers Aeroplan Miles as a welcome bonus, but we'll monitor the situation in case they extend the promotion.
I'll tell you more about which method to prioritize and the pros and cons of each, but first…
Deciding To Go For It Or Not
Your decision will depend on:
what points and cards you have now
your rewards strategy for 2020-2021
how often you plan to fly Air Canada in 2020-2021
your tolerance to risk
First, if you hadn't yet had the chance to follow our advice to earn American Express Points with credit cards (the American Express Gold or American Express Platinum), it will be hard to reach 50,000 unless you plan on spending a lot in the next month.
If you do have the AMEX Points, you might not have planned to transfer them to Aeroplan (they transfer 1-to-1). But if you usually fly Air Canada often, it could be tempting, like it is for me. Although, it's pretty hard to know how and where we'll travel in 2020 and 2021 given the current uncertainty.
Lastly, tolerance to risk. Here's the major caveat: the Aeroplan program is being relaunched entirely later this year, so there is an element of risk in having 50,000 points invested in the program. I've been telling you for years to plan to have zero miles in your account in time for the summer of 2020, because of the uncertainty (or rather the certainty of a devaluation).
Despite earning (and using) over 100,000 Aeroplan Miles in the past year, my current account balance is 606. I am following my own advice.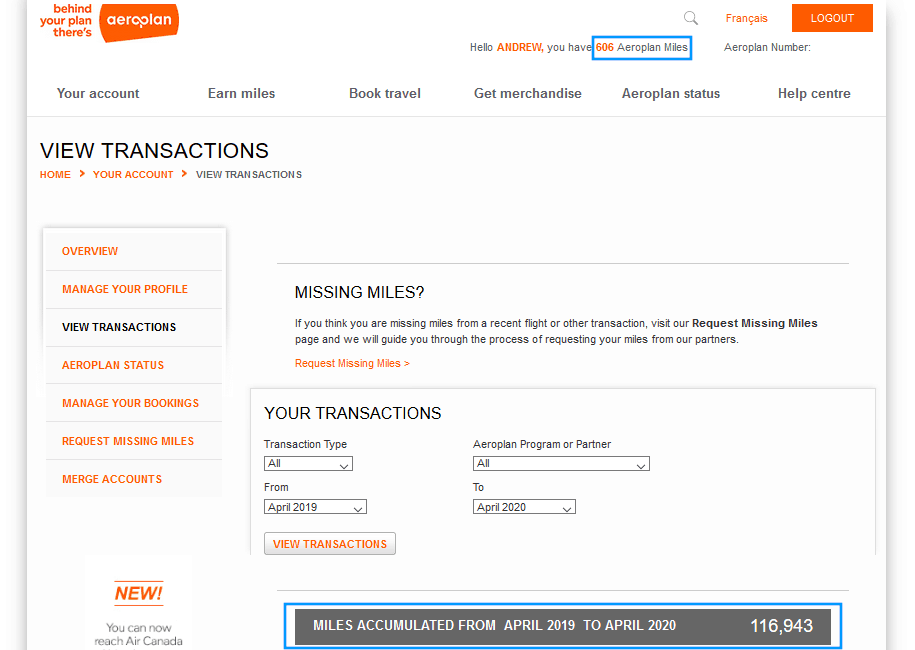 But since speaking to Air Canada's VP of Loyalty at the Airbus A220 unveiling in January, I must say I am a bit more optimistic. The award chart is disappearing for North America. That's a bummer, for sure. Dynamic pricing is bad news. But internationally, there is supposed to be some form of an award chart with pre-set transparent fixed prices.
I travel often enough to be able to live with that uncertainty, and I've always chosen my destinations based on cost anyway (which is why I went on 12 international trips in 2019, instead of just 1 or 2).
I am also very intense in earning travel rewards, so I have plenty of AMEX Points too. Personally, if I didn't have United Silver status for the first time since January 1st, I would definitely be going for this promo without even hesitating. And I'm still 90% sure I will go for it even if I already have United Silver.
In your case, the situation might be different.
But just like it makes absolutely no sense to cancel future trips in advance, since I can instantly transfer AMEX points to Aeroplan, there's no point in doing it until the final days of the promo. In case things change in some way. In the world of travel, being rational and keeping calm is always better than emotional impulsive reactions: planning is key to traveling more for less.
So if you have AMEX Points, think about it based on your situation. If you have specific questions, feel free to ask below in the comments. If you are short a few AMEX points, you can top off with the other methods in the next section.
The other caveat: you need to register online to take advantage of the status shortcut and in my case, it has seemingly not been working at all. The Aeroplan website has always been horribly buggy for me (if I had $1 for each time I got an error message, maybe I could afford to pay carrier surcharges and afford to use my Miles for Air Canada flights instead of only using them on carriers with no surcharges). I am not surprised, but still…
Detailed Earn Opportunities
This will be a great tease for our upcoming Ultimate Guide to maximizing the Aeroplan program before the rules change entirely in Q3 2020.
The 5 ways I listed above are not the only ways to usually earn Aeroplan Miles. The #1 way to earn many miles is by getting credit cards with welcome bonuses, but as mentioned, this is not a possibility for this promo. Most people wrongly think that the best way to earn airline miles is flying. This one is probably not an option for most of you in May either.
So if you have a balance of American Express Membership Rewards Points (from the American Express Gold or American Express Platinum—not the American Express Cobalt), and don't mind transferring points to Aeroplan, that's by far the easiest way to reach 50,000. If you have less than 50,000 there is still a way.
If you have credit cards that earn Aeroplan Miles or AMEX Points, it will be hard to reach 50,000 with one month's worth of spending, unless you are a very big spender (the Platinum Card promo below could help, but even that is likely not enough). But it could be enough if you are missing a few thousand miles.
Same thing goes for the Aeroplan eStore shopping portal. There are currently great promos like up to 10X miles at some retailers, but that would still require big purchases.
Finally, Marriott Points are amazing for free hotels. But they also transfer to Aeroplan: 60,000 Marriott Points give you 25,000 Aeroplan Miles. It's a bad transfer rate and we wouldn't recommend it except if you have a specific and great Aeroplan redemption planned or if you don't plan to use hotels (which is probably not your case if you already have the card). But again, for a few thousand missing miles, it could be a last-resort option.
We'll have a lot more info on Aeroplan (and Marriott too), sign up for our free travel rewards newsletter!
American Express Platinum

Double

Quadruple Rewards
For those who have the Platinum Card, American Express has just announced a pretty amazing promotion to compensate for the lack of travel.
If you are going to apply for a new card now, it probably be should be the American Express Cobalt, to earn 12X Marriott Points on groceries for a year (or 10% back if you prefer less value and more simplicity).
To be very clear, I wouldn't apply for the Platinum Card now. The Platinum Card is amazing, but it's amazing for its travel benefits (unlimited airport lounge access, hotel elite status, etc.), and the welcome bonus that makes these benefits free for a year is "once in a lifetime." We strongly recommend it; just not now.
AMEX Platinum Quadrupling Promo Basics
AMEX Canada's CEO sent out an email to Platinum Cardmembers (full text below), with surprisingly amazing initiatives in effect until July 20th. This means I probably wasn't alone in considering canceling the card temporarily to re-apply once travel resumes, and also that they probably believe travel won't start back up until mid-Summer, sadly.
The 2 main points announced are:
Earn rates will be doubled
Redemption value will be doubled
Last week, they had already announced that the $200 annual travel credit would be extended and I gave you all the details.
Let's look at the huge potential of this new improvement: quadrupling your rewards! It's great value.
Doubled Earn Rates
Here are the regular earn rates for the Platinum Card (and the amazing doubled rate):
Restaurants, coffee shops, bars: 3X (6X)
Travel: 2X (4X)
Everywhere else: 1X (2X)
Usually, I personally only use my Platinum Card for travel purchases. That's it. Despite the $699 annual fee. That's a sunk cost; it's irrelevant.
One of the biggest myths about cards that many people have a hard time getting is that they think you need to use the cards… you don't. The most important thing is the welcome bonus, then the card benefits (if any)… and then the earn rate. If you're earning most of your points with regular earn rate on regular purchases, you're doing it all wrong (and only getting a tiny fraction of the reward points you could get—and you're hurting your credit score).
That 2X earn rate on travel is great, since AMEX Membership Rewards Points are so valuable. But for restaurants, I use my Cobalt Card to earn "just" 6X Marriott Points per dollar (now that my first year and its doubled effective rate is over). And for non-bonus categories, while 1X AMEX Points is better than 1X of most other points given the value of AMEX Points, I usually use this spend to unlock a random new card's welcome bonus or use my Marriott Bonvoy Card for 2X Marriott Points on everything since I value free hotels more personally.
But now, given the next part about the doubled redemption value, I will switch all my non-grocery store spending to my Platinum Card to earn either 2X everywhere or 6X on restaurants (I have been ordering out more to travel through international food since I can't travel).
Doubled Redemption Value
AMEX Points are great because they can be transferred to airline (and hotel) points. That's where the value is. But they also can be used as a simple travel credit for those who want less value but more simplicity.
The promo relates to the use as simple credit, the normally least-recommended option.
Here's the short version:
Regular redemption value: 1,000 points = $10 credit (or even $7 for non-travel uses)
Double value promotion: 1,000 points = $20 credit (for any redemption)
Our world truly is upside down if I'm considering using rewards as fixed-value points. But I'm all about being rational and doing the math.
Of course, we usually always recommend using points as airline miles or hotel points if you want to maximize the value of your rewards. That's what we do ourselves. Yes, it's a little more complicated, but if you use your AMEX Points as Aeroplan Miles or Avios Points, you can get so much more value. Especially if you are a luxury traveler, but also if you have non-flexible dates, or if you maximize program sweet spots.
So, normally, the worst way to use your AMEX Points is by using them as a fixed-value point like in the example above: 1,000 points for $10 is a value of 1¢ per point (for reference, our Flytrippers valuation of Aeroplan Miles and Avios is 50% higher, at 1.5¢ for the same point).
But with the redemption value doubled, the math is in favor of this redemption. It is now a value of 2¢ per point, which is 33% higher than our Flytrippers valuation of Aeroplan/Avios. I'm even considering using a portion of my already earned points this way, since 2¢ is very good value for a non-luxury traveler.
And for your upcoming spend, it's actually way better: since the earn rates are doubled, it's actually as if you were getting 4¢ per point, which is simply amazing. This is, therefore, the absolute best way to maximize your return… unless you want to earn status as explained above or unless you want business class flights, in which case you should definitely keep points to transfer to Aeroplan. The doubled earn rate means you'll get double the Aeroplan Miles too, which are worth a lot more when used for business class flights (if unlike us, you don't want to travel more but rather more luxuriously).
Full AMEX Email
If you have the Platinum Card, you should have gotten the email… but if not, here it is in its entirety: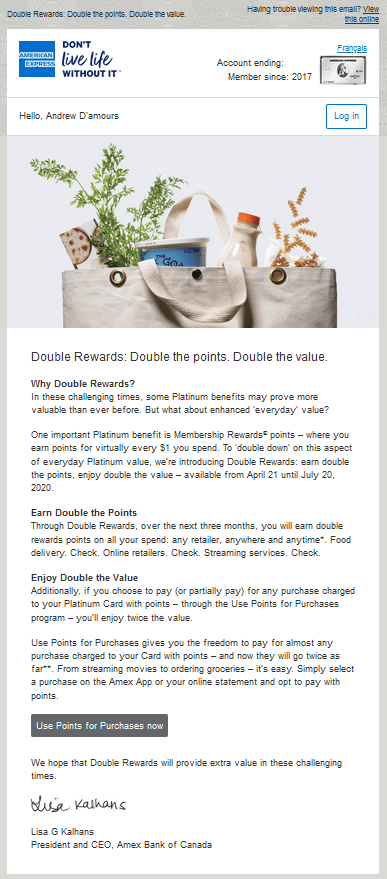 Get our upcoming free course on travel points!
Summary
These promos are amazing. Those who have American Express Membership Rewards can easily earn Air Canada status, and those with the American Express Platinum can get 4 times more value than they did yesterday.
Help us spread the word about our flight deals and travel tips by sharing this article and most importantly bookmark Flytrippers so we can help you navigate the world of low-cost travel!
Featured image: airport lounge at Aberdeen International (photo credit: Priority Pass website)
Advertiser Disclosure: Flytrippers receives a commission on links featured in this blog post. We appreciate if you use them, especially given it never costs you anything more to do so, and we thank you for supporting the site and making it possible for us to keep finding the best travel deals and content for you. In the interest of transparency, know that we will NEVER recommend a product or service we do not believe in or that we do not use ourselves, as our reputation and credibility is worth far more than any commission. This principle is an essential and non-negotiable part of all our partnerships: we will never give any third-party any control whatsoever on our content. For more information on our advertiser disclosure, click here.
Share this post to help us help more people travel more for less: