There are currently some pretty good promos for many American Express cardholders. We want to go over these in case you missed them… so you can take advantage of as many as you can. Especially since one of them ends this weekend and two of them involve Marriott and are potentially very enticing for some of you.
Our post about the savings account promo that gives you $250 completely free was very popular last Sunday (and the deal is actually back today only)…
So here are 6 additional promos, all from American Express this time.
Don't forget to sign up for our separate newsletter specifically for travel rewards points, it's free—and it will help you earn thousands of dollars in free travel.
1. Marriott 25% transfer bonus
What: transfer AMEX points to Marriott with a 25% bonus
When: before September 30th
Who: those who have cards that earn AMEX points
We'll start (and finish) with Marriott. First, the potentially most interesting promo.
Currently, there is what we call a "transfer bonus." Some of the points currencies that are transferable (like AMEX points) have promos where they give you a bonus when you transfer; in other words, you get a better transfer rate.
AMEX has these transfer bonuses regularly with Marriott Bonvoy and British Airways Avios, for example (lesson #3 in our post with 9 useful lessons is a short bit about why transferable points are great, if you want to learn more).
So if you have cards that earn AMEX points (AMEX Cobalt, AMEX Gold, AMEX Platinum), you can currently transfer them to Marriott with a 25% bonus.
(By the way, if you don't have those cards, as we told you in the post about the new Aeroplan program… in terms of card application strategy, it's probably best to hold out for now and be ready to apply for one or two Aeroplan cards on November 8th to get incredibly generous welcome bonuses.)
Instead of the regular 1:1.2 ratio, the transfer rate is 1:1.5 until September 30th (or 2:3 as they are marketing this).


As an example, transferring 70,000 AMEX points will give you 105,000 Marriott points, which is enough for 17 free nights in Marriott Category 1 hotels (the same you can get with the Marriott Bonvoy Card if you and a travel buddy get one—but again, if you haven't taken advantage of the Marriott deal yet, wait after the Aeroplan offers to do so).
So should you take advantage of the transfer bonus?
If you have the AMEX Cobalt Card (whose points cannot transfer to airlines, unlike the others), the answer is almost definitely yes.
If you have the other cards, it really depends on your personal travel preferences… but probably not. Our Flytrippers valuation of Aeroplan and Avios is 1.5¢ per point, and AMEX points transfer to those at a 1:1 rate. That means theoretically, you are still better off with those programs, despite the Marriott bonus. Our Flytrippers valuation of Marriott is 0.9¢ per point, so with the special promotional transfer ratio, it comes out to just 1.35¢ per AMEX point.
But these are all variable-value points of course, so it depends on how well you use them.
If you don't use your Avios and Aeroplan points that well, then maybe you are better off with Marriott, especially if:
You have to analyze the situation based on your own potential future redemptions and compare. We keep repeating this because it's true: it's really important to do the math in the world of travel rewards points.
In fact, even with the Cobalt Card, if you don't use your Marriott points well (which is something many people do, unfortunately—like using 25,000 points for a hotel that costs $150 in cash), you might be better off not transferring them. Especially with promo #4 below.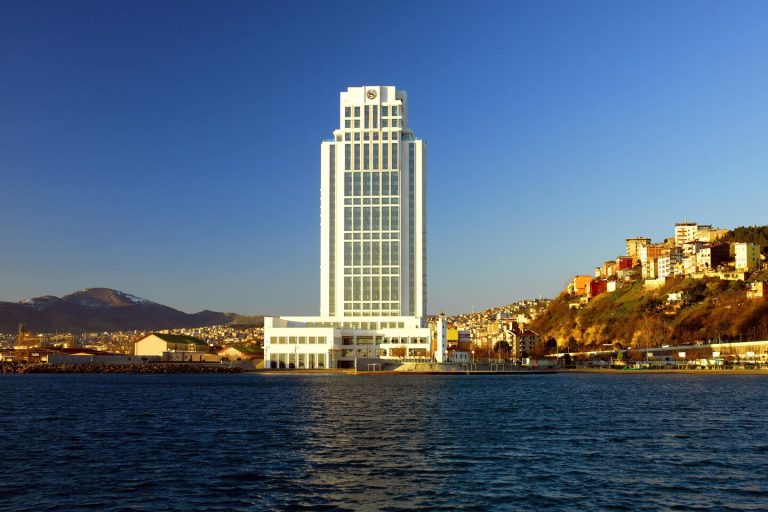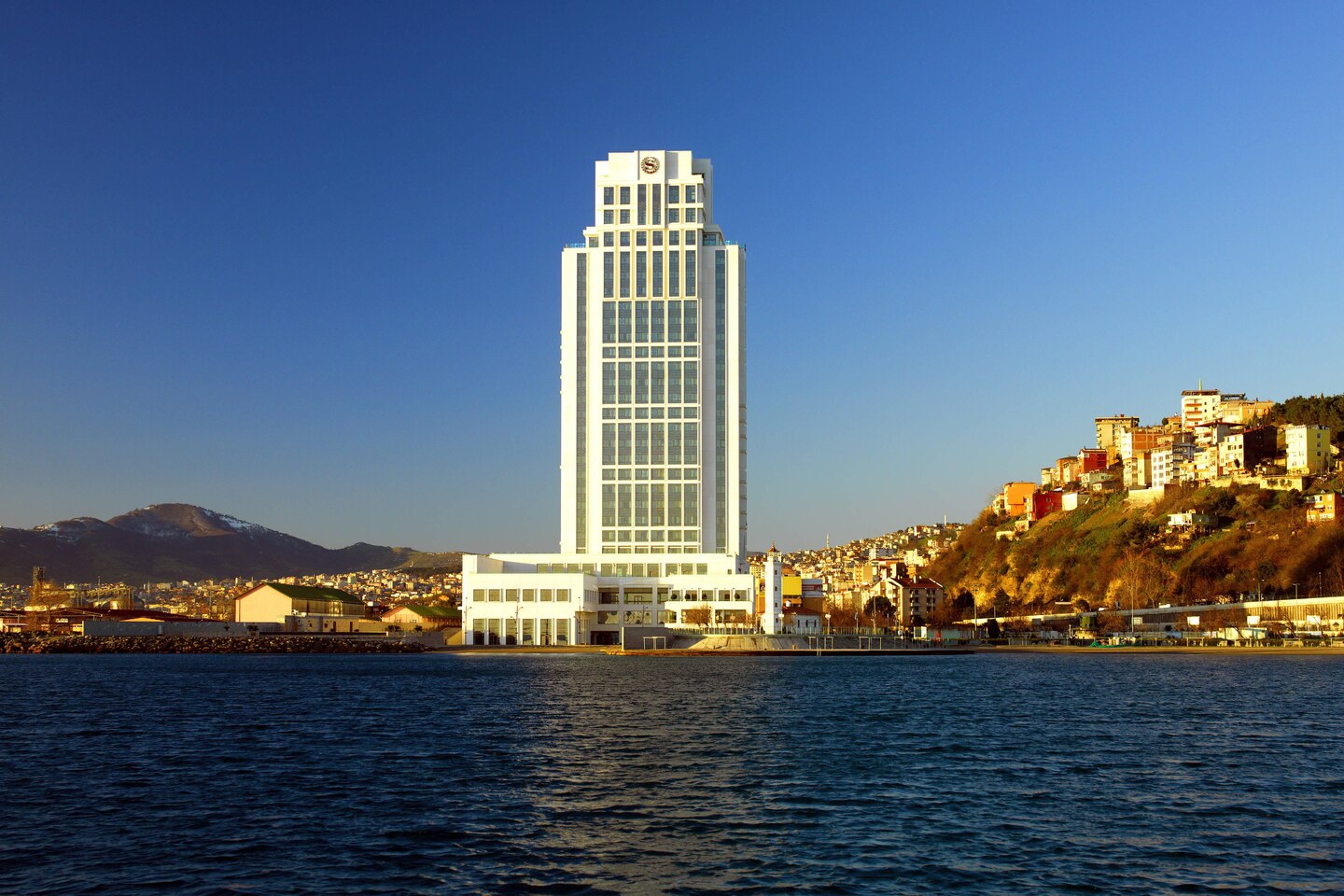 Remember that we always say to never transfer points speculatively (without a specific use planned)… except during these transfer bonuses. But even then, you still have to see based on the trips you plan to take in the next 1–2 years, which is admittedly a bit harder in these strange times.
So in one sentence: it really depends on your uses of either Marriott, Aeroplan, or Avios.
If you sign up for our free special travel rewards points newsletter, we'll invite you to a special live Q&A video so you can ask us your specific questions if you want (the week of September 20th).
Otherwise, here's how we can also help you decide if you should transfer some points:
If you are wondering what I am going to do: my Cobalt points are definitely going to be transferred to Marriott with this 25% bonus (although I might keep a few of them to transfer to Hilton since I have a lot of Marriott points). My Platinum points will definitely not be transferred.
2. Shop small promo
What: up to $50 free ($5 off a $10 purchase, 10 times per card)
When: before September 13th
Who: every AMEX cardholder
This is not a huge promo, but one that everyone can easily take advantage of. And it ends this weekend, so if you're up for some shopping (or eating)…
Essentially, AMEX is giving you $5 free every time you spend $10 at an eligible small business. This is a great way to support local businesses and get a great and easy rebate—a true win-win.
This promo is even better than in past years: you get up to 10 discounts per card. That's potentially $50 completely free if you were going to spend these small $10 increments anyway. There are thousands and thousands of participating businesses (and some aren't even that small, giving you even more options).
And if you have multiple AMEX Cards, you have this offer on each one. For example, I have 10 discounts on my Marriott Bonvoy Card, 10 on my AMEX Cobalt Card, and 10 on my AMEX Platinum Card. Not to mention that I have them on all of my girlfriend's cards too.
You can even get multiple discounts at the same business by using different cards. If you have just one card, then you have to use it at different businesses.
As with almost all of the frequent "AMEX Offers" you are probably familiar with by now, the $10 amount you need to reach is after taxes, since AMEX does not care how much of what you spend goes to the government.
The closer to $10 you spend, the better effective rebate it is. For example, I got beauty products for my girlfriend and got it as close as $10.36:


That means I got a 48% discount with the $5 credit from AMEX (in addition to my regular rewards earn on my card, of course). That's a pretty good return!
And of course, it's an especially good deal if you were going to spend the amount anyway. Many, many restaurants are eligible, so you might want to take advantage of the free $5 credit you can get until Sunday.
You need to register your card online to be able to take advantage of the promo, as with any of the AMEX Offers. You can do that at the bottom of your online account or on the app. And you will be able to learn more about AMEX Offers in our detailed post to come.
You can use this useful map to see the many businesses participating in Shop Small (the app has a map too, accessible from a link in the AMEX Offer fine print).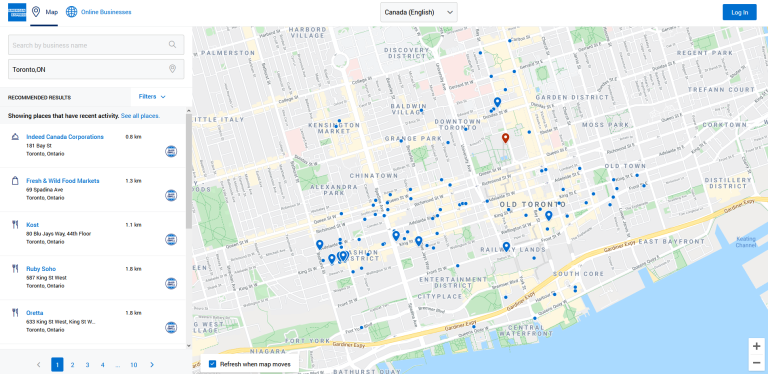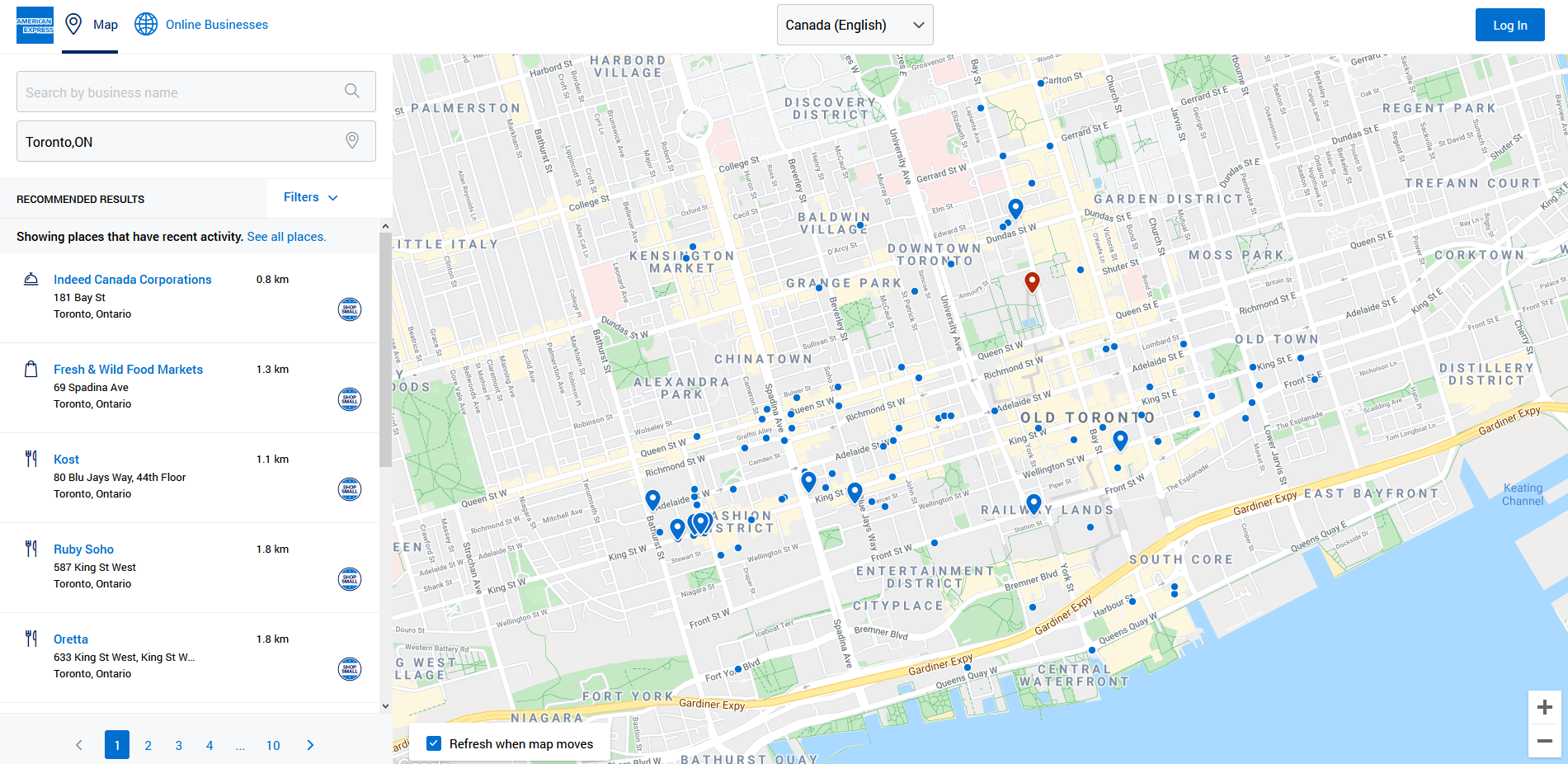 3. Shopping mall gift card promo
What: get $20 off a $100 mall gift card (max $60)
When: before September 30th
Who: almost all AMEX cardholders (who live near an eligible mall)
This great promo from last fall is back, and it's even better. That's a very easy discount. You simply need to buy a $100 mall gift card from an Ivanhoe Cambridge mall and you'll get a $20 credit.
It's an extremely easy way to get an extra 20% discount on anything you would buy anyway since the gift cards never expire. As long as you have an eligible mall near you (there are many; you can see the list of malls).
You can get the credit 3 times like the previous promo, and it seems to be available on the Platinum and Marriott Bonvoy cards. You can buy the gift cards at the customer service desk at the mall (or even online this time according to the AMEX Offer fine print).


Last fall, I bought 6 of them and will do the same this time. My mall happens to have a Walmart in it, which makes it easy to spend those amounts even for someone who is very frugal, since I can use the cards for everyday stuff.
I've even been able to get a much better deal this time thanks to an unrelated local promo and by "stacking" promos. We often tell you about that, and this is a great example.
Most people think that getting a lousy 1-2% back on their purchases is what travel rewards points are about, but that's really not the case—here are our 25 myths that are vital to debunk, in case you haven't read them yet.
Instead, I'll get a whopping ≈30% back on my next $600 of spending at my mall. A bit better than 1% right?
(Even without my specific local promo, with just the AMEX credit you are still getting ≈21-22% back instead of 1-2%.)
It's that my local mall happens to be running its own promo giving a free $25 card when you buy $250 in gift cards.
So by getting 3 gift cards of $100 each, I'll get:
$60 as a credit (3x $20 from this AMEX Offer)
$25 free as a gift card (the mall promo)
≈$5 in earned rewards (I assumed a 1.7% back average for rounding)
That's 30% back ($90 on a $300 purchase). Not bad at all. That was with my girlfriend's card, and I'll do the same with my own now that my mandatory 14-day quarantine ends today.
That's another way to maximize travel rewards points: by taking advantage of the available promos! And by learning to master gift cards!
4. New SimplyCash Preferred Welcome Bonus
What: $301 Welcome Bonus on SimplyCash Preferred card
When: before September 30th (end date unknown)
Who: those who don't want Aeroplan points
We rarely recommend cashback cards because most don't have welcome bonuses… and welcome bonuses are the key to earning $1,000 or more in free travel every year, as I've been doing for a decade (that's really one of the most important points in our post about the 25 myths).
And I really want to reiterate, you're almost certainly better off waiting for the Aeroplan offers in less than 2 months. They will be amazing.
But if you have absolutely no interest in earning Aeroplan points despite the program improvements (or are in a financial position where you need cash and not free travel), then, and only then, should you consider this brand-new offer on the SimplyCash Preferred Card.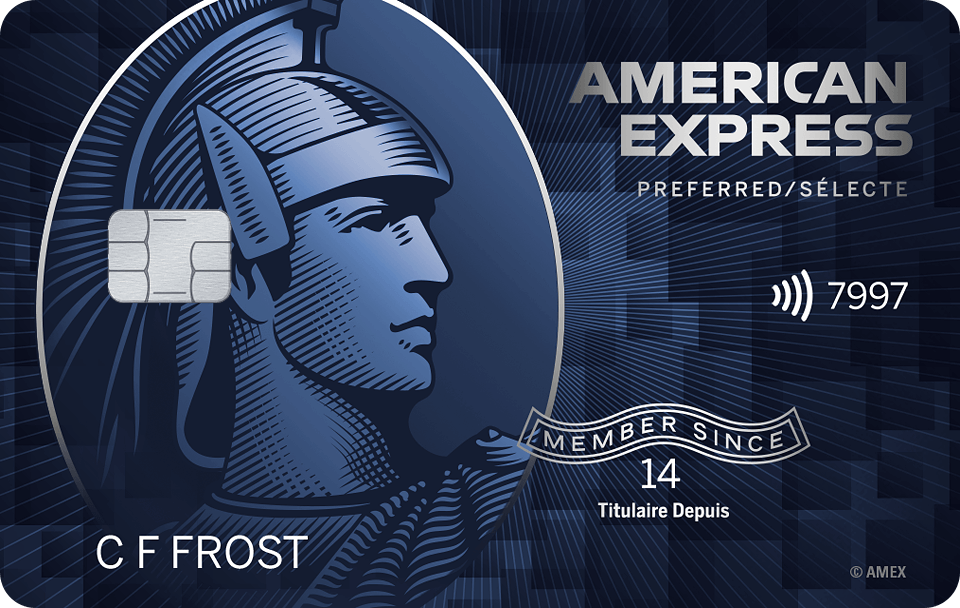 It's pretty simple: you get 10% cashback the first 4 months on your first $4,000 in spending, giving you $400. The net value of the Welcome Bonus is $301 ($400 less the $99 card fee). But that $4,000 is higher than the minimum spend amount usually is for welcome bonuses in this range (normally around $1,500).
Still, it's as good as cashback card welcome bonuses get. It is similar to the Scotia Momentum Visa Infinite that is offering the exact same 10% but only on $2,000 for $200 free. Except Scotia's $200 is really free (no fee), so you get $101 less net… but you lower the required spending by $2,000. But the Scotia card requires a minimum income of $60,000 while AMEX has done away with minimum income requirements altogether.
After the Welcome Bonus ends, the SimplyCash Preferred Card earns a flat 2% back everywhere, while the Scotia Momentum earns more on groceries and recurring payments thanks to a category bonus (4%), but less on everything else with a 1% rate (except gas and transit at 2%).
You can apply for the AMEX SimplyCash Preferred Card via the secure American Express link.
5. Use Points for Purchases promo
What: use points for purchases at a 1¢ valuation
When: before September 30th
Who: those who want a statement credit worth less but simpler
This is really not a good deal at all… again, depending on your personal situation. It's definitely not the way to get the most value, but if you've lost income due to the pandemic, then this can provide more short-term relief.
With the AMEX Cobalt and AMEX Gold cards, you can currently get 1¢ per point as an easy statement credit, which is what you can always get as a credit for travel expenses (and which is the minimal value you can get).
But now, due to the coronavirus, you can apply it to any expense, not just travel expenses.
But as I said in the #1 promo, our Flytrippers valuation of Aeroplan and Avios is 1.5¢, which is 50% more value (with the Gold Card)! So you're much better off keeping your points to transfer to those airline programs, unless you are in need of more liquidity right now.
If you want to understand why variable-value airline points are much more valuable than redemptions with fixed-value points, you can read the short lesson #5 in the 9 brief lessons post or see an extreme but clear example.
6. Marriott Card elite bonus promo
What: transfer AMEX points to Marriott with 25% bonus
When: before December 31st
Who: Marriott cardholders who want to reach a higher elite status
Finally, this is not an AMEX promo specifically, but one for those who have the Marriott Bonvoy Card by American Express.
Specifically, it's for those who want to earn a higher level of elite status for next year. By being a Marriott Bonvoy Cardmember, you automatically get Silver Elite status. But that is not worth much since it's so easy to reach.
Like we always say: the easier something is, the less value you'll get (promo #5 above is the best example).
In short, you qualify for elite status based on how many nights you stay in Marriott hotels in a year. Every night gives you one "elite night credit." As a perk of the Bonvoy card, you always get 15 bonus elite night credits to help you reach the higher Gold Elite status, which is a bit better (it gives you upgrades to enhanced rooms—although no suites at this level—and a 25% bonus on points earned during your cash stays).
You can read our detailed post about Marriott Bonvoy elite status.
Anyway, the current Marriott coronavirus promo gives every elite member bonus "elite night credits" that make it even easier to reach Gold Elite status. As a Silver member, you got 5 extra elite night credits deposited in your account this summer.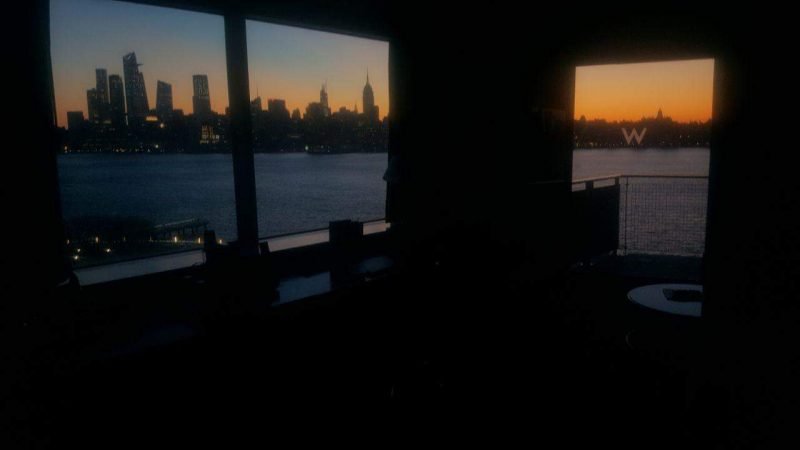 With the 15 elite night credits you already had, that's now 20: you're just 5 more nights short of being a Gold Elite member. Using Marriott points in expensive countries like Canada is not often a great redemption, but if you are traveling elsewhere or even if you go on any trip until the end of the year, maybe the cash price of Marriott hotels is not much more than the cheapest option where you are going.
Then you could stay 5 nights and earn Gold Elite status. If you had already stayed a few nights in Marriott hotels this year, maybe you've already reached it with this promo. You can check on your Marriott online account, under "Activity."
And join our free special travel rewards points newsletter to get our upcoming ultimate guide to every little detail about the Marriott program.
Want to learn how to earn more free travel?
Summary
These 6 American Express promos can generate a bit of value as you await the Aeroplan card offers coming in November!
What would you like to know about these promos? Tell us in the comments below.
Explore awesome destinations: travel inspiration
Learn pro tricks: travel tips
Discover free travel: travel rewards
Featured image: random small business (photo credit: Nicolas J Leclercq)
Advertiser Disclosure: In the interest of transparency, Flytrippers may receive a commission on links featured in this post, at no cost to you. Thank you for using our links to support us for free, we appreciate it! You allow us to keep finding the best travel deals for free and to keep offering interesting content for free. Since we care deeply about our mission to help travelers and our reputation and credibility prevail over everything, we will NEVER recommend a product or service that we do not believe in or that we do not use ourselves, and we will never give any third-party any control whatsoever on our content. For more information on our advertiser disclosure, click here.
Share this post to help us help more people travel more for less: