The Tampa Bay area in Florida is often overshadowed by Miami or Orlando. But the West Coast of Florida on the Gulf of Mexico is quite unique, and I figured I could share a bit of my own experience visiting the Tampa Bay area 3 times.
Some of you might be considering the Sunshine State for an upcoming trip this fall or winter. While I much prefer Miami personally (for a variety of reasons I'll share in an upcoming post)…
Either one of Florida's 2 major coastal metropolitan areas is a great choice for a long weekend getaway.
With weekend getaways, you can keep your precious weeks off from work to do actual traveling, instead of using them all up to do nothing on a beach for 7+ straight days like so many people do.
That's one easy pro tip to travel more: simply use long weekends for vacation-type holidays and then use all the time you can for real traveling. If you are like the many who say they want to see more of the world, wasting full weeks on a beach or pool chair is just not going to help you do so.
Or if not, if you really enjoy vacations, that's fine of course! But at the very least, go see some things and places outside of an artificial resort if you do choose vacationing over traveling, so you can get a bit of the benefits of traveling!
Logistics of traveling to the Tampa area
First, here are some tips and information.
Basics, including Tampa vs Tampa Bay
Let's start by clarifying one thing. There is no city called Tampa Bay. It's not like the other "Bay" city in the USA that's well known: that's a city that is really called Green Bay. Like Canada's own Thunder Bay. The Florida city is called just Tampa.
Don't worry, that's not the most embarrassing city name misstep related to this year's 2 Super Bowl teams: in 2020, then-President Trump congratulated the state of Kansas for the Kansas City Chiefs' win (the team is based in Kansas City, Missouri—not in Kansas).
Anyway, the bay around which the city of Tampa (and St. Petersburg, Clearwater, and many others) was built is called Tampa Bay.
So Tampa Bay is the name given to the entire metropolitan area, one that has a total population of 3 million (the city proper of Tampa only has 400,000). Imaginary city lines are irrelevant, as I explained before.
Location
The Tampa Bay area is located on the Western Coast of the Florida peninsula. That's the Gulf of Mexico coast—as opposed to the Atlantic Ocean coast, where you'll find Miami.
Anyone who has been will tell you the West Coast of Florida has an entirely different vibe than what you experience in the Miami area (for those who didn't know, Miami is actually closer to The Bahamas than it is to Tampa and it is closer to Cuba than it is to Daytona Beach).
In fact, Florida has 8 distinct "coasts"—or rather 8 different "named" coastal regions that all have their own personality.
That is not surprising for a state with more than half of Canada's population and where it takes 13 hours to drive from one end to another (from beautiful Perdido Key on the Emerald Coast to the apparently-just-as-beautiful Key West).
We had started a 3-part series about those 8 Florida coasts early in 2020; we'll re-start publishing the next parts by popular demand. As I said, many of you have asked for content to help you travel virtually during this lockdown.
The Tampa Bay area is part of the Sun Coast.
Anyway, the city of Tampa itself is inland, but the most popular beach towns in the area are Clearwater and St. Pete Beach, to name just a few. These have nice white sandy beaches and something the entire Atlantic side of Florida can obviously never have: sunsets over the water.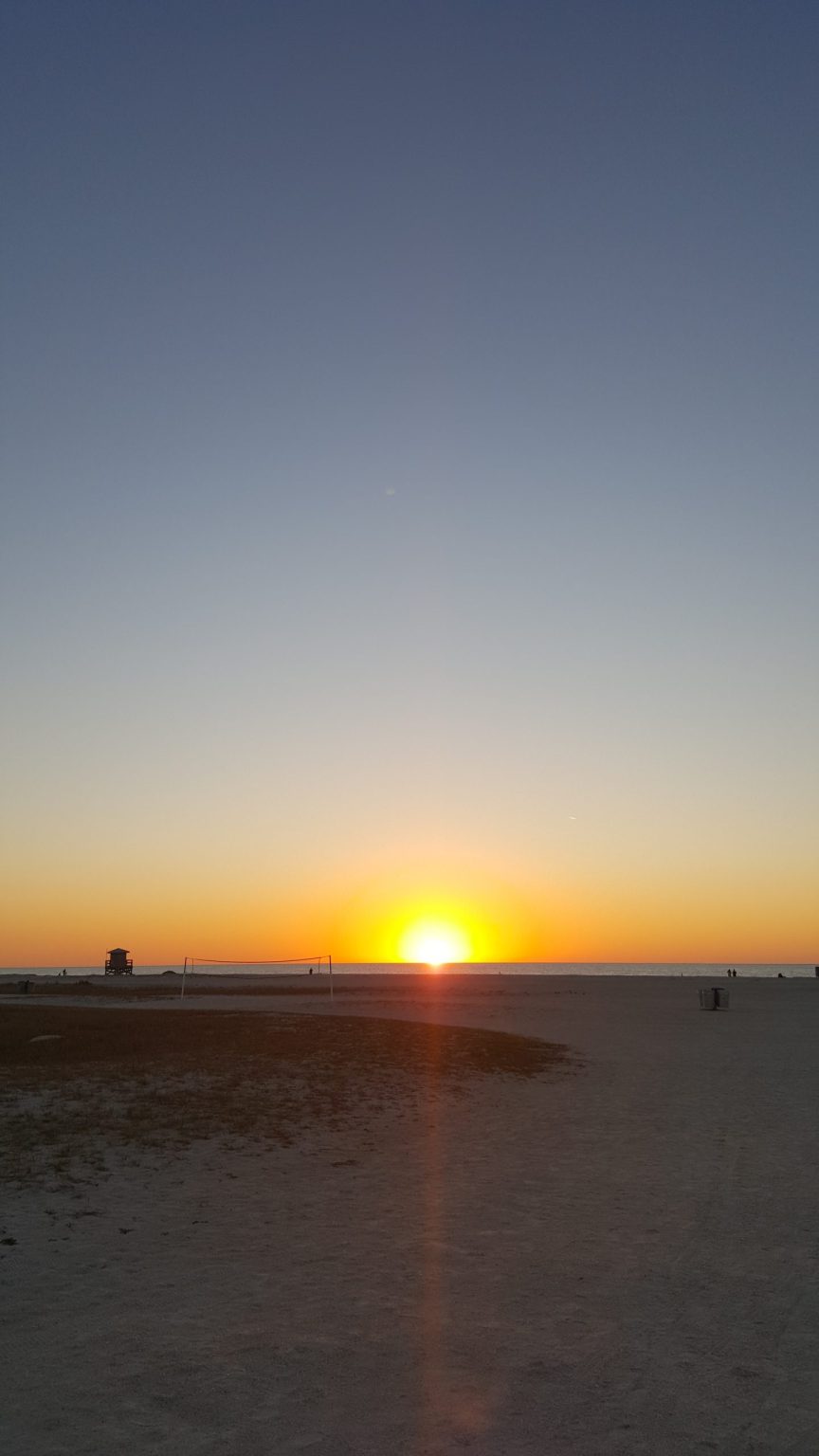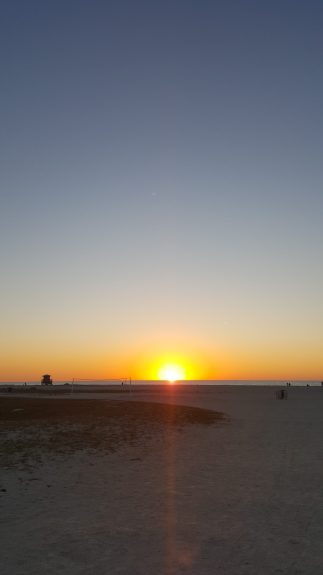 Not to mention that just south of the Tampa Bay area, you can easily discover another entirely different and even quieter part of the state if you explore the rest of the Sun Coast (including the beach often voted #1 in the US—Siesta Key Beach)… but that will be for another post.
Climate
In terms of weather, the Tampa Bay area does lie considerably more to the north than Miami, so it's not as warm. Of course, Miami is the only metro area in the continental US with a tropical monsoon climate classification (Köppen), so that is to be expected.
But during my visits to the Tampa Bay area in late November and early January, the weather was warm and perfectly enjoyable. Statistically, the average high is at least 20°C even in the winter.
But it's sunnier in the Tampa area (hence the Sun Coast name; see a very surprising fun fact about the Sunshine State's misleading name in the last section).
Getting there
The obvious answer is by plane directly, as many Canadian cities have direct flights to Tampa (TPA): Toronto, Montreal, Ottawa, Halifax, and St. John's. The area's lower-cost airport is near St. Peterburg (PIE), with flights from Toronto and Halifax, as well as Plattsburgh (Montreal) and Niagara Falls (Toronto).
Hopefully, you know by now that flights with layovers can often be a lot cheaper, so always check with an online comparison search tool if you want to travel more (aka save money so you can travel more). We also regularly spotted good deals to the Tampa area on our cheap flight deals page.
If you love roadtrips like me and were going to get a rental car anyway, you can even consider Orlando's two airports (MCO and SFB) if it's much cheaper. Fort Myers (RSW), Punta Gorda (PGD), and Sarasota (SRQ) are other alternatives within driving distance.
In late 2016, I had spotted US$40 roundtrip flights from Plattsburgh to Orlando, so I booked that deal to go there 3 weekends in a row. Before launching Flytrippers, I did not have as much time to travel as I worked in management consulting… so weekend escapes at that price were just perfect. That way I could avoid wasting a week going somewhere warm and instead go where there's more to see and do, which is my preference as someone who likes to travel and therefore to explore new places.
On 2 of those 3 weekends, I drove to the Tampa area, which is about 1 hour and a half away. Rental cars in Orlando were just $20 per day total by of course avoiding one of the worst travel scams out there: car rental insurance.
(As long as you're covered for damage with basically any good credit card and have liability insurance through your regular car insurance, as most of you probably do.)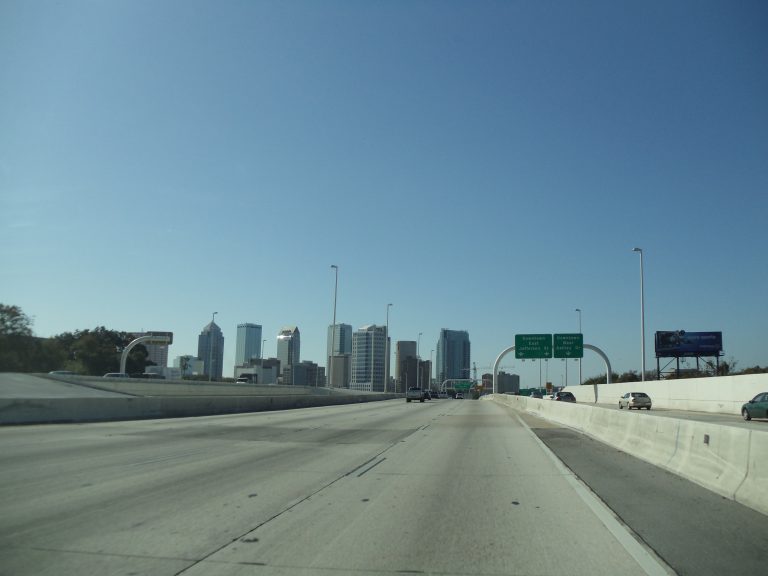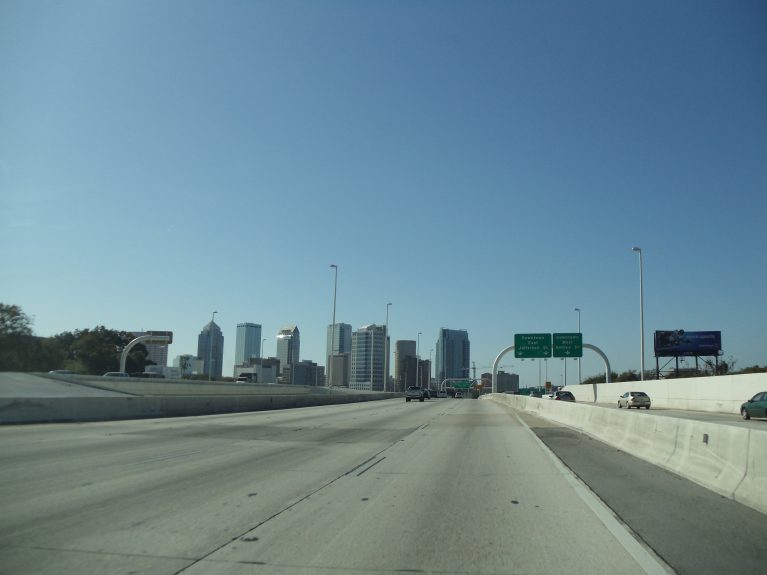 My other trip to the Tampa area was all the way back in 2011 when I was in Miami yet again. My girlfriend and I decided to finally see what the buzz surrounding the Gulf of Mexico coast was all about. That is a longer drive at about 4 hours, but we made many stops along the way anyway and enjoyed it.
The views are pretty unique when crossing the Everglades, although everything in that part of Florida is very flat.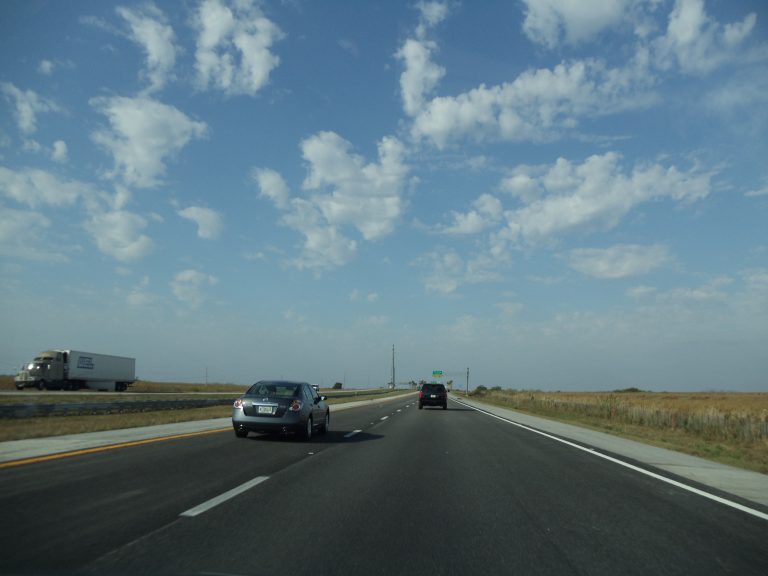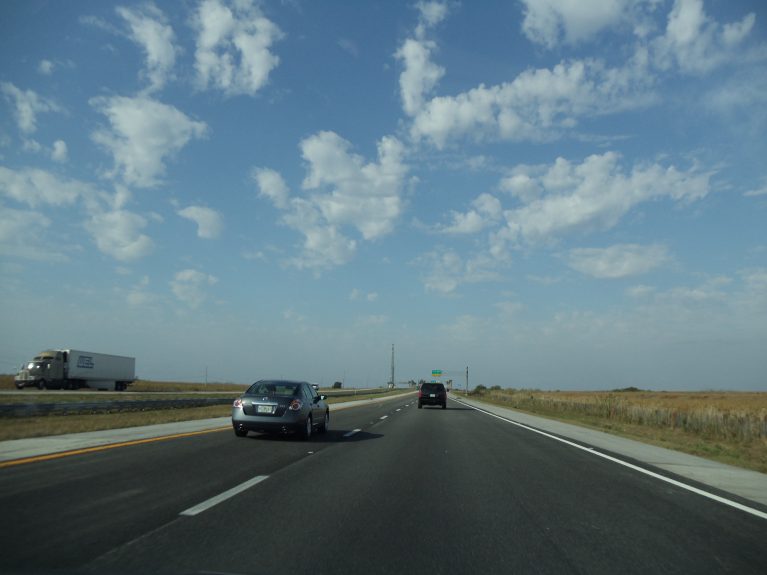 Buses are also available at a reasonable price from Orlando or Miami, and Amtrak trains from Orlando are often only US$9 each way. But be warned that the Tampa Bay area is not as easy to visit car-free as the Miami/Miami Beach area is.
Also keep in mind that flying to the Tampa area is very often more expensive than flying to Miami and that if you're a budget traveler, you won't find $25/night hostels in the Tampa area like you will in Miami Beach.
That is how I often go on 5-day long weekend trips for under $400 total—plane ticket at a normal-enough price included of course, not a $40 roundtrip. Traveling doesn't have to be expensive if you don't want it to be!
In a way, that's yet another example of what we explain in our post about the cheapest countries to travel to: choosing the right destination is very important, the overall cost difference can be huge—even within the same state!
3 places I explored in the Tampa area
Here are more details about the specific places in the area.
Tampa
Don't worry, I'll get to the beaches. But if you're like me and love cultural and historical experiences over vacationing, you'll enjoy the very underrated city of Tampa.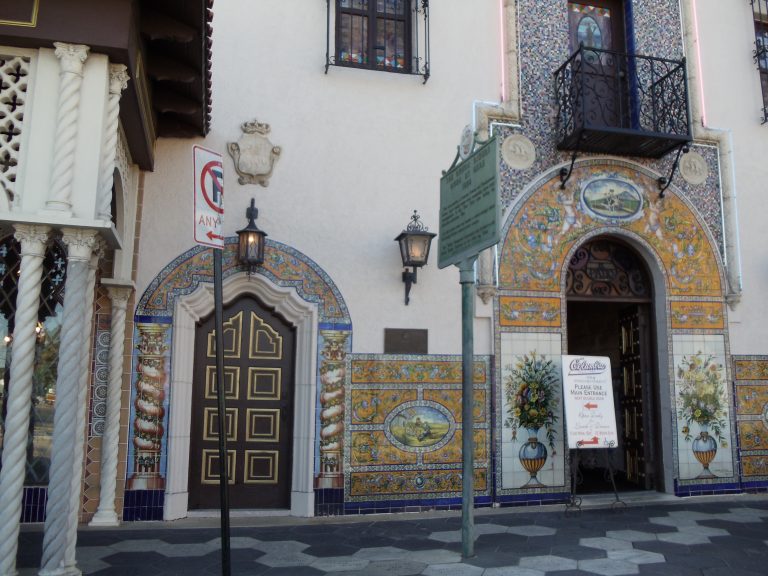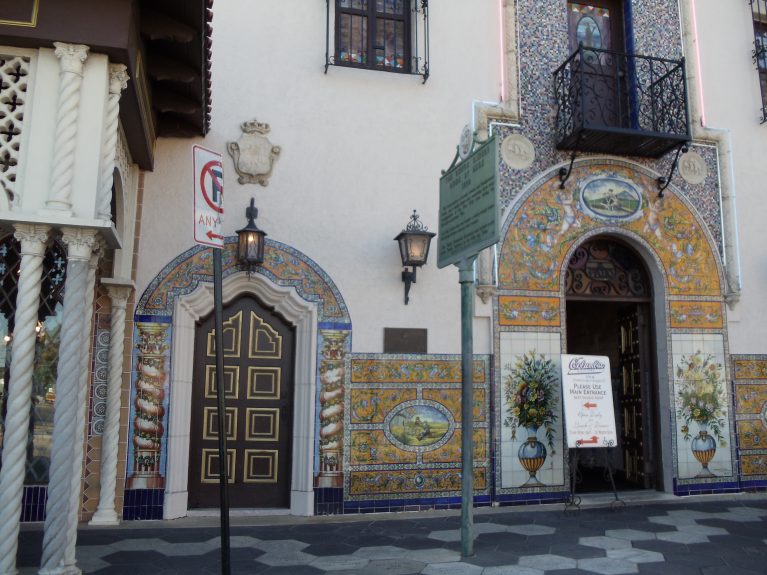 My highlight was the historic Ybor City neighborhood near downtown, once home to one of the world's largest cigar industries. It has since become Tampa's trendy neighborhood. Spending a day exploring the area on foot was definitely worth it.
While Cuban immigrants later decided to choose Miami over Tampa, you can still find a bit of that influence. I must say, the classic Cuban sandwiches are still better in Little Havana in Miami (sorry Tampa).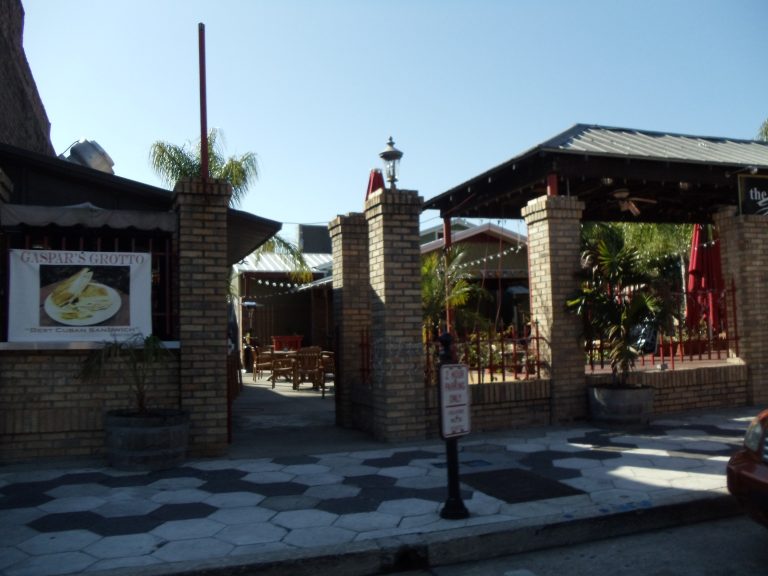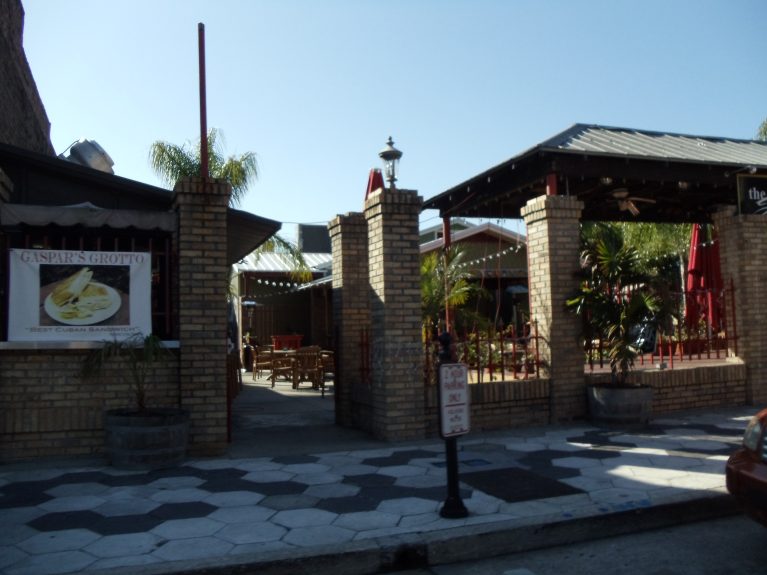 One of those 2 weekend trips to Tampa in a row was with my dad, as we have a decades-old tradition of going to see sporting events across North America (that could be a post in and of itself, for those who are interested).
So while I've watched the Dolphins in Miami a few times, that time we decided to go see the Tampa Bay Buccaneers host the Seattle Seahawks.
The atmosphere at Raymond James Stadium was great (it helped that we had great seats), with the pirate ship and cannons setting the tone (the cannons weren't allowed to go off after touchdowns during the Super Bowl, to keep the neutral-site concept).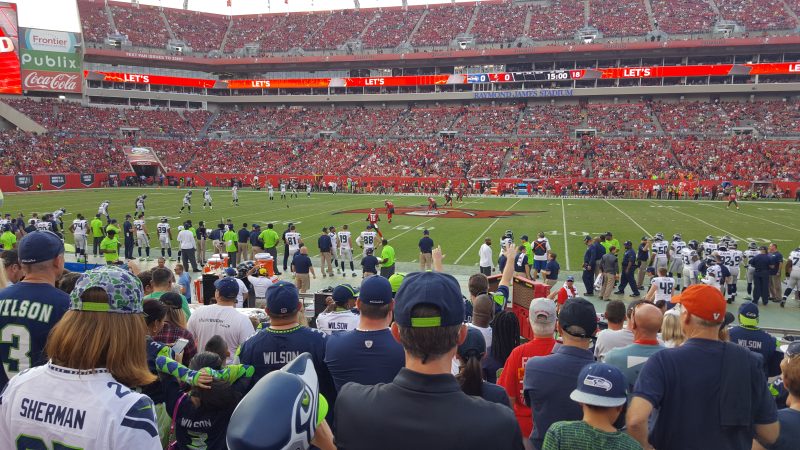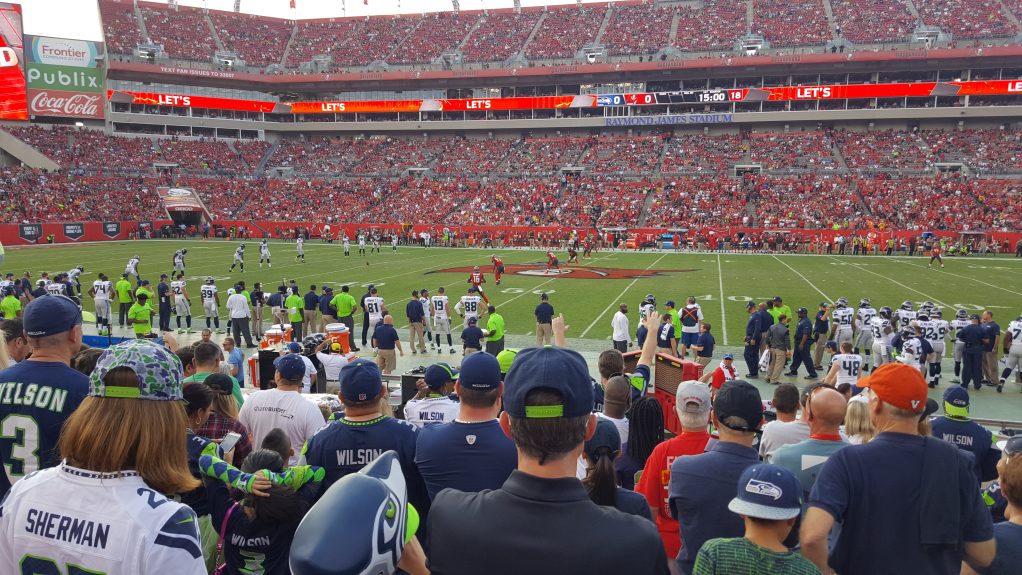 In terms of other pro sports, you can also attend a Lightning game to see the defending Stanley Cup champions (in downtown Tampa) or the AL-champion Tampa Bay (soon-to-be Montreal?) Rays (near downtown St. Petersburg).
One of the hotels I stayed in Tampa at was the Sailport Waterfront Suites, which had a great view of the bay and was pretty affordable (for North America).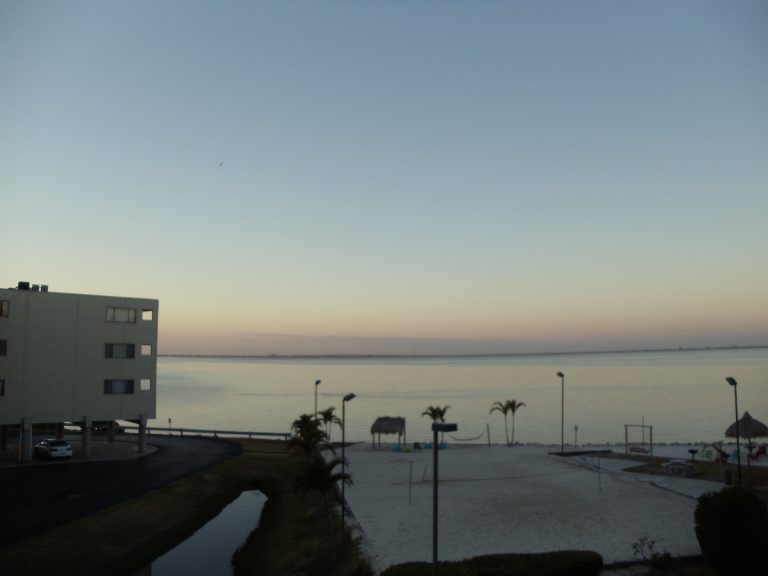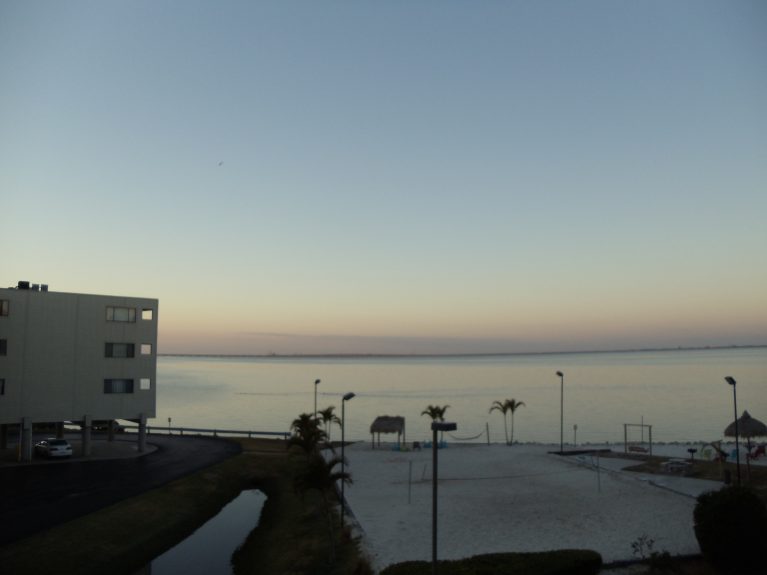 Clearwater Beach
One of the top places (if not the top) to stay in the Tampa Bay area is Clearwater Beach. It's the part of the city of Clearwater that is on a barrier island, and it's where most visitors go.
Even I will admit that I'm a sucker for sunsets over the water, even if I'm not much of a beach fan (well, for a day or two maybe… certainly not 7).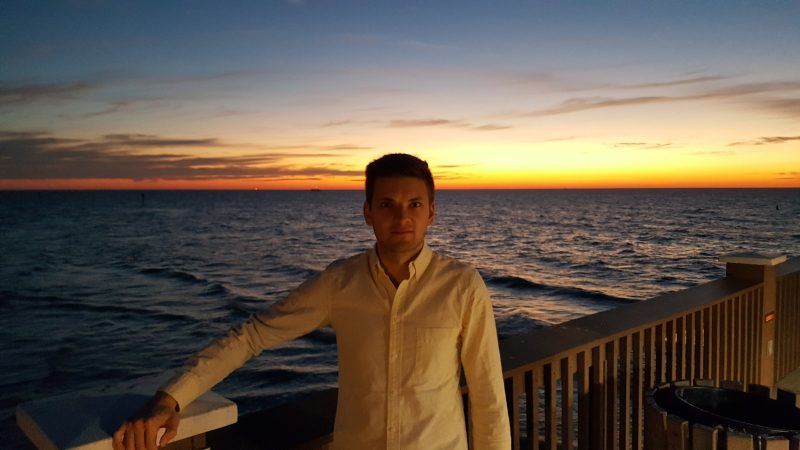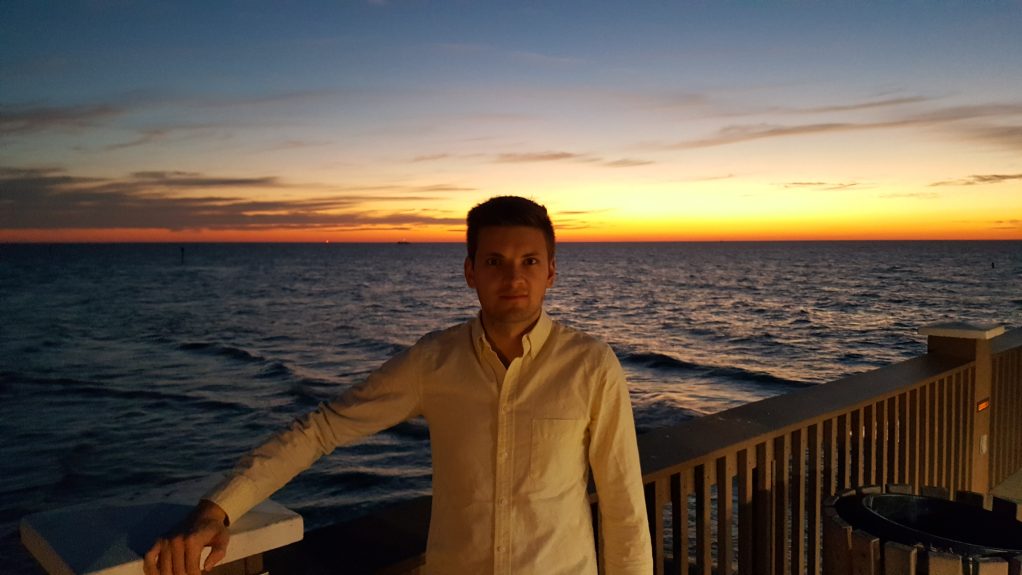 Clearwater has recently been named "best beach town" and it really has that very relaxing atmosphere of a place where people go for a holiday. The Beach Walk is a fairly recent project that makes it a very nice place to enjoy some relaxation, with a long and winding pedestrian walkway.
Pier 60 is the central point of the area and there's everything you'd expect to find there. I even participated in an entertainer's magic show near the beach. These street performers are there every day.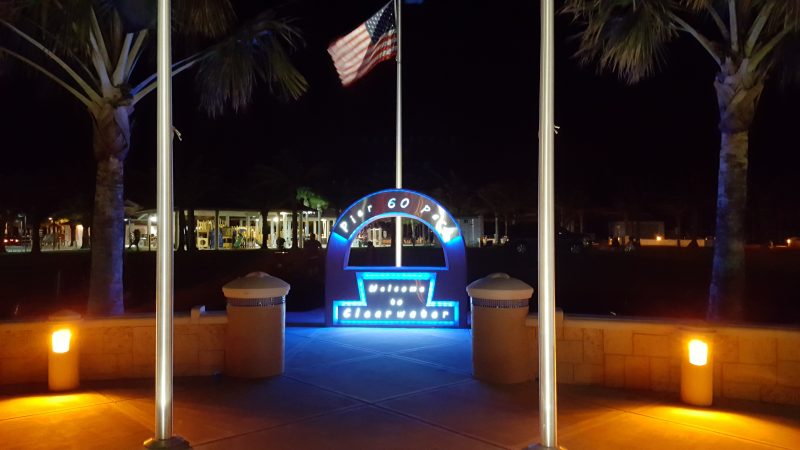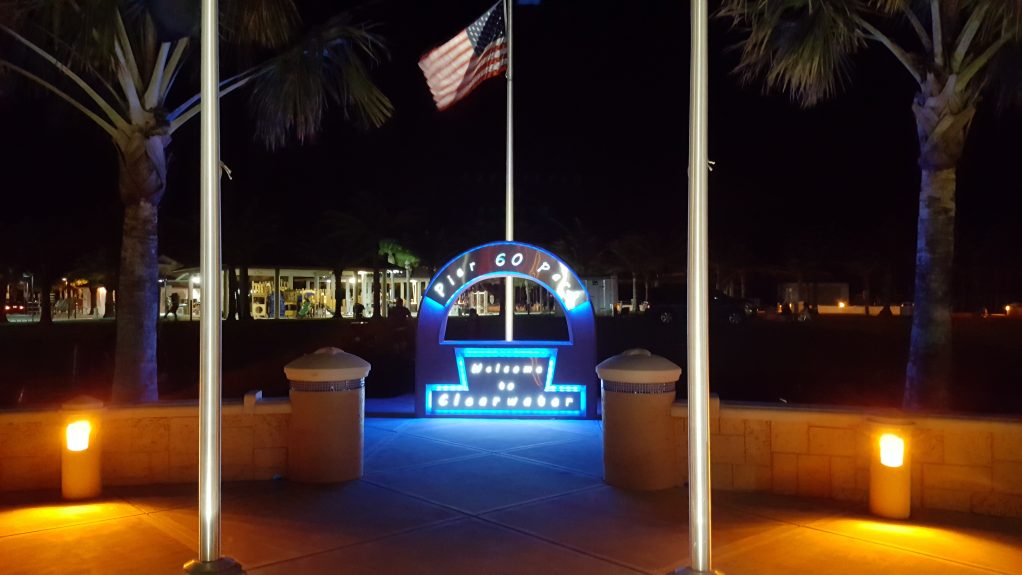 The whole area is pretty small and walkable.
I grabbed a pic of this cartoony-touristy local map that shows you how everything is closeby.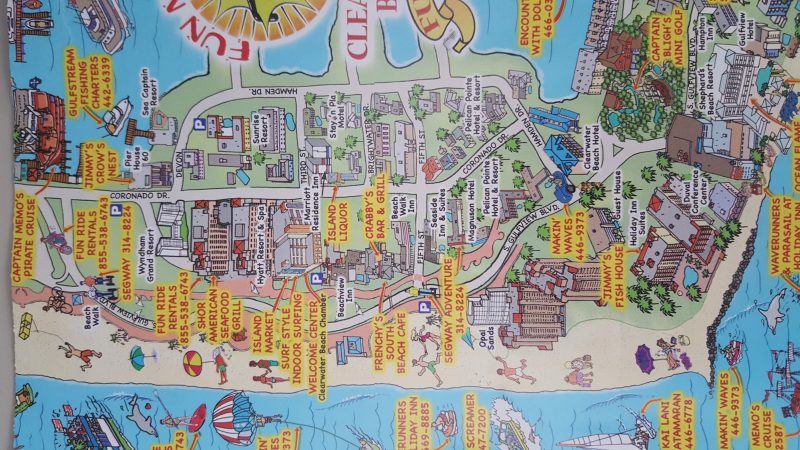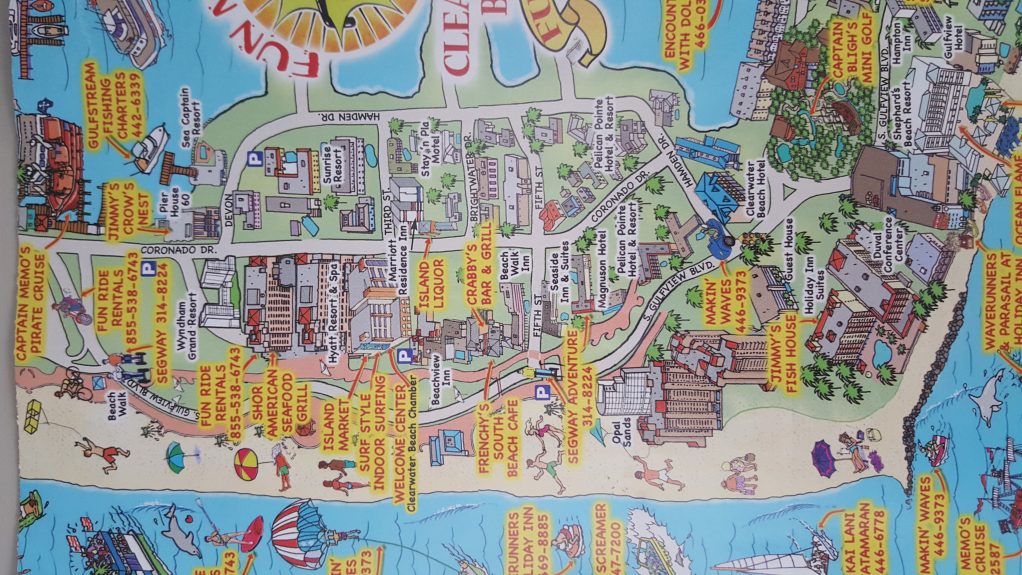 I borrowed a bicycle from where I was staying and explored a bit.
I recommend crossing the bridge just south to the next island where you'll find a beautiful waterfront park at Sand Key Beach, it's much quieter.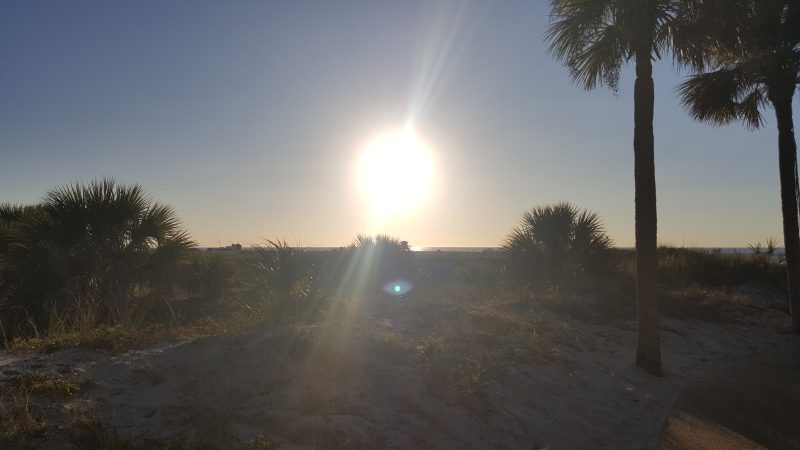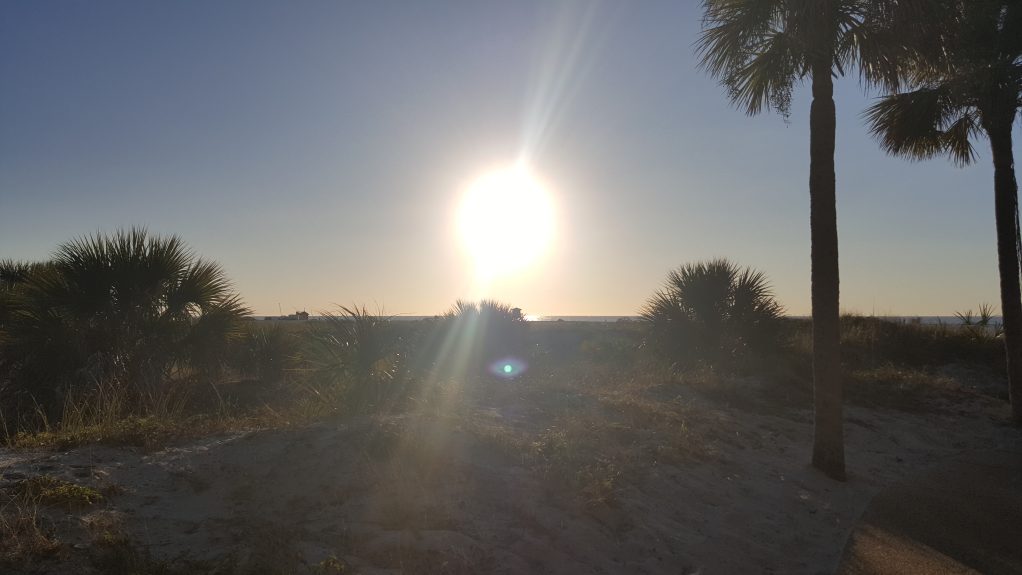 The Gulf of Mexico side of Florida is known for its white sand that is very different from the beaches on the other side.
It really is beautiful.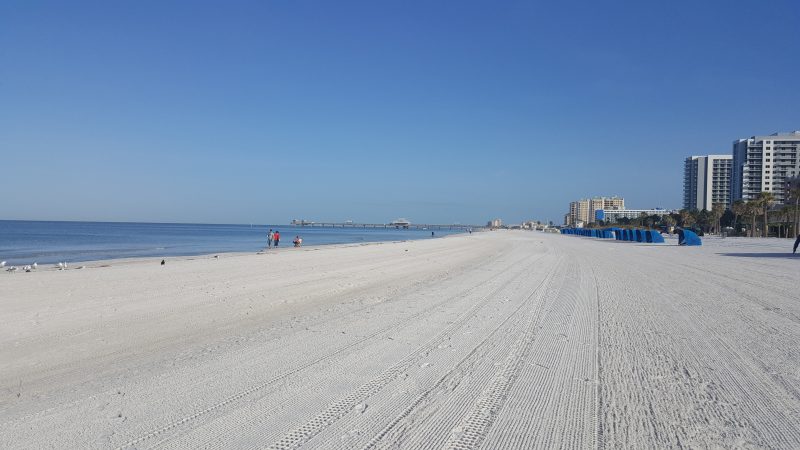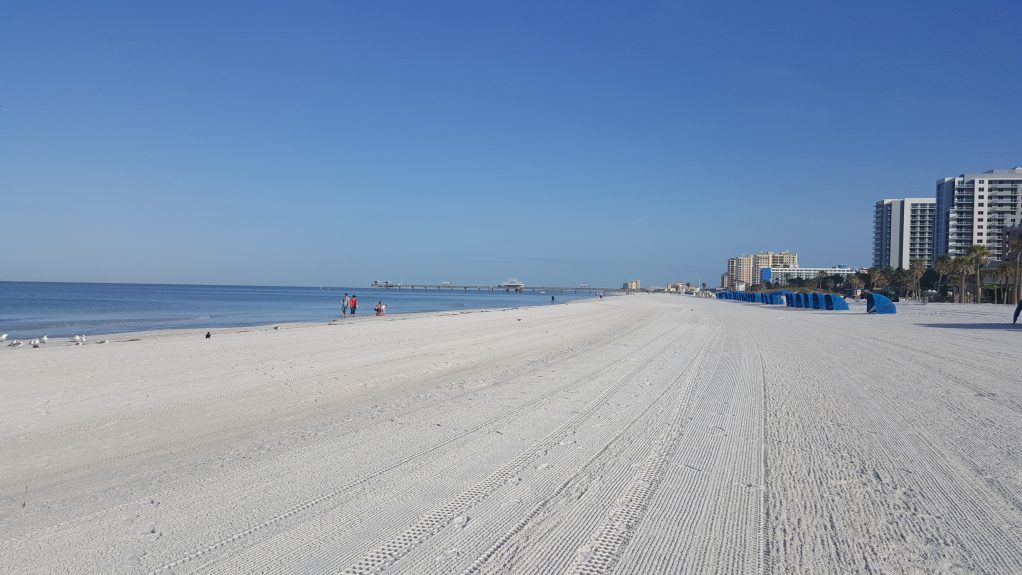 There are plenty of lodging options directly on Clearwater Beach, from large chain hotels (like Marriott resorts where you can even use your points for free nights, although it's not the best use to maximize them—as is often the case in expensive countries) to smaller and/or cheaper independent hotels.
(There are 3 Marriott category 5 hotels where you can use the Marriott Bonvoy Card's annual free night certificate, but you definitely won't get as much value as using it for luxurious hotels in other destinations.)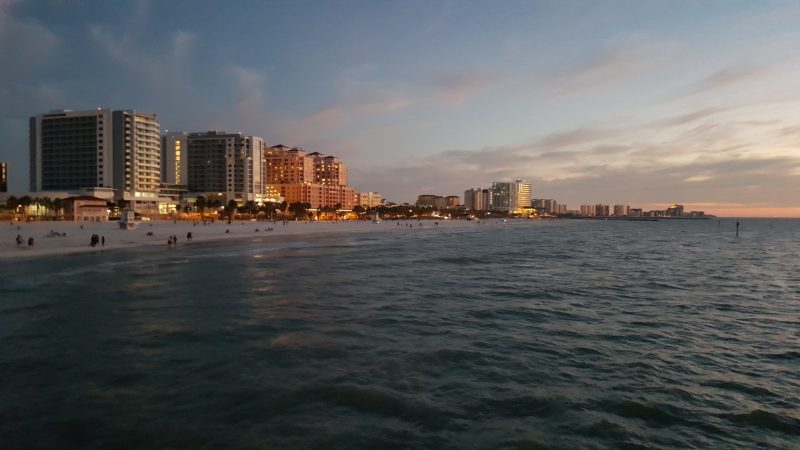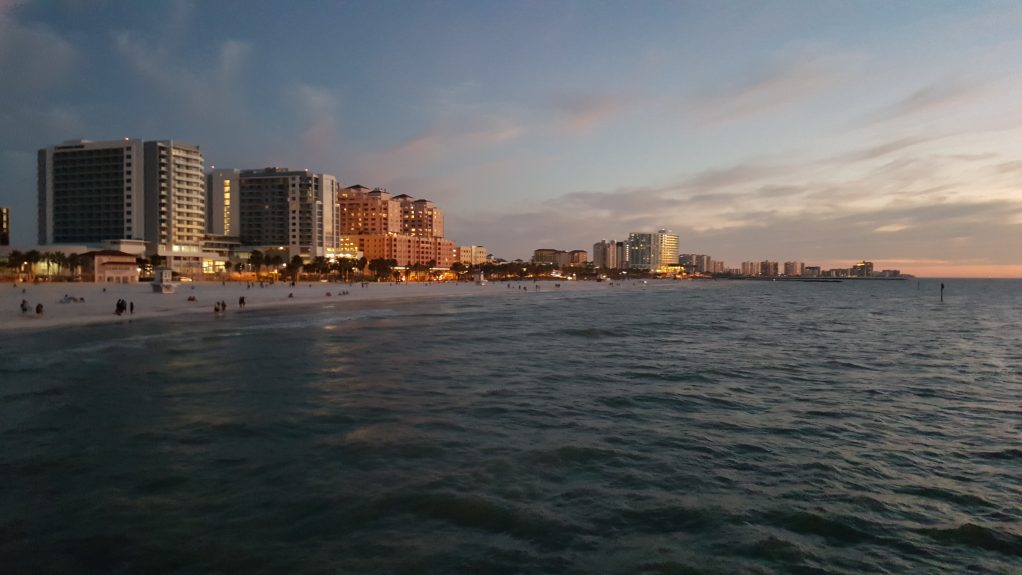 I stayed at the affordable Sta'n Pla Motel on the Intracoastal Waterway, where birds like this snowy egret like to rest it seems.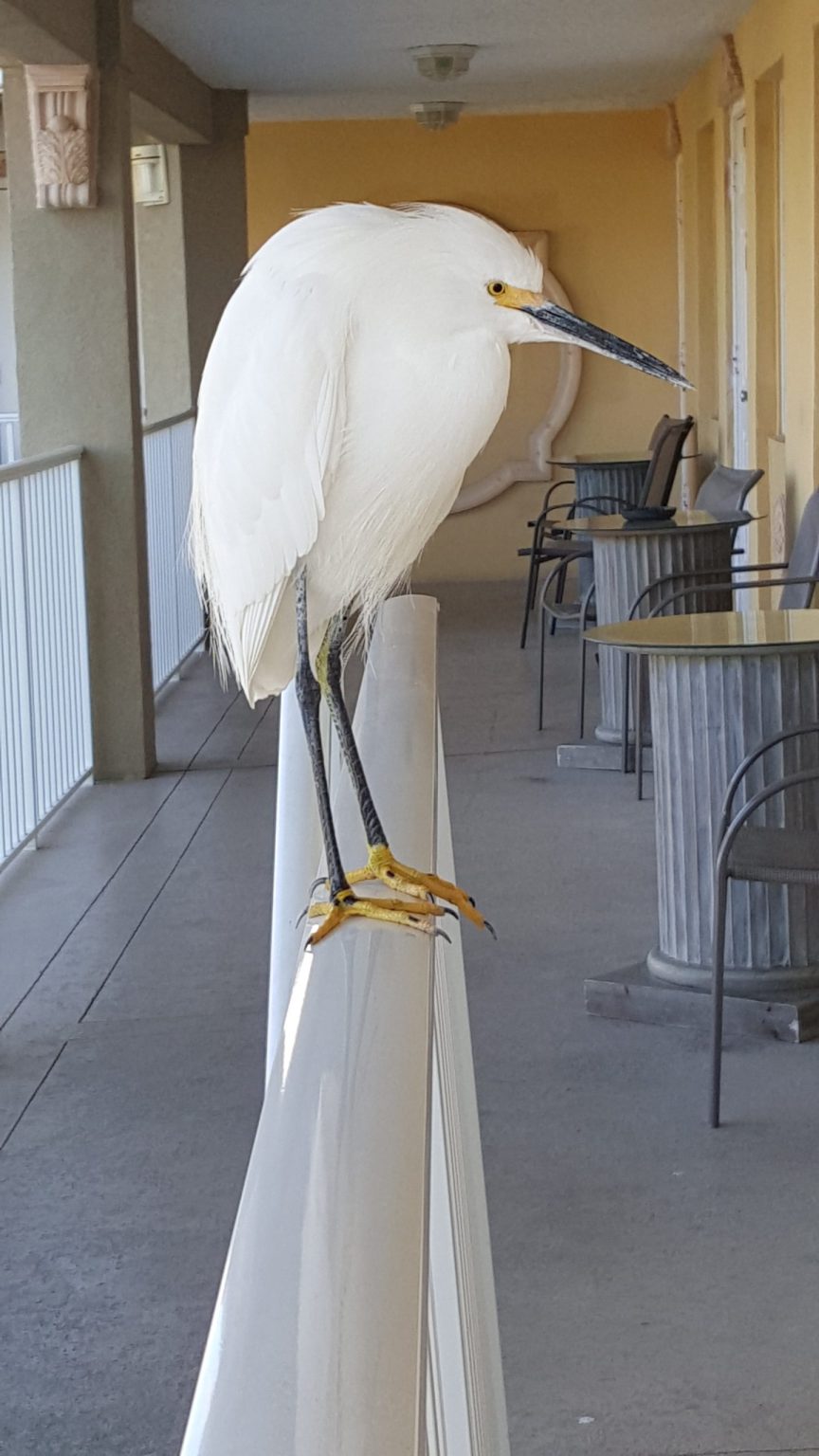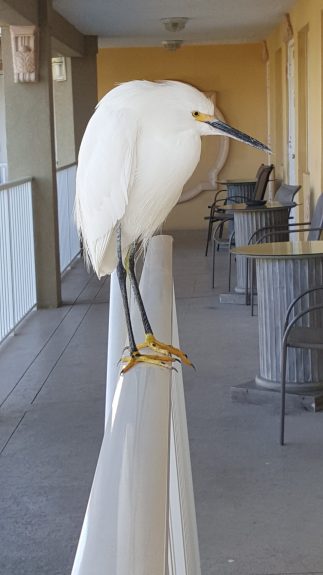 Apart from the beach and typical related family and touristy attractions, there isn't much to see in Clearwater itself…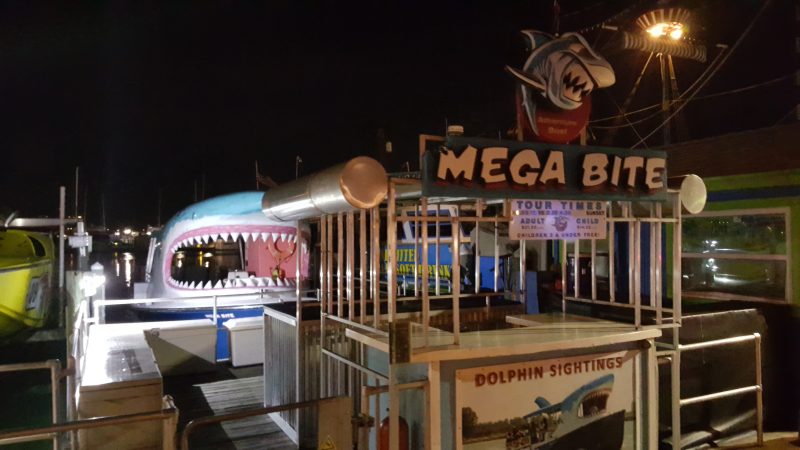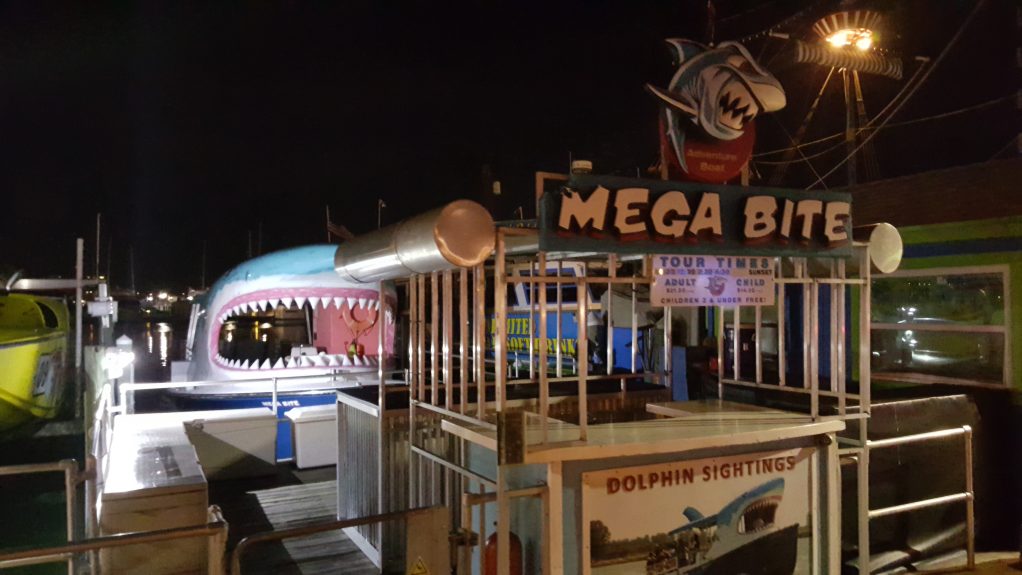 Although you will drive in front of the very first Hooters restaurant on the main route back to Tampa, in case you're a fan… and the city is also the "spiritual headquarters" of the Church of Scientology. Strange combo.
St. Pete Beach and St. Petersburg
Driving south from Clearwater is a great itinerary, as Florida State Road 699 follows the coast for a while (it's not as long or famous as the beautiful A1A on the Atlantic Coast, but still).
You'll see Indian Rocks Beach, Madeira Beach, and Treasure Island (among others). About 30 minutes from Clearwater Beach, there's the city of St. Pete Beach, another major destination. It's named after the neighboring city of St. Petersburg, which is often abbreviated as St. Pete.
Apart from the beaches, there are also some pretty buildings, like the historic Don CeSar Hotel that was the favorite hotspot of many celebrities in the 1930s.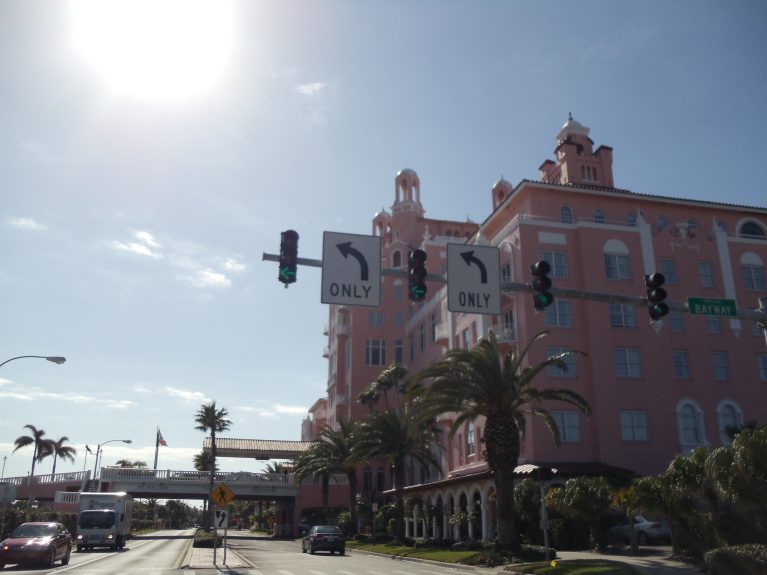 Part of the seafront is undeveloped, with no large hotels or resorts to be found.
I found it much quieter, but I didn't stay there overnight, unlike in Clearwater.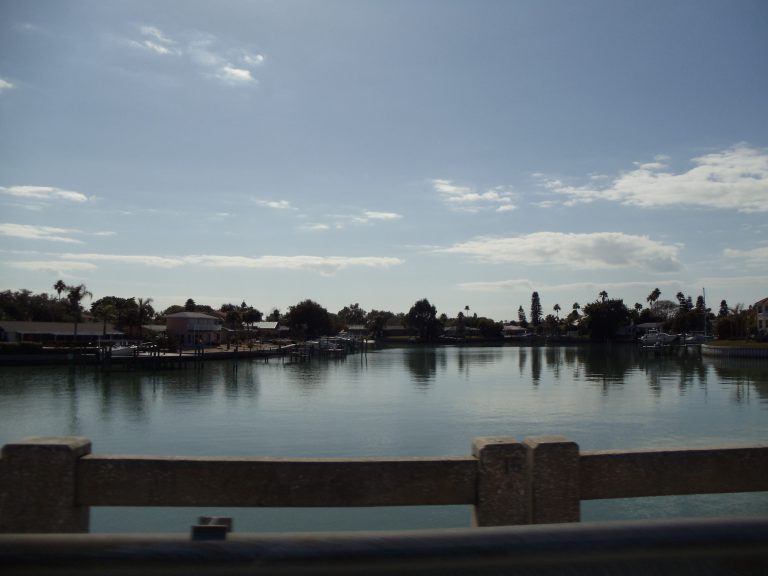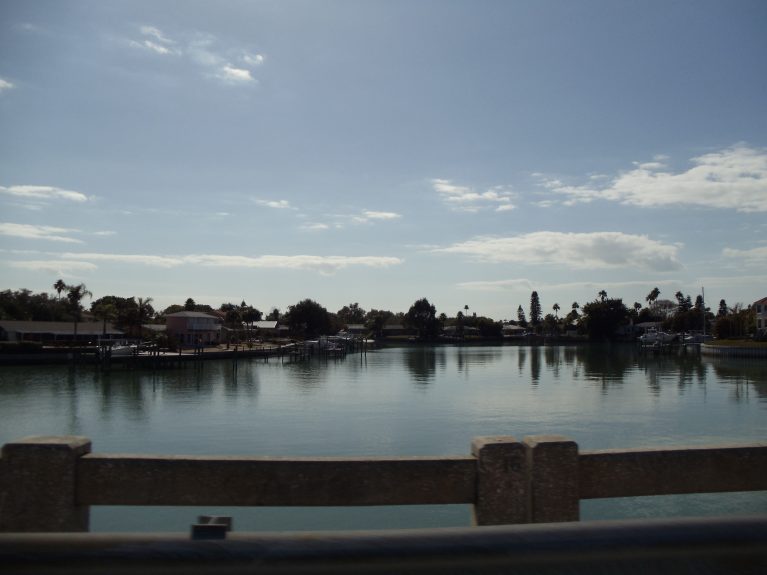 If you continue on south towards the rest of the Sun Coast, you'll be able to see one of the US' most iconic bridges, the Sunshine Skyway Bridge.
Here's just one pic of the bridge that is not mine so you can see it with more perspective.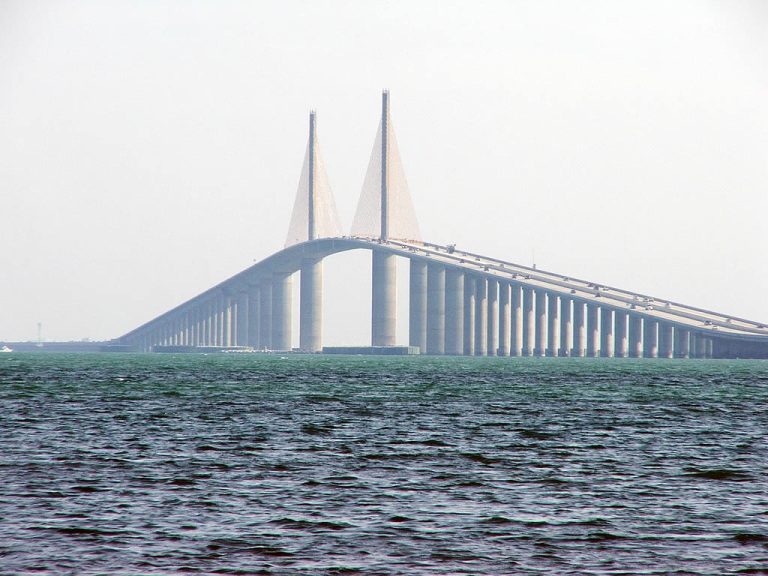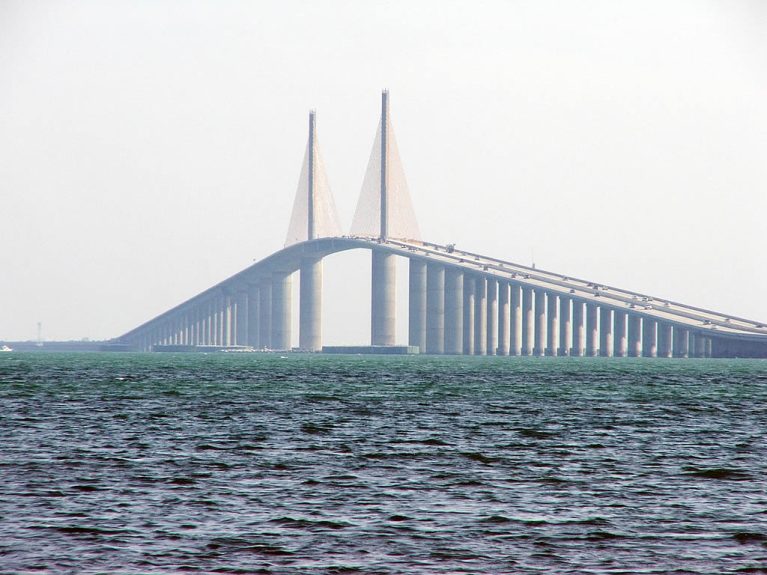 It's a 6.7-kilometer bridge with a unique design and I certainly enjoyed admiring it.
(In his post about the 5 longest bridges in the world, Flytrippers' other co-founder Kevin said that beautiful bridges are often an attraction, and I couldn't agree more—even if I'm just a huge fan of architecture and not a structural engineer like he is).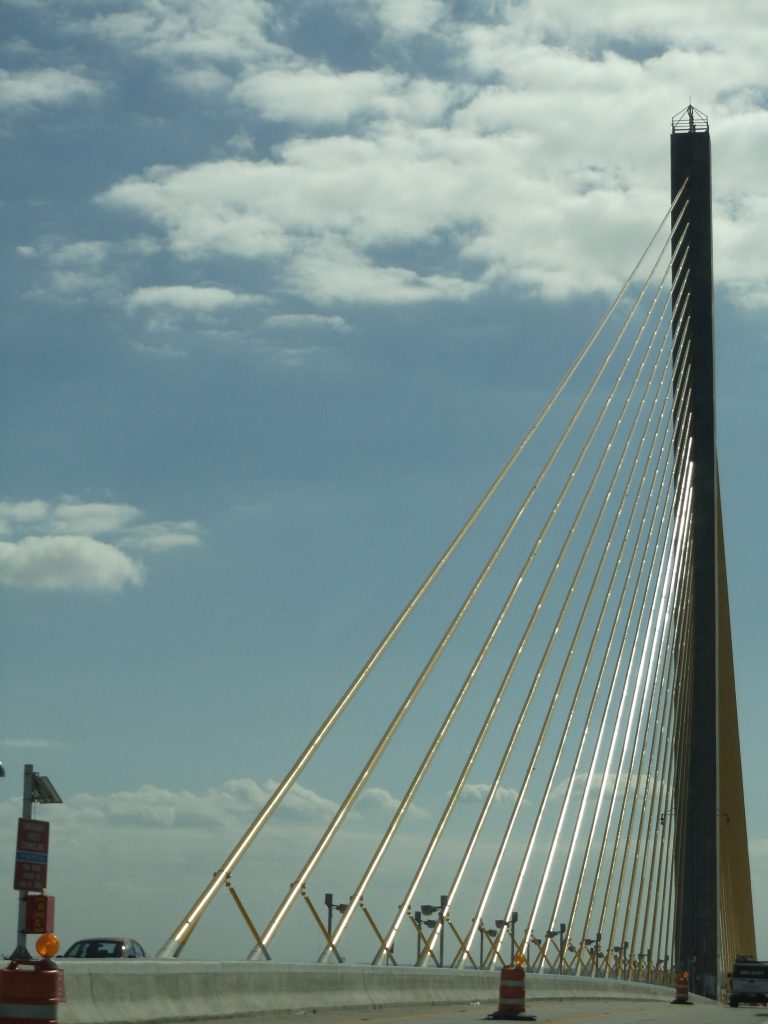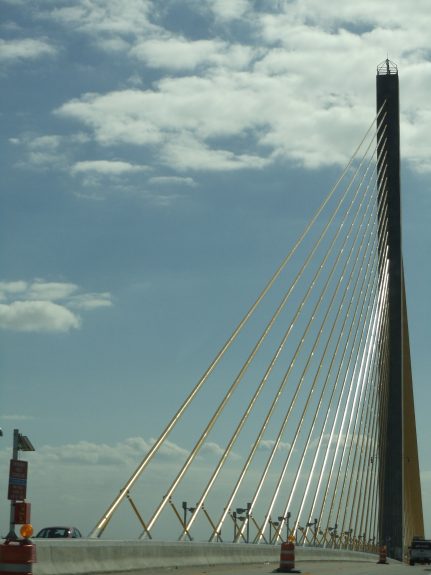 It's a nice view on the approach for sure.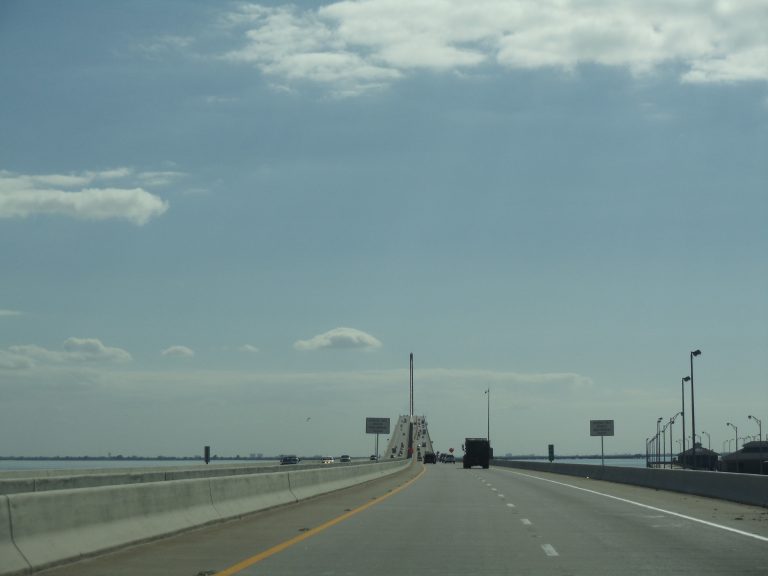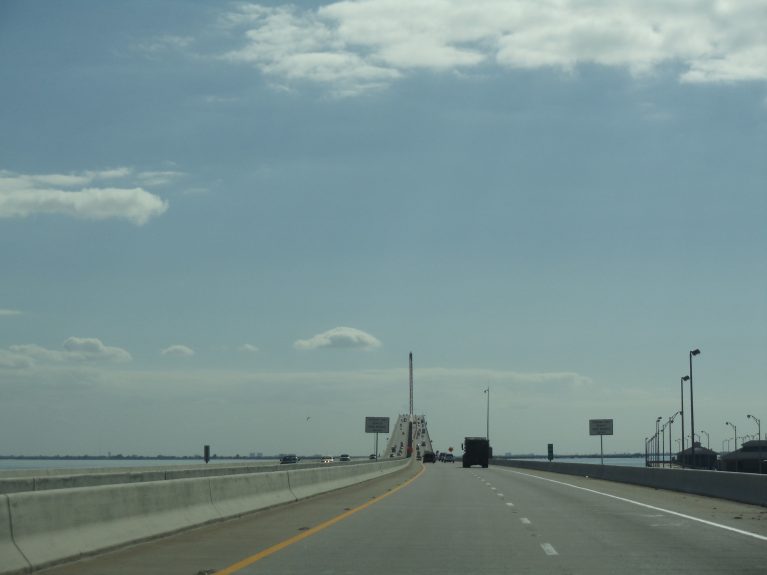 Back inland, the city of St. Petersburg is the area's second-largest. It borders Tampa Bay and it's named after the Russian metropolis of Saint Petersburg, as you might have figured out. That's because of a coin flip by the two founders—the city would have been called Detroit if the American had won the toss.
I didn't even get to spend a full day but it's known for its arts & cultural scene. I wish I could have visited the Salvador Dalí Museum on the waterfront, with the world's largest collection of Dalí's works (except his own museum in his hometown of Figueres, Spain).
I really enjoy visiting art museums even if I'm not an art aficionado at all, but this one was too expensive for our taste given our limited time. However, tickets are 50% off on Thursday nights (US$12.50).
Even the building's architecture is very artistic.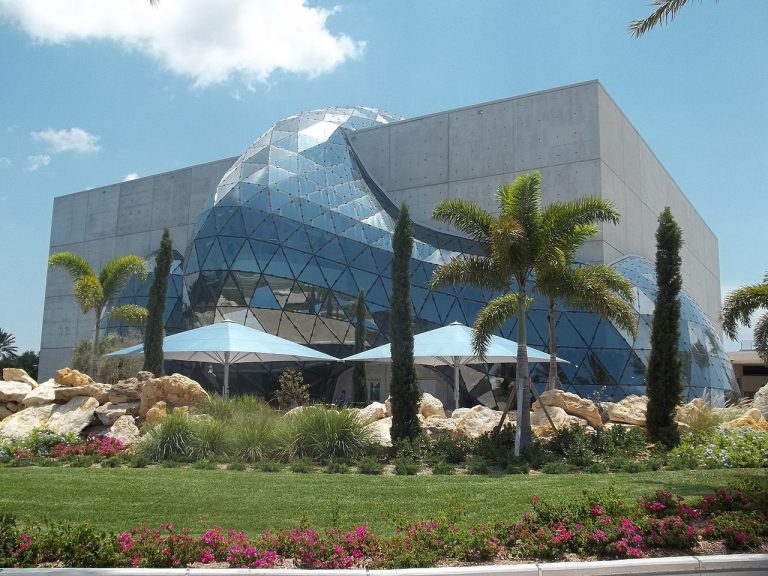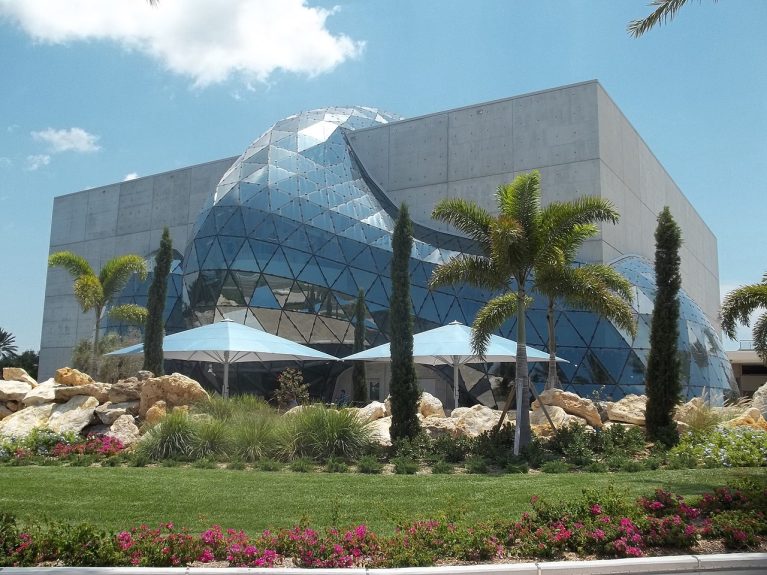 Fun fact: St. Petersburg holds the Guinness World Record for most consecutive days of sunshine, at 768 (between 1967 and 1969).
The city averages a whopping 361 days of sunshine per year. You might not be surprised to learn that about a city in the Sunshine State… but did you know that Florida actually ranks anywhere from the 5th-rainiest to the 11th-rainiest out of the 50 US states (depending on which year's data you look at)?
Some things in life are very counterintuitive… but still 100% true.
Hopefully, Canada's many current rules to restrict international travel will be gone by the spring so travelers (other than the ultra-rich who can afford a $1,000 3-day hotel quarantine) can start roaming the world once again.
Because travel is the very one thing that makes us better human beings and teaches us to be more open-minded about things that are commonly thought to be true… but simply aren't.
By asking 100 people, 99 would probably say that London is a rainier city than Miami… but it's not. Initial reactions and beliefs are not necessarily reliable, as always.
So thanks for reading, I hope you enjoyed this rare travel inspiration article. I've visited 46 US states and 61 countries, so feel free to ask me which destination you'd like to learn more about next…
Want to get more content to discover awesome destinations?
Summary
The Tampa Bay area is a very nice destination for a long weekend getaway close enough to Canada. While you won't find as many non-relaxation activities as in Miami, it's certainly interesting enough for a few days if you've never been.
What would you like to know about the Tampa area? Tell us in the comments below.
Explore awesome destinations: travel inspiration
Learn pro tricks: travel tips
Discover free travel: travel rewards
Featured image: sunset in Clearwater (photo credit: Andrew, Flytrippers co-founder)
Advertiser Disclosure: In the interest of transparency, Flytrippers may receive a commission on links featured in this post, at no cost to you. Thank you for using our links to support us for free, we appreciate it! You allow us to keep finding the best travel deals for free and to keep offering interesting content for free. Since we care deeply about our mission to help travelers and our reputation and credibility prevail over everything, we will NEVER recommend a product or service that we do not believe in or that we do not use ourselves, and we will never give any third-party any control whatsoever on our content. For more information on our advertiser disclosure, click here.
Share this post to help us help more people travel more for less: