The AIR MILES program is extremely far from being one of the best programs (it may even be the worst), but it has long been a staple for many Canadian consumers. Especially for the vast majority who sadly don't know that it's with credit cards (and especially welcome bonuses) that you can earn rewards quickly — and certainly not with your regular purchases.
Late yesterday, Bloomberg reported that the company behind AIR MILES, Loyalty Ventures Inc. is about to declare bankruptcy. We can't say that it's really surprising, of course.
But this morning, AIR MILES and BMO (Bank of Montreal) announced an agreement to acquire the program; BMO is a long-time partner and already issues AIR MILES credit cards. Some lawyers went to bed late yesterday in Toronto!
This means that if the court approves the agreement, your AIR MILES miles are safe. It's true that sometimes you have to act fast in this area, but emotional impulsive knee-jerk reactions are often a bad idea (as in everything).
Here are the details — and what to do if you have AIR MILES miles left.
Basics of the AIR MILES program
In recent years, the AIR MILES program has eliminated all the remaining good redemptions for those who want to maximize their rewards, essentially becoming a program with just redemptions at a fixed value, or a nearly fixed value.
We didn't talk about it often, if ever, because it's nothing really appealing. Especially considering that if you're going to get rewards that are worth less like this type, AT LEAST get the ones that give you big welcome bonuses obviously.
And with all the great offers that are incredibly more valuable than the ones on AIR MILES credit cards, it hasn't made much sense to get an AIR MILES credit card for quite a long time.
By the way, join us Wednesday night if you want to finally get into travel rewards the right way, which is by easily getting $825 completely free with the card with the highest welcome bonus ever seen for single points or by getting ≈ $845 with the card with a welcome bonus that can also be worth $1000+ since the points have literally unlimited value!
We're doing our monthly live video on the best travel rewards deals of March, so you can join our Flytrippers readers who have earned nearly 2 million dollars in free travel with travel rewards.
Do I need to tell you that those 2 million dollars aren't from earning a few miles while buying food at a local Sobeys? (And by the way, Scene+ will replace AIR MILES at remaining Sobeys banners on March 23!)
AIR MILES bankruptcy
First of all, like so many other things, many people confuse several concepts. Declaring bankruptcy is not the same as going out of business; that's pretty important to understand. In 2003, Air Canada declared bankruptcy… they are still around.
Bankruptcy is instead a legal procedure to get protection from creditors. In Ontario, where Loyalty Ventures is based in Canada, it's under the Companies' Creditor Arrangement Act.
That's what the company behind the AIR MILES program plans to do in the coming days. Protect itself from its creditors.
Of course, this can lead to going out of business. It's just that it's not always the case.
Their stock value has dropped 99% in the last 5 years, and all the partners are dumping them considering how terrible the program is. So the complete disappearance of the program is still certainly a possibility, of course, if there's no acquisition.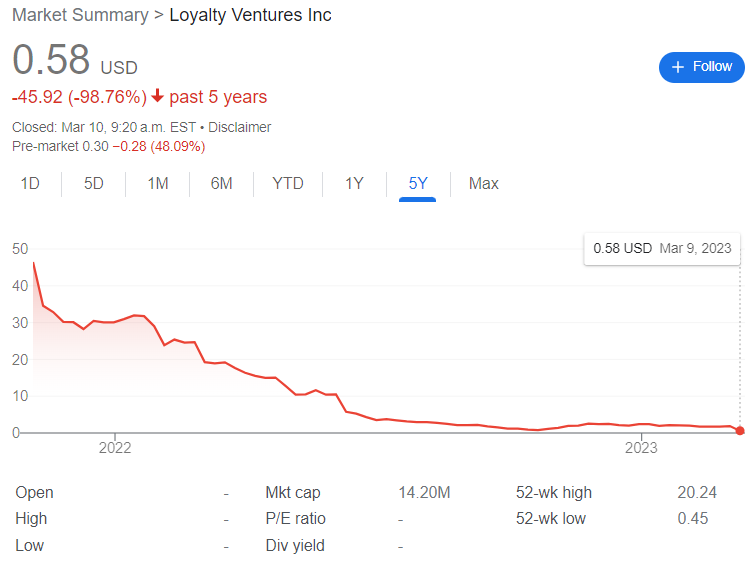 Acquisition by BMO
For those who don't have an MBA, it can seem complicated, but in short, the sum of the value of all of a company's stock is its market capitalization. So when the stock is as low as Loyalty Ventures', it means that buying the company is not very expensive.
Enter BMO, which has reached an agreement to buy the AIR MILES program and "reinvigorate" it, according to a press release issued this morning.
Banks have so much money. That's why you certainly shouldn't feel bad about taking advantage of their generous welcome bonus offers, by the way. If you have good credit, you've earned it! Take advantage of it and get thousands of dollars so easily, while improving your score if you follow the basic rules!
The agreement between BMO and Loyalty Ventures needs to be approved by the courts, but considering the circumstances, that seems like a formality (but we never know though, so I'll give you your options below)!
BMO, officially the Bank of Montreal with headquarters really in Toronto, wants to revitalize the program as well. That gives some hope that there will be a more serious competitor in the Canadian rewards world. It's always good for consumers to have competition (even in terms of airports, despite what Montreal's YUL airport operator would prefer).
Update: AIR MILES just announced a minor new partnership already, specifically some bonus miles when flying with a small airline called Canada Jetlines (which only has 2 planes). Nothing very promising, but AIR MILES certainly isn't dead yet.
Mise à jour: AIR MILES vient déjà d'annoncer un nouveau partenariat modeste, soit des milles bonis en voyageant avec le transporteur aérien Canada Jetlines (qui a juste 2 avions et qui ne vient pas encore au Québec).
One impact to watch for will be the fate of AIR MILES cards issued by American Express, such as the American Express AIR MILES Platinum Card, which could disappear if a competitor acquires the program (so it could affect your card selection strategy for the next year; stay tuned).
Existing BMO-AIR MILES relationship
BMO has been an AIR MILES partner for a long time.
The bank issues 2 AIR MILES credit cards that have somewhat embarrassing welcome bonuses right now, compared to the best ones that give $825+ in net value, but also compared to the 10+ welcome bonuses that are worth $500+.
Best BMO credit cards for
AIR MILES Rewards
WELCOME BONUS
( VALUATION)
AIR MILES
Miles

Bonus: spend $3k in 3 mos.

Bonus: spend $1k in 3 mos.

Terms and conditions apply. Flytrippers editorial opinion only. Financial institutions are not responsible for maintaining the content on this site. Please click "See More" to see most up-to-date information.
Best BMO credit cards for
AIR MILES Rewards
BMO AIR MILES®† World Elite®* MasterCard®*

Card:

Bonus: spend $3k in 3 mos.

WELCOME BONUS

Rewards: ≈ $279

Card fee: $0

$120

AIR MILES Miles: 2,325 Miles
after welcome bonus
BMO AIR MILES®† MasterCard®*

Card:

Bonus: spend $1k in 3 mos.

WELCOME BONUS

Rewards: ≈ $110

Card fee: $0

AIR MILES Miles: 920 Miles
after welcome bonus
Terms and conditions apply. Flytrippers editorial opinion only. Financial institutions are not responsible for maintaining the content on this site. Please click "See More" to see most up-to-date information.
Just because so many people unfortunately don't understand the most important thing about the whole travel rewards world, I'm going to take the time to give 2 concrete examples.
Imagine you get the $279 from the BMO AIR MILES World Elite MasterCard instead of the $825 from the TD First Class Travel Visa Infinite Card. With its earn rate of 1 AIR MILES mile per $12 spent, you'd have to spend $54,000 just to reach the same value you could have gotten with the higher welcome bonus. Do you understand how crazy that is? $54,000! Welcome bonuses are the key!
And even worse, for those who wouldn't get a new card at all and would continue to use an old card, they would earn a terrible rate of just 1%, 2%, or maybe 3%. The TD First Class Travel Visa Infinite Card's welcome bonus gives you 17% back on the first $5000. Yes, 17% instead of 1%. Welcome bonuses are the key; it's really that simple!
What to do if you have AIR MILES miles
In short, the fate of the AIR MILES program depends on the approval of the BMO acquisition agreement by the courts, of course.
If the BMO acquisition works, it's not too worrisome. The program will continue, and in the worst case, it will continue to be bad as it is now, but without any change.
And while you should never take PR phrases in a press release as a certainty, it's at least plausible that they will actually improve the program because, frankly, it could hardly be worse. Although… it's obviously not impossible that they could make it worse, either. BMO recently devalued their own BMO Rewards points.
If the BMO acquisition doesn't work, you could lose all your AIR MILES miles.
Personally, I have 5243 AIR MILES miles, and I didn't drop everything to redeem them for a toaster oven yesterday when the bankruptcy rumor leaked; I'll explain why I'm doing this based on my personal situation.
(My miles have been lingering there since the last good BMO AIR MILES World Elite MasterCard welcome bonus offer because I was naively hoping they'd roll back the terrible new redemption system for reward flights😅!)

Obviously, each traveler has a very different risk tolerance for many topics (we see it very well with people who are afraid of everything and even afraid to travel to places where honestly, it is just not rational to be afraid).
But let's look at the situation depending on which of the 2 types of AIR MILES rewards you have (you can have both too if you changed along the way):
AIR MILES CASH miles
If you have CASH miles, they are essentially cash back. Cash back is the worst type of reward (i.e., the least valuable), but many people always want everything to be more simple instead of more valuable.
So they have an almost fixed value; 95 miles will give you $10 off at partners, a value of 10.5¢ per point. I say almost fixed because sometimes there are promotions at some retailers where they will require a bit fewer points to get the $10 discount, but let's ignore that for now.
Given the fact that those miles will never be worth more anyway, you're probably better off using them right away, especially if you have a lot of them.
Not so much because of the current bankruptcy situation, but just because points that can never be maximized (that can never be worth more) shouldn't be hoarded at all. Use them.
But even more now with the current risk, as the list of AIR MILES redemption partners for CASH miles could get shorter given the circumstances.
AIR MILES DREAM miles
If you have DREAM miles, that's different. It depends on your confidence in the acquisition but also in the possibility that BMO will improve the program. But mostly, it depends on your travel plans.
DREAM miles can be used for merchandise or travel.
Using rewards for merchandise is almost always the worst thing you can do in terms of value. I illustrated this for you with 3 very striking examples in our latest February travel rewards update. A must-read.
Even though the AIR MILES program is no longer great for travel since the most recent changes, it's still possible to get a little more value — often up to 12¢/pt — for reward flights or rental cars for example.
Personally, as a travel rewards expert, I just can't use any kind of points for merchandise. I just can't.
So even if I didn't have travel to book, I'd keep my miles at this stage. I figure if BMO acquires the program, to mark the relaunch or to try to get people to forget how terrible it is; maybe they'll do an awesome promo that could increase the value of the points significantly.
(Hey, I can dream; these are DREAM miles, after all!)
But that's me. EVERYTHING in the world of travel rewards depends on your personal situation and preferences, obviously because all travelers are different.
First of all, I have this annoying habit of always wanting to maximize everything to the very maximum; it's what gets me thousands of dollars in free travel rewards every year, and it's what allows me to take about 10 trips a year. So I want to maximize my AIR MILES, even under the threat of bankruptcy. Sometimes I'm an extremist like that.
Secondly, my risk tolerance is pretty high in general. I also have hundreds of thousands of other points from all my welcome bonuses, so it's really not the end of the world for me. I don't really care, honestly. If you've spent your whole life earning 1 mile at a time at Sobeys so that in 5 years you can finally have earned a (probably not that big) stash of points, your mindset is perhaps different.
It turns out that I need to buy plane tickets very soon since I'm going to be a speaker at a travel rewards and credit card event in Calgary on Saturday, March 25 (you can save 15% on tickets to the event with the "Flytrippers" promo code if you ever want an excuse to go there).
I might at least consider using my AIR MILES miles. I'll do a detailed article to compare this concretely to all my other types of points: Aeroplan points, RBC Avion Rewards points, American Express Membership Rewards points, WestJet Rewards, eraser-type simple rewards like Scene+ points, or just a cash payment, of course. Don't miss it soon.
In short, there's a risk you have to be prepared to take if you keep your points. I consider it minimal at this point, but that's purely speculative too.
One thing's for sure: we'll keep you posted on the BMO acquisition. If it falls through, or if there's even a rumor that it might fall through, we'll send an email alert to everyone who has signed up for our travel rewards free newsletter right away, telling you to use your AIR MILES miles quickly. And after sending it out, I will hurry up and use my AIR MILES miles.
Want to get more content to learn how to earn free travel?
Summary
The company behind the AIR MILES program will be filing for bankruptcy in the next few days, but they have reached an agreement with BMO to acquire the program. If it's approved by the court, there's no need to worry about AIR MILES miles (except the already-existing worry about their general mediocrity, of course).
What would you like to know about BMO's acquisition of AIR MILES? Tell us in the comments below.
See the deals we spot: Cheap flights
Explore awesome destinations: Travel inspiration
Learn pro tricks: Travel tips
Discover free travel: Travel rewards
Featured image: Colorado (photo credit: Maria Magdalena)
Share this post to help us help more people travel more for less: