Let me be very clear: this is not the best use of travel rewards at all! But it's starting to get late for this summer… and this tip is better than paying the crazy cash prices that many will pay for flights to Europe this summer! I'll summarize the tip to show you how lucrative travel rewards are.
They're even more lucrative when the flights are expensive with cash, and that's definitely the case for Canada-Europe flights this summer. Many will unfortunately pay over $1300 roundtrip, a terrible price. (We have a free ebook with 100+ pro tips!)
I was interviewed on the French-language CBC's nightly news about that last week, and one of the tips I shared is to use the type of rewards that are more valuable — NOT the type that is the simplest that everyone always uses and that is less valuable.
(Our monthly video about travel rewards happens to be tomorrow (Wednesday) at 9 PM Eastern if you want to learn more and ask all your questions!)
Here's how you can go to Europe for just $320 roundtrip in the peak summer season thanks to the wonderful world of travel rewards.
Overview of the current tip (RBC Avion)
When I say that this isn't the best use of points, it's because the vast majority of people make the mistake that is the most common and the most simple to avoid: they don't plan ahead!
Get points as soon as possible and get some continually to ensure you're not limited in your options by the fact you're at the last minute like now (it takes more time to get more points; banks give you literally hundreds of dollars for free; all you have to do is take them earlier…)
AND you'll also improve your credit score, contrary to the common (and wrong) myth (as long as you follow the simple basic rules — that post will also be updated soon!
In short, you'd normally have a lot more options on everything (and would need to be a lot less flexible), but you'd have to plan ahead. (You didn't know it… but now you do!)
Still, here's how to do it for this summer:
Get the RBC Avion Visa Infinite Card

It has its best-ever offer

Unlock the welcome bonus for 60,000 RBC Avion points
Transfer points to the British Airways Avios program (1 to 1)
Get a direct flight from Montreal to London for 50,000 RBC Avion points

There's availability this summer if you're somewhat flexible

It costs you just $320 total

$120 for the card and $200 in taxes on the flights

You'll even have 10,000 points left
Got a travel buddy?
He or she gets their own RBC Avion Visa Infinite Card and does the same thing!
RBC Avion Visa Infinite Card

Flytrippers Valuation
of Welcome bonus (net value)

ends November 27th





min. income: $60k (or $100k household)

Terms and conditions apply. Flytrippers editorial opinion only. RBC is not responsible for maintaining the content on this site. Please click "Apply Now" to see most up-to-date information.
RBC Avion Visa Infinite Card

Flytrippers Valuation
of Welcome bonus (net value)

minimum income
required: $60k (or $100k household)

ends November 27th

Rewards: ≈ $900*

Card fee: $120

spend $5000 in 6 months

Terms and conditions apply. Flytrippers editorial opinion only. RBC is not responsible for maintaining the content on this site. Please click "Apply Now" to see most up-to-date information.
If you're not one of our readers who have earned nearly $2 million in free travel from the welcome bonus deals we've shared (yes, $2 million) and you're new to this wonderful world, let me digress for a moment to explain the basics.
That's the beauty of the most lucrative type of travel rewards (which are infinitely better than terrible cash back and simple fixed-value rewards): the number of points required is NOT dependent on the cash price.
So when flights are expensive with cash, you can get outsized value with points like RBC Avion Rewards points, American Express points, HSBC Rewards points, and Aeroplan points especially (I show you a teaser of an example with Aeroplan below).
We often spot Canada-Europe flights for $500 or $600 roundtrip for the rest of the year — including during the beautiful shoulder seasons like May/June and September, a perfect time to go to Europe if you don't have to go in the summer.
In these situations, the Avios program is not great for transatlantic flights, because it requires the same number of points, but the prices in cash are much lower.
But in summer it's interesting! Because the flights are expensive with cash! It's very important to understand this basic concept.
Reward flight details (RBC Avion)
Often, British Airways Avios points are more valuable on partner airlines, just as Aeroplan points are. But Avios has far fewer partners compared to Aeroplan.
So for this example, I took the British Airways direct flight from Montreal to London. (British Airways serves Montreal, Toronto, and Vancouver — but we'll have more content for those of you in other cities!)
From August 1 to 16, it's 50,000 points and $200 in taxes per roundtrip ticket (on the British Airways website, create a free account — it's one of the 5 essential rewards programs for Canadian travelers).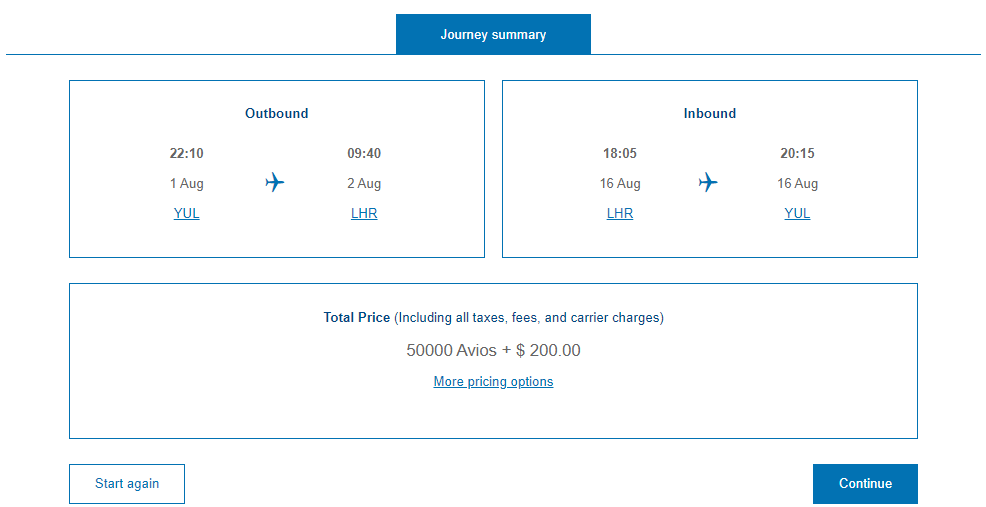 So with the RBC Avion Visa Infinite Card's $120 fee, that's just $320 total for a roundtrip to Europe in peak summer.
A lot better than $1300 (or more)!
(As mentioned, since you'll have ≈ $150 in points left, your net cost is actually just $170! And to get more date options, you can pay 60,000 points on certain dates — the Avios program is a bit particular!)
It's very important to find seat availability before you transfer your RBC Avion points. It's the limited seat availability that allows the most valuable programs to guarantee a limited fixed price in points! That's the main difference.
But travel rewards are also useful if you want to get any seat too! For example, the TD First Class Travel Visa Infinite Card gives you $825 completely free, which applies to any flight. But you can't save more than $825. Simple points can never save you more.
RBC also has an award flight chart — a different way to use points — if you want even more flexibility on destination and carrier and all. Those bank award charts are very useful if you live in other cities (I'll talk about that in Part 2 of this article soon).
But as with anything, it's always either more simple or more valuable. Not rocket science. So by giving you more flexibility, bank award flight charts are often going to save you less than airline points like Avios and Aeroplan.
By the way, if you want to go somewhere other than London, you can easily add another cheap flight either with cash (as little as $100 roundtrip in Europe even in summer), with your remaining Avios points, or with Aeroplan points if you're one of the savvy travelers who already have them.
Flights are cheap in Europe, as we explained in the preview on the self-transfer tip. Combining that 50,000-point flight with a cheap flight with cash will be much cheaper than paying everything in cash. And you can visit London for free!
Logistics details (RBC Avion)
The RBC Avion Visa Infinite Card is one of the most popular cards in Canada due to its lucrative points and it's the best time to get it: it's the highest welcome bonus offer ever seen on the card (and the 3rd highest of any credit cards in Canada right now).
I just picked it up again during this promo and got the 35,000 points right from the start and then the 20,000 more points very quickly after reaching the $5000 spend. The missing 5,000 points to make 60,000 points is what you get with the card's regular earn rate (you're going to earn at least 1 point per dollar on that $5000 minimum spend for the welcome bonus).
The short version is that you spend $5,000, and you'll have 60,000 RBC Avion Rewards points very quickly. We've got some tips on how to hit the minimums, especially in a case like this, where you need to book quickly because you didn't plan ahead.
(It's why you shouldn't wait until the last minute to take advantage of welcome bonus deals. Very important!!! Don't make that mistake again!)
Sign up for our free newsletter to receive all our content on this tip very soon, but in the meantime, you can also read our RBC Avion Visa Infinite Card resource page, which has quite a bit of info in all the tabs that open up at the bottom.
In short, you'll transfer 50,000 of your 60,000 RBC Avion points to the British Airways program with a few easy clicks online.
(I'll do a detailed step-by-step guide for that too soon!)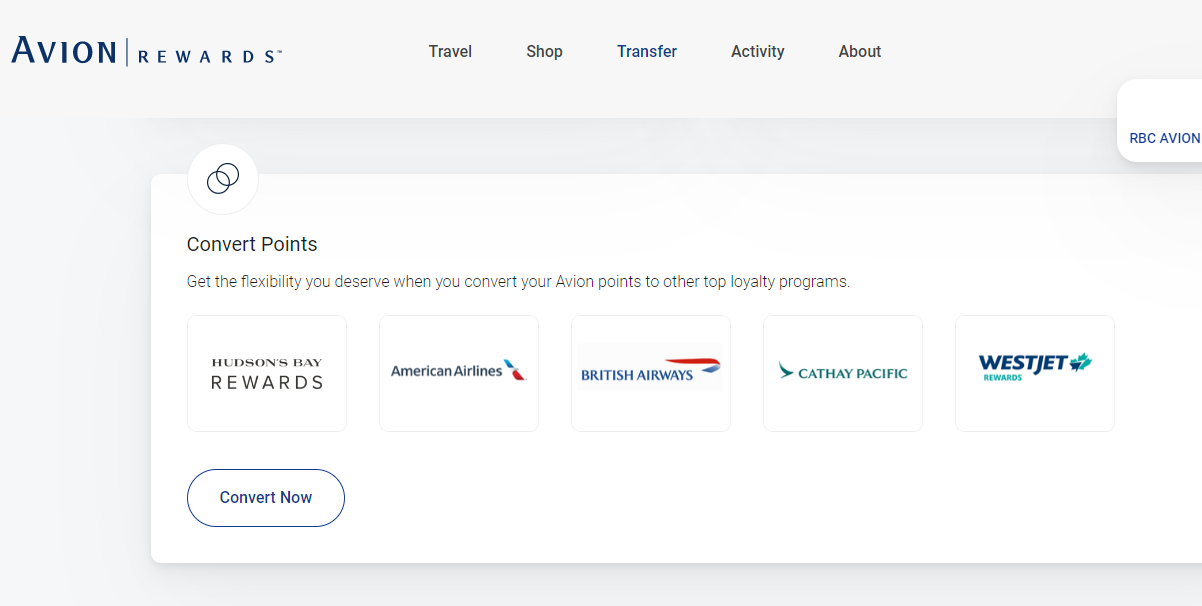 Current tip overview (Aeroplan)
Flights to Europe on Aeroplan's many partner airlines are always:
70,000 points roundtrip (closest countries)
80,000 points roundtrip (other countries)
That's because it's based on distance.
In short, it's not great for Europe in economy class when flights are cheap, but it can be interesting when flights are expensive, like in summer.
Aeroplan points are by far the best if you want to go anywhere in business class too: for Europe, it's 140,000 Aeroplan points roundtrip and a few dollars, much better than paying $3000 or more! You can easily earn 140,000 Aeroplan points if you're serious about puttin in the effort to learn how it all works.
But if you don't have Aeroplan points yet, again, you should have gotten them sooner. But at least don't make the same mistake and get your points now, because if you don't, you'll be in the same situation next summer!
The TD Aeroplan Visa Infinite Card or the American Express Aeroplan Card give you lots of points and benefits, like the 1st free bag on Air Canada. The American Express Aeroplan Reserve Card gives you even more, with access to the Air Canada Maple Leaf airport lounges and many other luxury advantages.
And the American Express Cobalt Card is the best card in Canada overall, and its points can be transferred to Aeroplan. Same for the American Express Green Card, the best no-fee card (but since it's a no-fee card, the net value is infinitely lower), or the American Express Platinum Card, the best premium card with free access to 1400+ airport lounges worldwide and automatic hotel elite status.
Want to get more content about how to earn free travel?
Summary
Here's how to get to Europe cheaply this summer with travel rewards. For even more options, plan earlier ahead for next summer. And don't miss more detailed content very soon!
What would you like to know about this tip? Tell us in the comments below.
See the deals we spot: Cheap flights
Explore awesome destinations: Travel inspiration
Learn pro tricks: Travel tips
Discover free travel: Travel rewards
Featured image: Coast of England (photo credit: Daria Averina)
Share this post to help us help more people travel more for less: