Major changes are coming to the Marriott rewards program starting on March 29, 2022. And you absolutely need to know about them. Here's a quick primer to give you time to act ahead of time, while you await our complete guide to Marriott (and Aeroplan, and Amex, and Avios, and HSBC, and AIR MILES, etc.)
The American Express Cobalt Card is really the best right now and its points can be transferred to Marriott points if you want (but they're more valuable if transferred to Aeroplan).
But maybe you already have Marriott points if you are among the Flytrippers readers who have earned over a million dollars in travel rewards.
You might have gotten a welcome bonus that gave you enough points for 8 completely free nights at beautiful hotels in Bali or certain other great destinations (or 17 nights if your travel buddy got one too of course). Or 5 nights in 50 other countries if you want more destination options (that's 10 nights with a travel buddy).
That will only work until the end of 2022 for those specific hotels… the points will keep saving you a lot of money starting in 2023, but it gets pretty different with the program changes (it's actually going to be a lot simpler actually).
Ideally, you should book hotels before March 29, 2022 (it's always refundable for free) to possibly save points… especially for those who like to have more luxury instead of more nights.
Here are the details.
How the Marriott program works now
We'll have a full guide to the current (and new) Marriott program very soon, so sign up for our free newsletter specifically for travel rewards.
Here are the basics: The Marriott Bonvoy American Express Card gives you Marriott points, which you can use for completely free nights at all 8,000+ Marriott hotels globally — it's the largest hotel chain in the world.
You can read the detailed review of the card if you want, there's also a video presentation.
To summarize in one sentence, the current increased welcome bonus will give you 53,000 Marriott points very easily (50,000 bonus points and 3,000 points by reaching the minimum spend of $1,500 in 3 months required to unlock the bonus; very very easy with our 5 pro tips).
And if you already have the Marriott Bonvoy American Express Card because we've been talking about it for years, you may even have more points than that already.
Those 53,000 points are enough for 8 free nights in specific hotels.
Right now, all Marriott hotels are classified into 8 categories. That category determines the number of points required to get a free night.
These are guaranteed FIXED prices.
No matter what the cash price is, the number of points required is fixed. That's what variable-value rewards are all about, they can give you outsized value and unlimited value. If you use them right! If you use them wrong, you can get less value! Variable value.
It's very easy to maximize the number of free nights you get with your points. Just plan your trips around the hotels that require the least amount of points. Simple.
So in short, you look at the list of hotels and plan a trip around these:
There are always only 3 possible prices per category (Off-Peak, Standard, or Peak).
You also always get 1 of the nights for free if you use points to stay 5 consecutive nights at the same hotel with the "Stay for 5, pay for 4" benefit.
So to maximize the number of free nights you get, we recommend doing that (it's why we actually just had 3 great 5-night stays at nice Marriott hotels in Central America ourselves).
Anyway, that's what makes it so easy to get 17 free nights in 2 great hotels in Bali: Just get a Marriott Bonvoy American Express Card for yourself and another one for your travel buddy and that gives you 106,000 Marriott points for only $120 each (the card fee).


Just $120 per person for 17 nights in a hotel is $7 a night!!! And these are very nice hotels (I hope to go this winter).
A phenomenal deal!
Finally, on the other end of the spectrum, you can also use your Marriott points for some of the most luxurious hotels in the world. You'll get a lot fewer free nights, but you'll "save" more money since these hotels cost an insane amount of money.
For example, instead of paying C$4,872 for 5 nights in an overwater villa in the Maldives, you can pay just 120,000 Marriott points. Your points are theoretically worth a lot more this way, but only if you're comfortable with getting 3 times fewer free nights for exactly the same amount of points.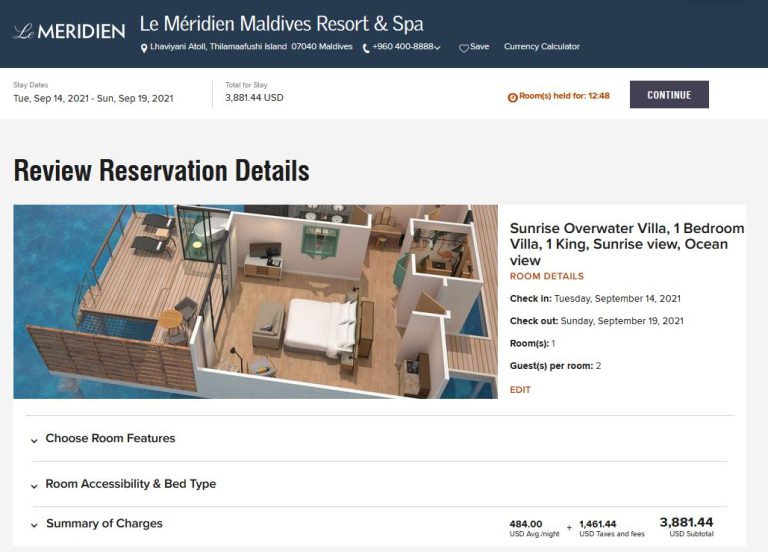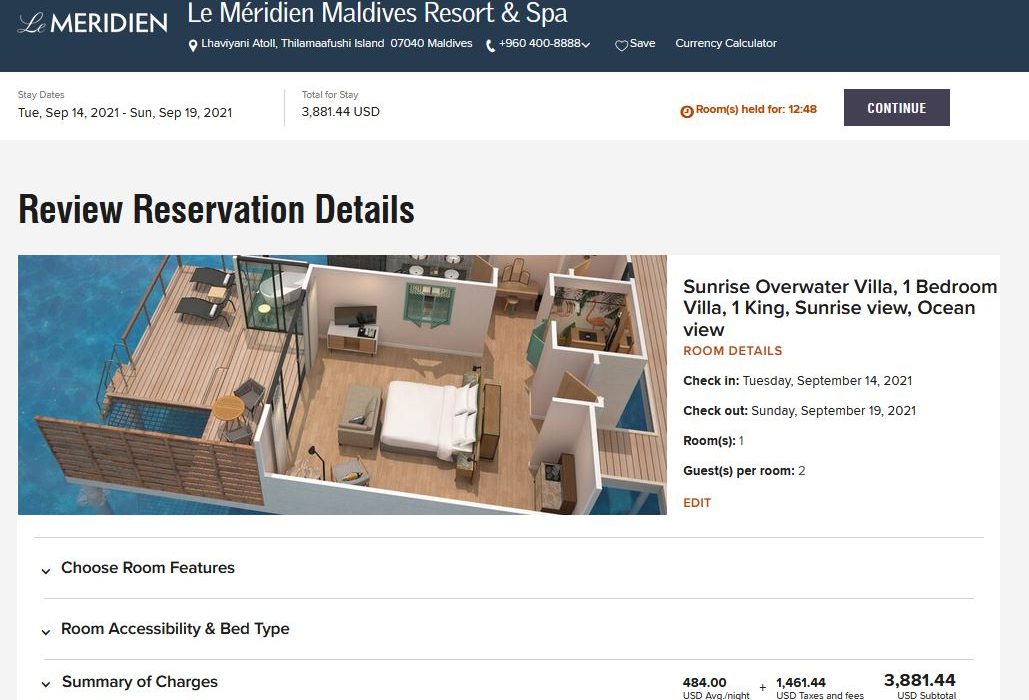 Those who love luxury are those who are affected negatively by the upcoming changes the most, by the way.
And finally, the big flaw in the current program (at least for many travelers who don't want to rack their brains, don't like to maximize points, and don't really understand how variable-value rewards work) is that for many Marriott hotels, using points is a terrible idea!
If the cash price is too low compared to the category, you can't get good value with your points! So you really need to plan trips around the right hotels as I said. Or use them when the cash prices are expensive!
But all that is changing. It's changing slightly starting on March 29, 2022 for the rest of 2022.
And starting in 2023, it changes quite a bit more.
Changes to the Marriott program for 2022
Starting on March 29, 2022, hotel categories will no longer exist. And guaranteed fixed prices will no longer exist.
This is called dynamic pricing and is unfortunately becoming more and more common in the world of travel rewards (especially with hotel points), because most people always want things to be more simple instead of more valuable.
The good news is that for all of 2022, 97% of hotels will remain at their current prices. AKA in the range from the current Off-Peak to Peak prices, for example between 5,000 and 10,000 points per night for category 1 hotels. Marriott is giving us a bit of time to make the transition smoother.
So basically nothing is changing for the entire year 2022 for pretty much all Marriott hotels. So not too dramatic for this year… I'll talk about 2023 in the next section.
Oh and the "Stay for 5 nights, pay for 4" benefit is not changing at all by the way.
Here is the full list of the 200 hotels (out of the 8,000) that will go up in price. It's mostly the very high-end hotels, as was to be expected.
Those hotels cost them a lot of money to give away for free, as I just showed you with the Maldives example (compared to the cash price the hotel could have gotten for the room/villa).
That's why I said that if you want to use your points for luxury hotels, you really need to book them before March 29, 2022.
For all other hotels, we also recommend booking them speculatively before March 29th, for the simple reason that it's always free to get a full refund when you use Marriott points (look at the maximum delay for the refund for each hotel; either 1 day before arrival or 2 or 7 or more rarely 31 days).
This way, if there's any chance you need them, you can lock in a lower price for your hotels, risk-free (and if the price goes down instead of up, you simply refund and rebook).
It's extremely difficult to plan ahead in this context of course (in January I booked my ticket at 11:40 AM for a flight at 5:55 PM and I live 2 hours from the airport…) but if you end up not going on that trip, you get a refund and that's it.
We know that many people are looking forward to traveling, so this is the perfect time to plan one that will be pretty cheap if you plan it around the right hotels… especially since it's refundable!
Changes to the Marriott program for 2023 and beyond
Starting in 2023, Marriott hotel pricing in points is going to become truly 100% dynamic.
There will no longer be ANY link to the current amounts of points required by category. No more way to predict the price in points.
The number of points required will be strongly linked to the cash price, so it will be harder to get outsized value and unlimited value (but easier for those who want it simple).
Points from your Marriott Bonvoy American Express Card are going to have a more standardized value. And the annual free luxury night certificate that comes with it (35,000 points) is still great so the card is still one of the rare ones to keep forever!
Also, starting in April 2022, it will now be possible to top off the certificate with up to 15,000 points for more options. I will explain that in a separate post soon.
In short, the 2023 Marriott program is still going to give you plenty of completely free hotel nights, but travelers who were maximizing their points very well (with lower categories for more nights, higher categories for more "savings", or with nights that are expensive in cash) may not be able to get as much value anymore.
But until we know what the pricing system is going to look like, it's impossible to predict precisely whether the value of points will change drastically or not. That's still a long way off, fortunately.
What is certain is that very luxurious hotels will require a lot more points than now (we're talking about hotels like the Al Maha Luxury Collection Desert Resort that charges ≈ $1,900 per night). Also, stays during popular events, festivals, or peak periods will require more points.
It's certainly a shame not to be able to know which hotels will always require a low amount of points and not to have that guarantee anymore. Not having the transparency and certainty anymore.
But for those who want to maximize the number of free nights, there is still a possible positive: Many Marriott hotels are really cheaper in cash than their equivalent in points now…
So there is a good chance that MORE hotels will end up costing less in points than they do now. It's just that we'll have to look for them.
In the end, like everything else in the travel world, those who are willing to be flexible and to invest time are probably going to come out ahead more.
Maybe Flytrippers will be able to spot and share hotels that cost fewer points just like we spot and share plane tickets that cost less money.
But also, as mentioned, for those who don't want to rack their brains about how to use their points well, the new system will be much simpler!
The value will be pretty much always the same so no way to use them badly and no need to choose your hotels carefully like now.
We'll have a lot more content on all of this, get it all first by entering your email address in the box below.
Want to get more content to learn how to earn more free travel?
Summary
The Marriott Bonvoy American Express Card is one that all Canadian travelers should have but it's important to know that the Marriott program will change drastically, especially in 2023.
What would you like to know about the Marriott program? Tell us in the comments below.
See the deals we spot: Cheap flights
Explore awesome destinations: Travel inspiration
Learn pro tricks: Travel tips
Discover free travel: Travel rewards
Featured image: Le Méridien Maldives Resort & Spa (photo credit: Marriott)
Advertiser Disclosure: In the interest of transparency, Flytrippers may receive a commission on links featured in this post, at no cost to you. Thank you for using our links to support us for free, we appreciate it! You allow us to keep finding the best travel deals for free and to keep offering interesting content for free. Since we care deeply about our mission to help travelers and our reputation and credibility prevail over everything, we will NEVER recommend a product or service that we do not believe in or that we do not use ourselves, and we will never give any third-party any control whatsoever on our content. For more information on our advertiser disclosure, click here.
Share this post to help us help more people travel more for less: