As our national carrier, Air Canada is obviously a major player in the travel industry here… and most importantly, its Aeroplan rewards program is the most important one for Canadian travelers. So here are 8 noteworthy updates.
We'll be launching our ultimate guide to Aeroplan this summer, be sure to sign up for our free travel rewards newsletter to get it first for plenty of pro tips on how to maximize your travel rewards.
And as with all our new posts, you can skip to any desired section thanks to the handy table of contents.
1. Refunds
We talked about Air Canada finally ending its travel voucher scam thanks to its taxpayer bailout, and we'll have a more detailed step-by-step guide for all flight refunds soon, no matter the airline.
But in the meantime, just a reminder that you have until June 12th to initiate a refund for Air Canada flights, so don't wait. You really shouldn't be in the business of providing interest-free loans to a mega-corporation with a market capitalization of 10 billion dollars.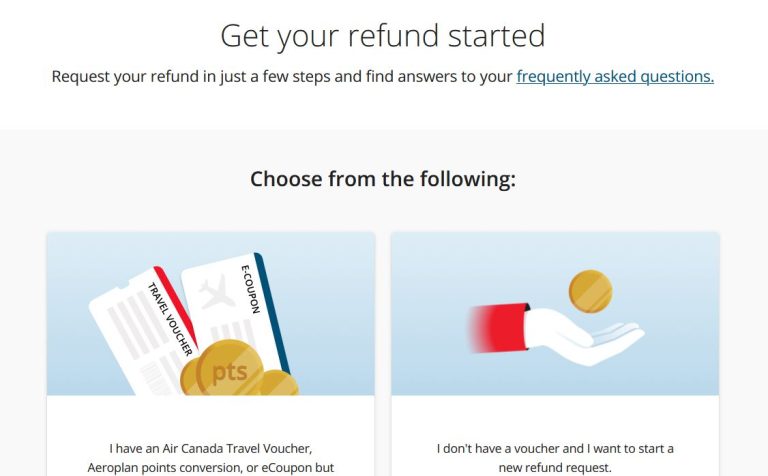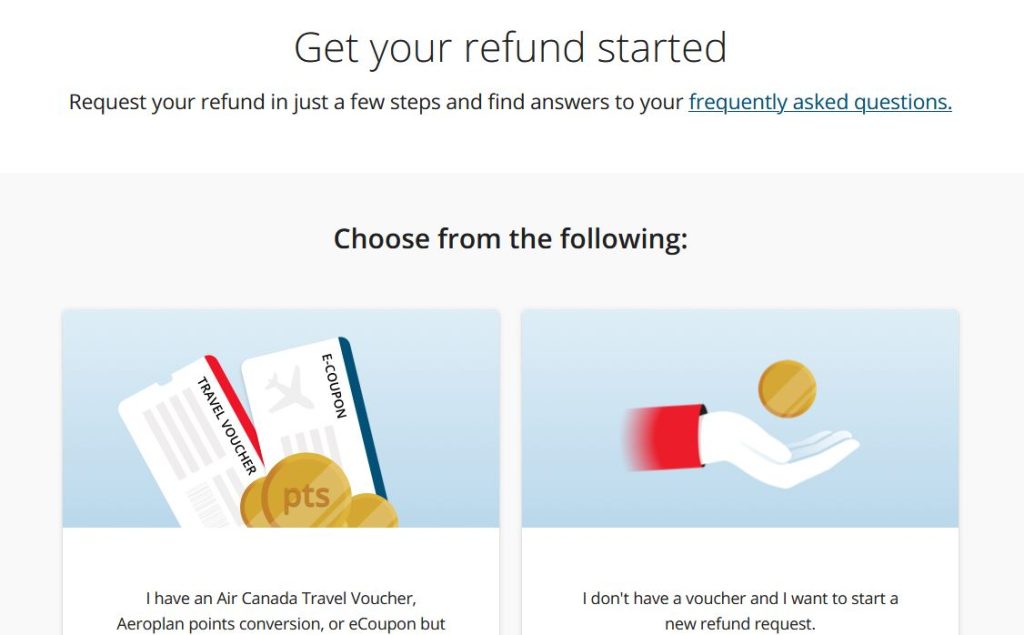 2. Giveaway
Air Canada just launched a very interesting giveaway but it is a short one and ends June 1st.
You can win one of 35 pairs of free future roundtrip flights (until the end of 2022) to these amazing destinations:
Athens, Greece
Tokyo, Japan
Lisbon, Portugal
Bo

gotá, Colombia

Cancún, Mexico
San Francisco, California
Victoria, British Columbia


You can earn one contest entry by simply registering, but you can also get 26 total entries by completing 3 actions (very doable) or even 51 entries by completing 5 actions.
The eligible actions include:
Linking your Aeroplan and Starbucks accounts (easy)
Using the Aeroplan eStore shopping portal (easy)
Using an Aeroplan credit card (easy)
Buying an Air Canada gift card (can be used for taxes on points bookings too)
Booking a hotel or car rental with cash via Aeroplan (price can be the same as elsewhere)
Loading $50 on a digital Starbucks Card (if you like Starbucks)
Buying Aeroplan points (not recommended)
American Express® Aeroplan®* Card

Flytrippers Valuation
of Welcome bonus (net value)

≈ $

Rewards: ≈ $630*

Card fee: $120


minimum income required: $0

spend $1000/mo for 10 months

Terms and conditions apply. Flytrippers editorial opinion only. Amex is not responsible for maintaining the content on this site. Please click "Apply Now" to see most up-to-date information.
American Express® Aeroplan®* Card

Flytrippers Valuation
of Welcome bonus (net value)

≈ $

minimum income
required: $0



Rewards: ≈ $630*
Card fee: $120

spend $1000/mo for 10 months

Terms and conditions apply. Flytrippers editorial opinion only. Amex is not responsible for maintaining the content on this site. Please click "Apply Now" to see most up-to-date information.
You can register online and read our guide about why you absolutely should be using online shopping portals if you like to earn free travel.
In short:
Registering gives you 1 entry
Each bonus action gives you 5 entries
You get a bonus of 10 entries after 3 actions
You get a bonus of 25 entries after 5 actions
3. $25 cashback
If you plan on booking any Air Canada flight for the next year, there is a great promo for travelers with a few of the 11 Aeroplan credit cards in Canada, namely the "core" and "premium" cards.
With the most common "core" cards, you'll get $25 cashback on any booking (or cumulative bookings) of $100 with Air Canada. That is a very good effective discount.
Pro tip: make sure to book a roundtrip as 2 separate one-ways to get $50 cashback instead of just $25 (for short-distance flights, one-ways are just half the price of roundtrips anyway). You can earn a maximum of 5 credits, for $125 cashback.
The key dates to keep in mind are:
Register before June 30th
Book by December 31st, 2021
Fly by December 31st, 2022
This gives you a very long time to book a flight (and there is no change fee on Air Canada cash bookings currently).

As for all of these types of offers, you need to first register online in one click, and you should always do so no matter what. You certainly don't want to be the person who doesn't register because they think they won't be buying a flight until December… and then ends up booking one and not getting the easy $25 back… it takes 2 seconds to register.
Registration is through separate links depending on whether you have the American Express Aeroplan Card, the CIBC Aeroplan Visa Infinite Card, or the TD Aeroplan Visa Infinite Card.
For the Amex version, the promo is a regular "Amex Offer" on your online account or in the Amex app, which you are probably familiar with if you like free stuff and have any Amex card (we recently told you about the great Amex Offers for Marriott Bonvoy cardholders).
As for the premium cards, you get $50 cashback instead of $25… an even more valuable promo. The cap is still 5 flights for a total of $250 cashback. You can register in Amex Offers if you have the American Express Aeroplan Reserve Card, or online for the CIBC Aeroplan Visa Infinite Privilege Card or the TD Aeroplan Visa Infinite Privilege Card.
4. 5X gas promo
From now to August 2nd, all Aeroplan credit cards will earn 5 Aeroplan points per dollar on gas purchases.
That is a very good return rate considering how valuable Aeroplan points are: it's like getting ≈ 7.5% back on your gas purchases based on our Flytrippers Valuation.
There is a cap of 3,000 bonus Aeroplan points, or $750 in gas purchases (the regular earn rate is 1X, you get a 4X bonus for 5X total).
You must register online to take part in the promo, with different pages based on whether your Aeroplan credit card is issued by American Express, CIBC, or TD.
If you have multiple Aeroplan cards as is my case, you can register and possibly stack the promos together for more points if you spend a lot on gas, which is definitely not my case.
On a separate note, only for those who have the American Express version, there is also a 5X promo on mobile service providers (up to 1,500 points). You can prepay your cellphone bill for a few months too if you have the liquidity, to maximize the promo. This one is also a regular "Amex Offer" on your online account or in the Amex app.
5. Free cancelation until May 31st
For the past year or so, Aeroplan bookings made with points have been entirely cancelable for free. No matter the reason.
Every time the deadline approached, it has been renewed. And that very well might happen again.
But as of today, the deadline is still May 31st so it might be worth keeping an eye out for future travel opportunities since this flexibility policy is as good as it gets.
Anything you book with Aeroplan points now is entirely cancelable no matter the date of travel, meaning you can lock in the lowest prices (for Air Canada flights with dynamic pricing) or lock in the best dates (for partner airline flights with fixed pricing) completely risk-free and then just cancel if you don't want the ticket anymore.
You'll get your points and money back right away, and it's easy to do online. I've done many many cancelations in the past year.

6. Calendar view
Speaking of Aeroplan bookings, the new program has a lot going for it.
One thing that is not positive for those who want to maximize value is the new dynamic pricing for Air Canada flights (flights on the 38 airline partners remain at fixed prices like before; often the best use of Aeroplan points like before).
Well, now Aeroplan is at least offering a calendar view for points bookings (+/- 3 days from selected date), to see the cheapest dates. The initial rollout is only for Canadian routes, with more to come in the future.
The cheapest day will be highlighted in green at the top of the results page.

7. Elite shortcut
In our upcoming ultimate guide to the Aeroplan program, we'll cover the new elite program that we didn't talk much about yet, given how expensive it is to qualify.
But in the meantime, Aeroplan has announced the new Everyday Status Qualification feature. In other words, it's a new way to earn Air Canada elite status without spending $3,000 on Air Canada flights or having to take 25 flights in a year.
However, it still requires quite a bit of spending, and it only gives you Aeroplan 25K status, which does not come with that many benefits.
You'll need to earn 100,000 Aeroplan points in a year to qualify, but sadly there are a few things that won't count:
What counts is:
Points earned through spend on Aeroplan credit cards
Points earned through the Aeroplan eStore shopping portal
Points earned through hotel and car rental booking on the Aeroplan site
Points earned through flying on any Star Alliance airline
Members who do not currently have status will see a tracker on their Aeroplan account, like on this one from my girlfriend's account.


8. Tattoos
Let's end this roundup post on a lighter note, more specifically the ruling from a labor arbitrator working on a case involving Air Canada.
Air Canada's personal appearance policy currently forbids flight attendants from having visible tattoos. It is "discriminatory and unreasonable" according to the union, and the labor arbitrator agreed. Air Canada's policy will need to be revamped.
The airline cannot stop flight attendants from having tattoos that are visible when wearing the work uniform, as long as the tattoo is not on the neck or the face (except behind the ears) and is not offensive (no nudity, drugs, alcohol, discrimination, harassment, hatred, or violence).
More than one piercing and nose studs will now be permitted as well, but not ear expanders.
Want to get more content to earn free travel with Aeroplan?
Summary
Those were some of the many noteworthy updates from Air Canada and Aeroplan.
What would you like to know about these updates? Tell us in the comments below.
Explore awesome destinations: travel inspiration
Learn pro tricks: travel tips
Discover free travel: travel rewards
Featured image: Madeira Park, British Columbia (photo credit: Paul Hanaoka)

Advertiser Disclosure: In the interest of transparency, Flytrippers may receive a commission on links featured in this post, at no cost to you. Thank you for using our links to support us for free, we appreciate it! You allow us to keep finding the best travel deals for free and to keep offering interesting content for free. Since we care deeply about our mission to help travelers and our reputation and credibility prevail over everything, we will NEVER recommend a product or service that we do not believe in or that we do not use ourselves, and we will never give any third-party any control whatsoever on our content. For more information on our advertiser disclosure, click here.
Share this post to help us help more people travel more for less: